By Fobazi Ettarh
Author Chimamanda Adichie has spoken about the danger of having a single narrative. In her words, "It is impossible to engage properly with a place or a person without engaging with all of the stories of that place and that person." And yet when it comes to discussing women in gaming, the narrative seems to only center around harassment and marginalization. It is an important story. But it is not the only story.
This semester, Temple University Libraries' public programming series Beyond the Page has started to unpack that narrative. Women like Adrienne Shaw and Latoya Peterson gave presentations at Temple. Each told their own story, a story that did not necessarily fit into this harassed and driven-out woman paradigm. Adrienne Shaw, an assistant professor of Media Studies and Production at Temple, discussed representation in gaming from the perspectives of the marginalized gamers themselves. She found that their desire for representation in games was more complicated than the dominant narrative. She found that many of the players she interviewed thought of the importance of diverse representation in the 3rd person; something that was important in a general sense, but did not necessarily apply to them. Others said that identifying with a character did not always correlate as identifying as a character. For example, having a black woman protagonist did not mean that there was automatic identification with the character despite being black women themselves. Identification was tied into various contexts such as gameplay and environment.
Thus, the describing and cataloging of LGBT games was dependent on various contexts. Adrienne Shaw described the process of creating the LGBT archive at her workshop. She had the participants break into groups and figure out whether the game character should be categorized as gay. It became quickly apparent that things such as power dynamics, character choice, and gameplay affected the classification of a character.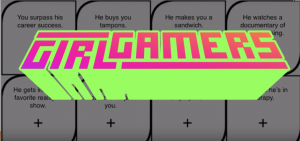 At another program, Latoya Peterson discussed the journalistic aspects of gaming. She acknowledged this simplified but dominant narrative within gaming journalism and compared it to the beginnings of hip hop journalism in that because there are so few people writing about games, few writers are shaping the official narrative. And this narrative forces the marginalized groups to constantly document their own experiences, while being ignored in the mainstream. She also discussed the tension of narrative between creator and executives in the process behind creating her new online video series, Girl Gamers. Creative decisions such as including trans women or women talking about their favorable experiences within gaming received pushback. It was her power within the field and organization that allowed for more of the complexities of truths to be displayed within the series.
The thing that really stuck with me was when she said, "People will always try and fight for you to simplify your narrative," and that it is important to never take these simple single stories as the complete truth.
Note: "Danger of the Single Story" image originally created by Kenji Kurumitsu. Reposted with permission.