By Kaelin Jewell
During AY 2014-2015, I had the pleasure of participating in the Digital Scholars Program organized by CHAT and HASTAC. As a CHAT/HASTAC fellow, I was able to dive into the world of the digital humanities through a project that sought to create a visualization of the church of St. Polyeuktos in Constantinople that was built by a powerful aristocrat named Anicia Juliana in the 520s CE.
Utilizing the open-source program Sketchup, I was able to begin visualizing what St. Polyeutkos would have looked like, given that the building is no longer standing and the current site is now an overgrown park in the Saraçhane district of Istanbul: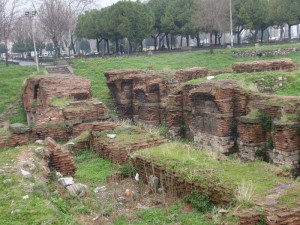 I had a really fun time creating my model, which was based upon a reconstructed plan of the church published by Jonathan Bardill (Bardill 2006), but ultimately found the hypothetical nature of the results to be a bit unsatisfying. I'm not abandoning my reconstruction, but I have decided to put it on the back burner so that I can focus on other parts of my dissertation project.
My dissertation, "Architectural Decorum and Aristocratic Power in Late Antiquity: The gens Anicii" looks at the ways in which the gens Anicii (of which Anicia Juliana was a member) utilized monumental architecture and visual culture to express their elevated status as pre-eminent aristocrats in the 4th through 6th-century CE Mediterranean.
Scholars have described this family group as having a "tentacular" role in the social world of late antiquity and have even been likened to a "multi-national company" (Brown 2000 and Momigliano 1956). This semester, I'm interested in testing these statements. It's clear to me, from architectural topography, material culture, the archaeological record, and primary sources that these ideas are no doubt true. Yet, I'd like to be able to actually see what this sort of network of power looks like. This is where digital tools come into play.
After doing some preliminary reading on network analysis, I've realized that Gephi is the most appropriate software for what I'm interested in visualizing: the complex patronage networks of the Anicii family. A recent article by Shawn Graham (Graham 2014) reveals the utility of Gephi to visualize complex networks of Roman elites. Through an analysis of names, phrases, and images stamped onto bricks, references to which are scattered across numerous, Graham was able to employ Gephi in the visualization of this complex web of patronage: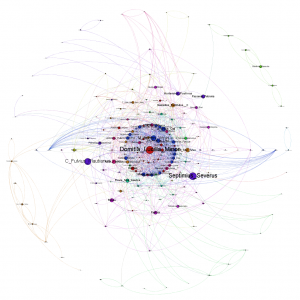 Network of Roman head of households (domini) in relation to Domitia Lucilla (Fig. 1, S. Graham, 2006, p. 41)
For my project, I will have to begin by collecting primary source documents that discuss or mention the Anicii. Fortunately, many of these textual sources have already been digitized and are available through the Perseus Digital Library, Patrologia Latina Database, and the Thesaurus Linguae Graecae. Another useful online resource for digital projects focused on the Greco-Roman world (some of which include the period of late antiquity–ca. 4th-8th c. CE) is the Digital Classicist Wiki.
Stay tuned for my progress!
References:
Bardill, Jonathan. "A New Temple for Byzantium: Anicia Juliana, King Solomon, and the Gilded Ceiling of the Church of St. Polyeuktos in Constantinople." In Social and Political Life in Late Antiquity, eds. William Bowden, Adam Gutteridge, and Carlos Machado (Leiden: Brill, 2006): 339-370.
Brown, Peter. "The Study of Elites in Late Antiquity." Arethusa 33, no. 3 (2000): 321-346.
Graham, Shawn. "On Connecting Stamps: Network Analysis and Epigraphy." Les Nouvelles de l'archéologie 135 (2014): 39-44.
Momigliano, Arnoldo. "Gli Anicii e la storiogradia latina del VI secolo dopo Cristo." Entretiens Hardt 4 (1956): 249-290.