At Temple, opportunity abounds for students, mentored by faculty, to get real-world experience by conducting their own research or by assisting professors in their field of study. Many international students seek out such experiences to prepare them for their future careers, help them figure out what they want to do and ultimately make them stand out as applicants for jobs and for graduate school. Here are the stories of some Temple international undergraduates doing research. 
Discovering Her Path
Ayna Mammedova, Biochemistry, CST '23, Turkmenistan
Ayna sees the future of medicine in the fields of biotechnology and bioengineering. That is why she chose to work in the lab of Dr. Parkson Lee-Gau Chong, professor of Medical Genetics and Molecular Biology, in Temple's School of Medicine. Chong is investigating how nanocarriers can bring drugs into cells and release them.
"I got into research to find out if I like it and, if yes, what topics I like, what techniques I want to learn, and what kind of research environment works for me," she said.
At the lab, Ayna investigates the biophysical properties of archaeal (from single-celled organisms) lipid-delivery systems, which are used to engineer new and more effective nanocarriers. Ayna is finding that the knowledge she is gaining about how this research is done and the steps that need to be taken to develop a product are very useful to her.
In her freshman year, she began searching for opportunities, but as a first-year student, without experience, she found it difficult to find a research project.
In her sophomore year she discovered a solution–she applied to Temple's College of Science and Technology Science Scholar Program for students who want to do research throughout their years at Temple. Ayna was one of the few sophomores selected. After being accepted, she started reaching out to professors and looking for labs that matched her interests.
Professors supply CST with a detailed list, explaining each research project available for undergraduate and/or graduate students. Ayna says getting the attention of professors about projects that interested her was hard initially because busy professors don't always reply right away. But she persisted until she got into the lab she desired.
In Spring 2021, she uncovered her match in Professor Chong's research and has been working at his lab ever since. During the summer when she could spend more time there, she had almost daily meetings with Professor Chong.
As to her future, Ayna is considering a doctorate and eventually working in industry-related research rather than academic research, but she wants to get more experience before deciding.
"So far I am enjoying it. I think this is great preparation for graduate school, since I can add it to my resume and include it in my essays," she said.
Looking at History Afresh
Yesh Khanna, Global Studies, Security Track '23, India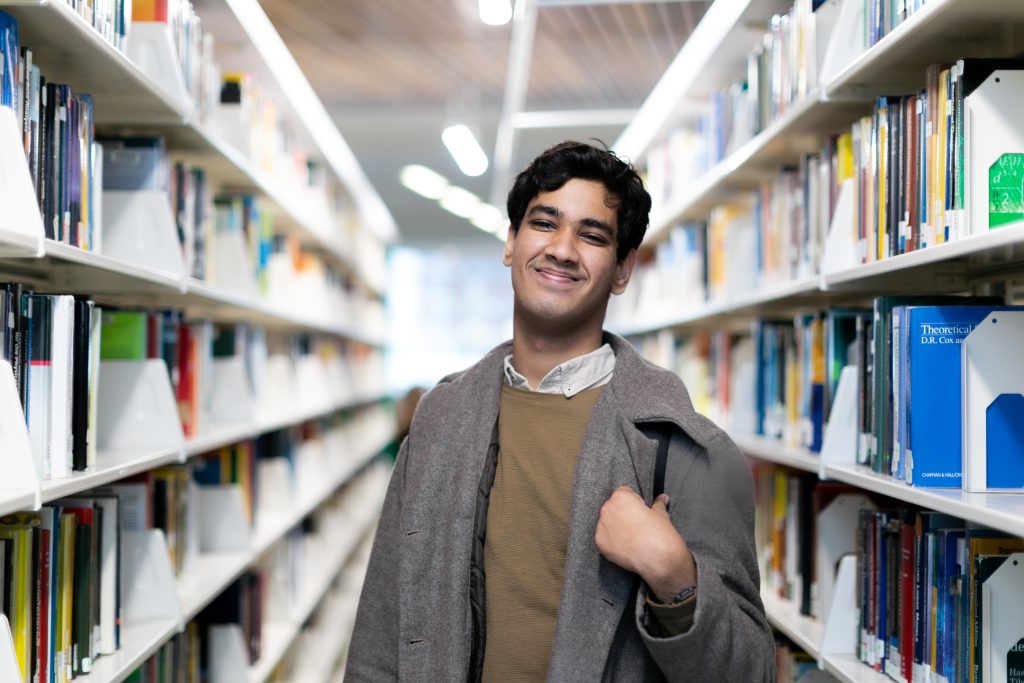 Accepted into the prestigious Diamond Research Scholars Program in his sophomore year, Yesh needed to come up with his own research project and select a faculty mentor to guide him. His history professor, Alan McPherson helped him brainstorm and develop the questions that would form the basis of his research.
A fall semester class with Professor McPherson helped Yesh make up his mind about his field of study. One of the books the class read, The Blood Telegram, about how the United States supported genocide in Bangladesh, made a big impression on him. Though Yesh found the topic emotionally difficult, he wanted to understand more about U.S. actions in third-world countries.
So he decided to study U.S. foreign policy in response to two different genocides — one in Nigeria in 1969, and the other in Bangladesh in 1971. His comparative analysis looks at what motivated the United States to take a different approach for each of these genocides.
With his research project proposal accepted, he officially started his research in Summer 2021. Since then, he has been applying his experience for academic credit as an elective.
According to Yesh, unlike in Nigeria where the United States didn't intercede much, in Bangladesh it actually implicitly supported the genocide.
"If you are opting to behave in two different ways with two different people, there has to be some kind of variable that is influencing [your actions]," he said.
To uncover the motivation for this glaring discrepancy, Yesh has been working on identifying the missing variable, considering economics, international politics and public opinion and influence. To carry this out, he has been analyzing declassified intelligence reports, State Department memos, Pakistani five-year financial plans and more.
One of his findings was that, in the late 60's and early 80's, the Nigerian oil economy was booming, while Bangladesh, which was still part of Pakistan, was broke. Yesh highlighted how the U.S. has always been interested in resources around the world, giving the United States economic motivations to perceive resource-rich Nigeria differently than Bangladesh, a place then without resources.
His research also extends to the importance of the socio-political context of the time, the Cold War, and the geographical location and political alliances of these countries. Considering the tensions of that period, Pakistan wasn't situated well geographically. The country was divided in two parts: west and east. The eastern part later became Bangladesh in 1971. East and West Pakistan were separated by India, a nation with which Pakistan does not historically have a good relationship with. At the time, the country was a hostile territory due to a number of political and historical events throughout the formation of both Pakistan and India.
Yesh explained that the U.S. supported the force that was behind the genocide: Western Pakistan, while Eastern Pakistan wanted autonomy. Highlighting the Cold War environment, Yesh explained that the U.S. government perceived it as an opportunity to get inserted into the region:. first opening a diplomatic channel with Pakistan and then China, with whom Pakistan had good relations. "The United States wanted to open a corridor between West Pakistan and China to gain an edge over the Soviet Union," he said.
Yesh's deep interest in this subject is clear. At the same time, he doesn't hide how time-consuming it can be. "The 'problem' with my project is if you explore a phenomenon in one country, you also have to reflect it in the other one as well," he said while laughing.
Building Her Future
Tannishtha Nandi, Physics '23, India
Right after her freshman year, Tannishtha sampled a couple of research opportunities with different professors, but she didn't enjoy the initial projects. She found she wasn't interested in computational work. Then, the CST Student Professional Development Office reached out to her highlighting a research opportunity with Physics Professor Maria Iavarone.
The experimental nature of Iavarone's research, using scanning tunneling microscopes (STM) to obtain images with atomic-scale resolution of metal surfaces at extremely low temperatures (about 300 mK), appealed to Tannishtha. Funded by different opportunities, Tannishtha worked at Iavarone's lab during Summer '21 through the Frances Velay Science Fellowship, and then during Fall '21 under the Undergraduate Research Program (URP) Fellowship.
At the lab, Tannishtha studies the atomic and electronic properties of materials and analyzes their characteristics and uses. Her current focus is a part of a larger project about building quantum computers.
This past summer, Tannishtha worked at the lab every day. Now, during the semester she works there two days a week and stays in close touch with Professor Iavarone.
In the future, she wants to keep doing research, but she hasn't figured out her exact focus yet. Her overall aim is to be involved in astrophysics, but she is open to other areas and is particularly interested in experimental physics. Whatever she decides, the skills she learned at Temple will provide a great foundation.
"I feel like what I am doing now, even though it may not be something that I will end up doing in the future, is going to help me find another way or at least get into what I really want to do," Tannishtha said.
By Renata Buscher Kaminski, International Affairs Communications Intern
Photos Courtesy of Ayna Mammedova, Yesh Khanna, Tannishtha Nandi