I met with Swiss karst researchers this month and learned about how they use tracers to evaluate karst vulnerability and how the geology is used to identify capture areas. This photo from the geosciences department at University of Neuchatel is of historic tracers!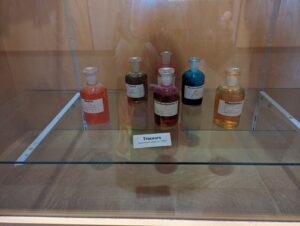 The cities in Switzerland are full of fountains with potable water!
And underneath Geneva they have found Roman ruins, including a well.
I highly recommend visiting Switzerland for many other beautiful sites.  This post is just emphasizing karst and water!