On Sabbatical 2022-23 (not accepting new students)
2021 LAB GROUP. Clockwise:  Ashleigh Kirker (PhD candidate), Dr. Sarah Beganskas (Postdoctoral Scholar), Naomi Morgan (Masters candidate), Kyle Collins (Masters candidate), me
2018 LAB GROUP: Sarah Ledford (postdoc), Gina Pope (co-advisee), me, Chelsea Kanaley, Liz Cushman, Jim Berglund, Vince Carsillo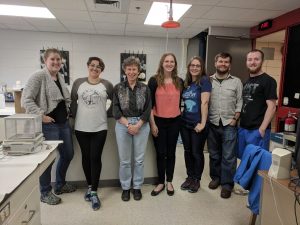 RECENT STUDENTS & POSTDOCS (Masters students unless otherwise indicated):
Dr. Sarah Beganskas, Postdoc: Now at Delaware River Basin Commission
Dr. Sarah Ledford, Postdoc: Now a faculty member at Georgia State University
Dr. Rob Rossi, Postdoc:  Now at PSE Healthy Energy Research Institute, San Francisco
Ashleigh Kirker (PhD) In progress
Bojan Milinic, 2022. Evaluation of bedrock depth and soil infiltration along Pennypack Creek using electrical resistivity tomography and soil moisture loggers. Unpublished master's thesis, Temple University.
Kyle Collins, 2020.  Geophysical, hydrologic, and sedimentological analysis for assessing sediment accumulation and infiltration rates in urban stormwater basins.
Naomi Morgan, 2020. Dual isotope analysis of denitrification in stormwater basins.
James Berglund (PhD ) 2019 Determining karst hydrological characteristics through thermal and geochemical monitoring and modeling of springs:  Now at University of Wisconsin-Platteville
Liz Cushman 2019. Suspended solids and nutrients in overland flow in suburban Philadelphia watersheds.
Vince Carsillo, 2018. Monitoring Stormwater Infiltration in a Vacant Lot Comparing Time-Lapse Electromagnetic Induction and Electrical Resistivity Tomography
Chelsea Kanaley 2018. Turbidity and nutrient response to storm events in the Wissahickon Creek, suburban Philadelphia, PA
Ken Schlosser 2017. Monitoring infiltration from natural storms using time-lapse electrical resistivity tomography
Emily Arnold, 2016. Evaluation of urban riparian buffers on stream health in the Tookany Watershed, PA
Paul Zarella, 2016. Using Geophysics and Terrestrial LiDAR to Assess Stormwater Parameters in Vacant Lots in Philadelphia
Trevor Klein, 2015 Investigating nitrate attenuation in an urban stream using stable isotope geochemistry and continuous monitoring
Haley Rodack, 2015 Using fracture flow modeling to understand the effectiveness of pump and treat remediation in dual permeability media
David O'Donnell, 2012 Field and modeling study of the effects of stream depth and ground water discharge on hydrogephysical characterization of hyporheic zone in an urban stream
Brian Hughes, 2011 Characterizing the Immobile Region of the Hyporheic Zone through the use of Hydrologic and Geophysical Techniques at Crabby Creek, PA, USA
Chad Reisch, 2010 Using stormwater hysteresis to characterize variations in quick and diffuse flowpaths within a conduit dominated karst spring
Allison Fang, 2010 Variation of hyporheic exchange in thin and thick sediment using solute tracer tests, geophysical resistivity, and sediment characterization at a reconstructed stream
Catherine Jedrzejczyk, 2010 Monitoring the effectiveness of stormwater infiltration trenches at the Pennypack Preserve, Montgomery County, Pennsylvania
Melanie Johnson, 2009 Mapping roadsalt discharge from groundwater using hydrogeophysics at Mirror Lake, New Hampshire