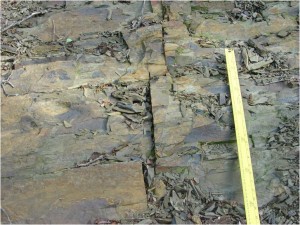 I started doing fractured rock modeling when I was working at Oak Ridge National Lab (ORNL) and conducted research on radioactive waste sties. Since joining Temple, I have focused on hypothetical models and fractured rock tracer tests.
FUNDING: Some funding has come from the NSF-CZO sites but also includes work has been hypothetical modeling that did not require research grants.
PUBLICATIONS/THESIS:
Eric Humphrey, C.E., Gardner,P.M., Spangler, L.E., Nelson, N.C., Toran, L Solomon, D.K., 2023. Quantifying stream-loss recovery in a spring using dual-tracer injections in the Snake Creek Drainage, Great Basin National Park, Nevada, USA.  Hydrogeology Journal. 31: 1-16.
Rodack, Haley, 2016. Using fracture flow modeling to understand the effectiveness of pump and treat remediation in dual permeability media. Masters Thesis Submitted to Temple University.
Fan, Y., Toran, L., and Schlische, R. 2007. Groundwater flow and groundwater-stream interaction in fractured and dipping sedimentary rocks: insights from numerical models. Water Resources Research. 43: doi:10.1029/2006wr004864
Toran, Laura. 2000. CRAFIT: A computer program for calibrating CRAFLUSH, a 1D fracture flow and transport model. Ground Water. 38: 430-434. available on request
Stafford, P.L., Toran, L.E., and McKay, L.D., 1998. Influence of fracture truncation on dispersion: A dual permeability model. Journal of Contaminant Hydrology. 30/1-2: 79-100.
McKay, L.D., Stafford, P.L. and Toran, L.E., 1997. EPM modeling of a field-scale tritium tracer experiment in fractured, weathered shale. Ground Water. 35:997-1007.