During the month of September, we conducted two day-long stream tracer tests near Gwynedd Valley and Ambler.   During the tracer test we add two non-toxic, fluorescent dyes into the Creek and track how that dye signal comes through further downstream. The tracers help us understand flowpaths within the stream and where stream metabolism occurs. Volunteers from Wissahickon Valley Watershed Association, Academy of Natural Sciences and my grad students spend a day sampling for us along a 1-2 km stretch. A local school used the event to encourage students to think about their local stream.
Injection site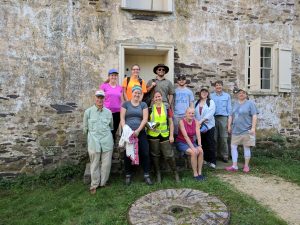 Volunteer sampling team
Check back to find out what we learned. These tests are being conducted in consultation with the PA Department of Environmental Protection and are funded through a grant from the National Science Foundation and the Wm Penn Foundation.