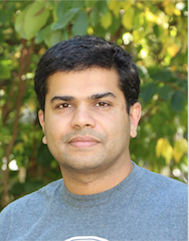 Sujith Ravi, Assistant Professor  CV
Howell Gonzales, Postdoctoral Fellow
PhD in Biological & Agricultural Engineering from Kansas State University (2015).
Research: Monitoring grassland degradation using novel-tracer methods and geospatial techniques (LiDAR).
Congjuan Li, Visiting Scholar
PhD. Xinjiang Institute of Ecology and Geography, Chinese Academy of Sciences
Research Project:  Grassland degradation pathways induced by invasive species
Chong Seok Choi (Graduate Student, PhD)
(BS,  Oregon State University, Corvallis)
Research Project:  Environmental impacts of renewable energy development  and opportunities to colocate solar-energy and agriculture.
Chana Sara Elias (Graduate Student, MS ) CV (BS, University of Michigan, Ann Arbor)
Research Project:  Quantifying changes in connectivity along a shrub-grass ecotone using LiDAR: Implications for desertification control
William Burger (Graduate Student, MS ) CV (BS, University of Pittsburg)
Research Project:  Biophysical drivers of shrub-grass transitions in drylands
Dellena Bloom (Undergraduate Researcher ES)
Jessica Dunlap (Undergraduate Researcher ES)
---
LAB ALUMNI
---
David Dukes (Graduate Student, MS, Fall 2017) now PhD student at University of Illinois, Urbana Champaign
Alexander Cagle (2017-2018, Undergraduate Researcher ES) now graduate student at University of California, Davis
Joanna Freedman (Frances Velay Fellow 2017,Undergraduate Researcher, ES)
Branimir Trifunovic (2017, Undergraduate Researcher, ES)  now graduate student at University of Delaware
Stuart Olshevski (Undergraduate Researcher, ES) now intern at American Conservation Experience – EPIC program