On Friday, March 17th, Global Philadelphia Association (GPA) and Philadelphia International Airport (PHL) held an official ribbon cutting event for the Sustainable Development Goals (SDG) Expo. Located between terminals B and C, this expo features GPA's SDG campaign up until 2022. Next time you're at PHL, visit the SDG Expo to learn more about the campaign, how the murals are created for the campaign, and where the SDG murals are stationed in Philadelphia.
During the event, PHL CEO Atif Saeed and GPA Board Chair Rob McNeill gave remarks about the partnership between PHL and GPA and the future of the SDG campaign.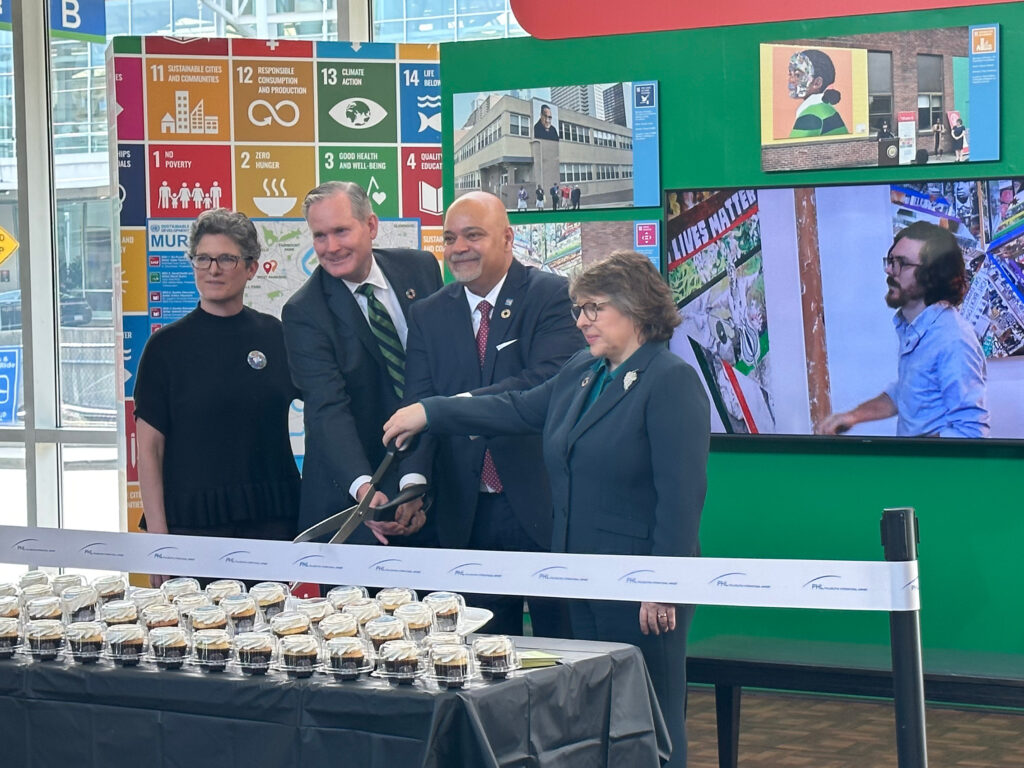 "Today, we welcome this Global Philadelphia Sustainable Development Goal public arts gallery. This is an exhibition that focuses on UNESCO's initiatives and the 17 sustainable goals they have identified. It is an important global campaign brought to our city and our guests by Global Philadelphia, and we are very proud to be having this exhibition at the airport," said Saeed.
This new airport installation celebrates the Temple mural along with the many other murals Global Philadelphia commissioned. Note, the Temple mural was created by Temple alumnus Mat Tomezsko, TYL '09 with the help of the Philadelphia high school students enrolled in his 2021 Temple University Community Collaborative Class, "Revolutionary Philadelphia."
By Lisa Z. Meritz, Director of Marketing & Communications for Global Engagement
Photo credit: Global Philadelphia (header), Martyn J. Miller (body)