Art moves, inspires and connects us, encouraging us to embrace new perspectives and see the world in a different way. "Revolutionary Philadelphia," a new mural now on display on Temple's Main Campus, does just that.
Sponsored by the university, its Office of International Affairs (OIA) and the Global Philadelphia Association, painted by a Temple alumnus and inspired by artwork created by high school students in North Philadelphia, the mural is a unique piece of public art that confronts inequality—and challenges viewers to do the same.
Global Philadelphia invited Temple's OIA to commission and sponsor the mural, one of several across Philadelphia that depict one of the U.N.'s 17 Sustainable Development Goals: objectives ranging from affordable clean energy to eradicating poverty that are part of the U.N.'s blueprint for building a better society by 2030.
Hai-Lung Dai, vice president for international affairs and a member of Global Philadelphia's Board of Directors, chose to illustrate goal No. 10: reduced inequalities. "At Temple University, our mission is access to excellence," Dai said, "meaning that we want to provide access to an excellent education for all who wish to learn." A higher education institution's purpose is to help people not only improve their lives through education, but also the lives of those around them.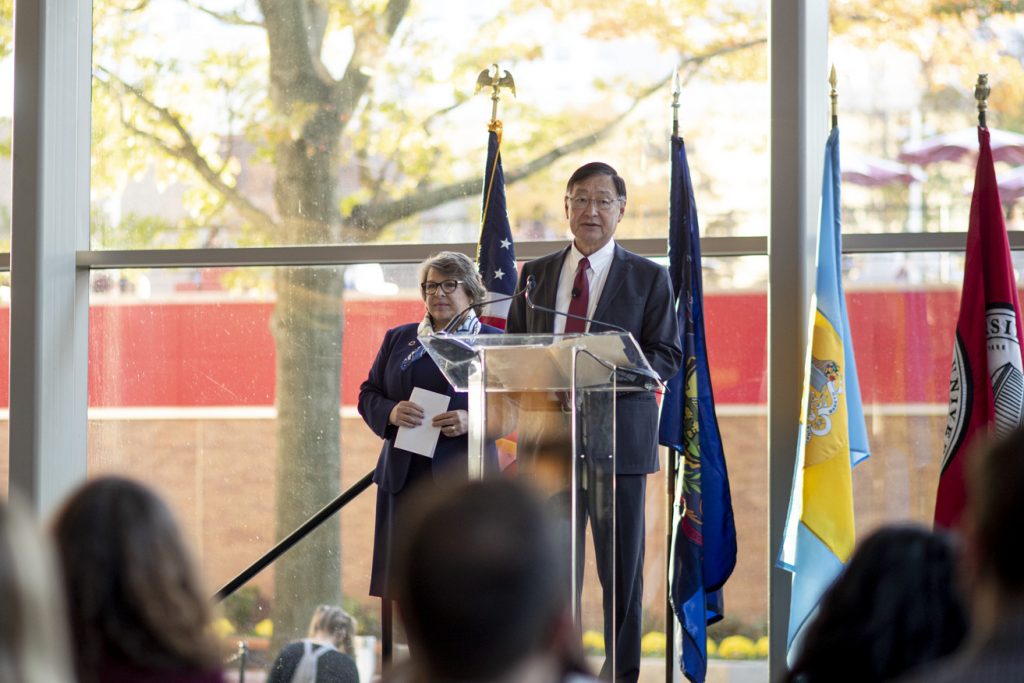 And ensuring everyone, especially those from under resourced communities, has access to education is in itself a means of reducing inequality. "This is exactly what Temple University is about. As many people say, it's actually in our DNA to address these issues," Dai said. "Reducing inequality, that's what we do."
---
Choosing the mural design
The university assembled a committee with representatives from departments across Temple—including International Affairs; the Tyler School of Art and Architecture; Charles Library; Facilities Management; Strategic Marketing and Communications; and the Office of Institutional Diversity, Equity, Advocacy and Leadership (IDEAL)—and put out a call for artists to present their ideas for the mural.
"Competition was fierce. I think this is because Philadelphia is such a great city for mural arts," Dai said. "If you go around the city, there are so many inspiring and outstanding murals."
Mat Tomezsko, TYL '09, heard about the competition and applied. A celebrated muralist whose work focuses on creating collaborative pieces and making art accessible, he immediately felt drawn to the project. "It was an opportunity to make something, using a method that demonstrates certain values and then to be able to have that exist in the world and have people experience it and view it," he said.
Tomezsko had already planned to teach a class he'd developed, called Revolutionary Philadelphia, to a group of high school students in North Philadelphia as part of Temple's University Community Collaborative (a media-based social justice initiative for young people). He decided to incorporate the class's theme—civil rights and social justice—into his proposal for the mural project. The artwork his students created during the class would help shape his vision for the mural.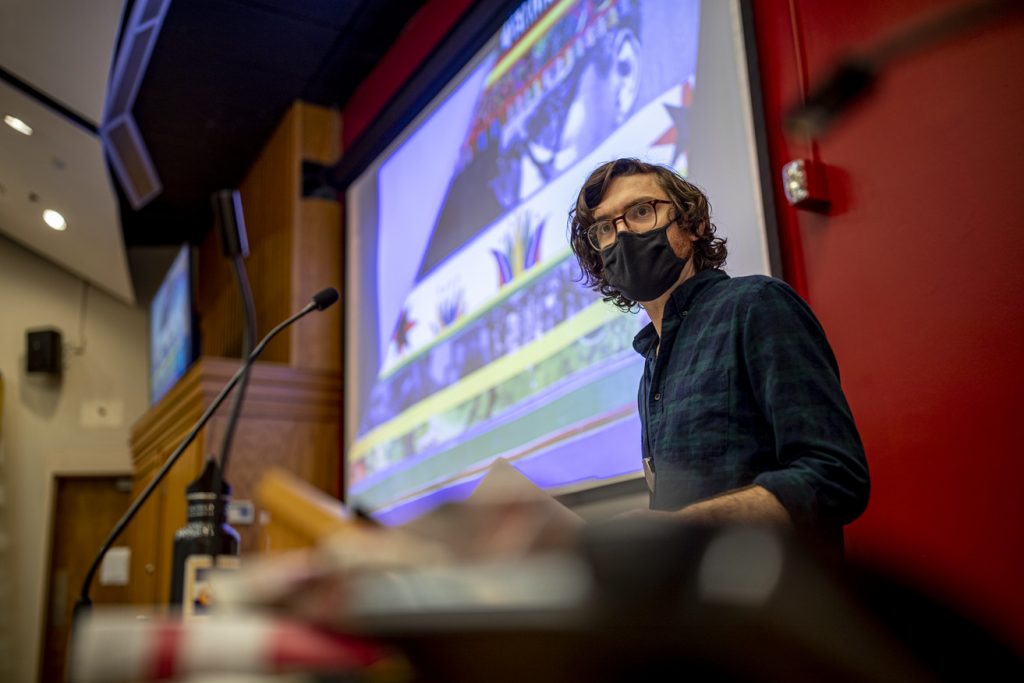 "I've been working on including people into making art for many years," he said. "Even though it was an insanely complicated way of approaching a straightforward challenge, I felt it was the right platform and the right method. And it was interesting to me to think about how to achieve it."
Tomezsko's idea was unique. "When I learned about the concept and the fact that the art was a compilation of the artwork of students in Philadelphia, that's what really sold me," said Tiffenia Archie, associate vice president and chief inclusion officer and a member of the mural's selection committee. "The artist is using their artistic and creative lens to create a piece, but the work is drawn from students in Philadelphia."
The proposal won the committee over, even though no one was sure what the finished mural would look like. "The risky part is that we didn't know what was going to be the eventual product because he hadn't seen it. At that point, he [Tomezsko] hadn't taught the class and we did not know what the students would draw," Dai said. "I couldn't wait to see the final product."
---
Bringing the mural to life
Nine students joined Tomezsko for Revolutionary Philadelphia over the summer, learning about historical and contemporary figures who have made revolutionary contributions to society. "[The concept] goes beyond the founding of the country and delves more into the history of civil rights and the LGBTQ movement in particular. And other movements as well, [including] public health, the labor movement and voting rights," he said. "It explores how the culture that exists in Philadelphia has produced all of these things that have influenced the history of the United States."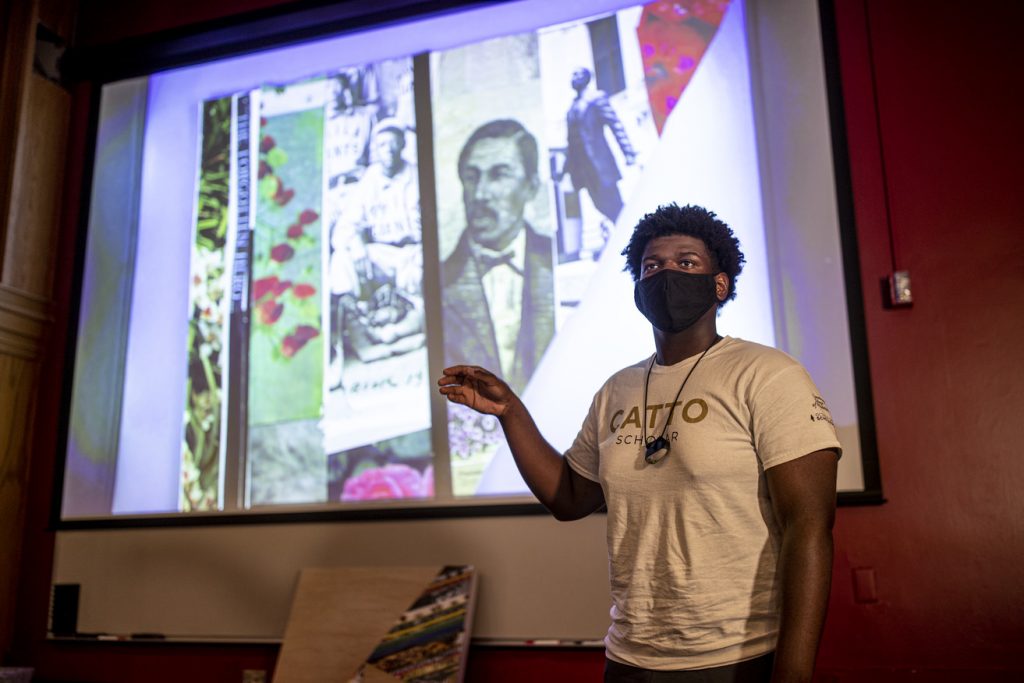 The class was a perfect fit for the collaborative, which aims to empower the young people who participate in it. "They know what the issues are around them, but sometimes it's a matter of naming things. You might know something is not right. But until you can name it, it's hard to talk to somebody about that and hard to get change," said Barbara Ferman, director of the University Community Collaborative. "The idea of Revolutionary Philadelphia is they're looking at their predecessors and maybe even some contemporaries who are fighting in Philadelphia for more just conditions for people of color."
---
The University Community Collaborative
Established in 1997 by Barbara Ferman, a professor of political science at the College of Liberal Arts, the University Community Collaborative helps high school students grow into confident, active community leaders. "Usually in the programs we start with some political education. They learn about power and privilege, issues of racism, sexism, homophobia, and the like," Ferman said.
"They work collectively as a group and identify an issue that impacts them as young people in Philadelphia," she said, "[and] they can use media as a tool to raise awareness amongst their peers and stakeholders."
Each student's final project was a collage based on people or organizations they researched during the class. Together, the pieces served as the basis for Tomezsko's mural. Zenaya Mason chose Rebecca Lee Crumpler and Rebecca J. Cole, two pioneering African American female physicians. "I chose them because I'm going to become a doctor in the future," she said. "I feel people should know where I'm going in life and why I'm choosing that role."
Samir Ross illustrated a concept. "I chose to go with the theme of Black liberation. It wasn't just about the Black Panthers," he said, "but more the social and economic aspects of it like housing and the wealth disparity of jobs."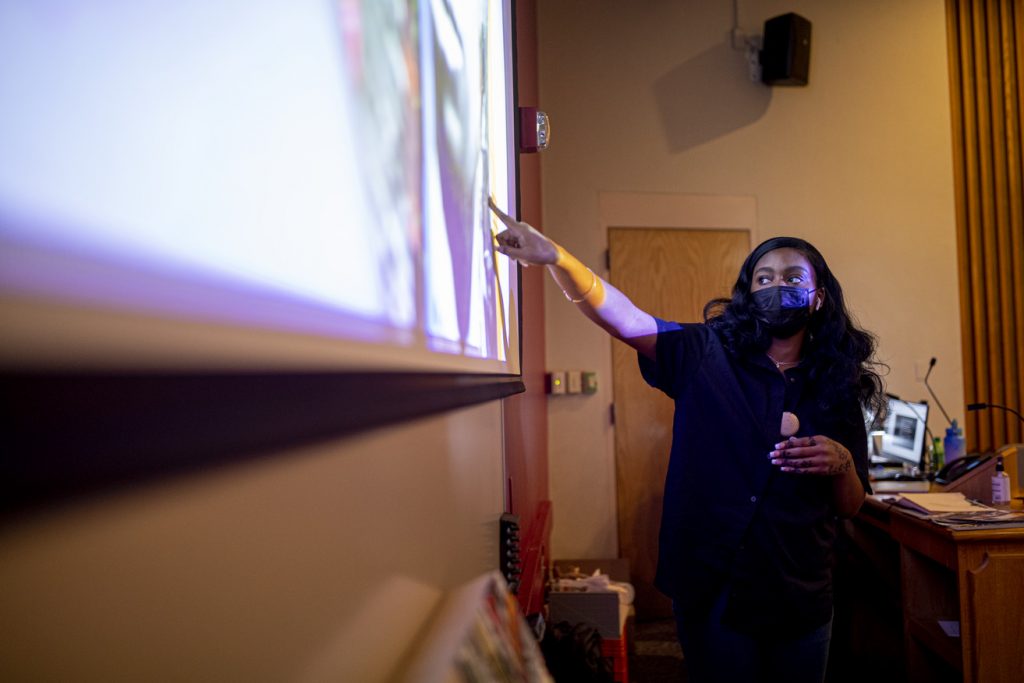 Revolutionary Philadelphia meant a lot to both of them. "What I enjoyed most about this class is learning who I am as a person," Mason said. "Revolutionary art is just another aspect of knowing who you are, not just the people around you." The class also gave Ross the opportunity to learn more about Philadelphia's history. "I've never heard a lot of the Black history in this city," he said. "Looking more into local history has taught me a lot more than about [just] the revolutionary history of the founding of America."
Tomezsko is proud of how much the students grew. "It really felt like all of this information was just clicking and meshing and they were building on one another and what they were interested in exploring," he said. "One of the reasons I wanted to do [the class] in this way was because I don't know everything. I wanted to learn more and I wanted to do it together. And I saw my contribution as equal to the students'."
---
Art that makes an impact
What makes the mural important isn't just its subject matter; it's the perspectives it represents. "The thing we should really pay attention to," Dai said, "[is] that we are looking through the eyes of a group of high school students, the future of our society, the future of our country."
Ferman agrees. "This is a way, with Mat's help and expertise, to give students yet another tool through which they can take their message to larger audiences," she said. "I also think it helps to build their confidence, their self-esteem, their sense of self-efficacy—all of which are important for life, but also if you want to make any kind of a change."
Listening to the students is key. "I think that adults, especially white adults, tend to underestimate, misjudge and make totally wrong assumptions about young people and especially young people of color. And what I've learned as a white adult is that there's an enormous amount of talent, creativity, energy, ideas and so on in our young people. They know what's impacting them. They know how it feels," Ferman said. "These are young people who, through no fault of their own, have really hard circumstances to navigate. And for the most part, most of them are doing a pretty good job of it. So, just think if we actually gave them the resources and the proper environment and support. They would rise."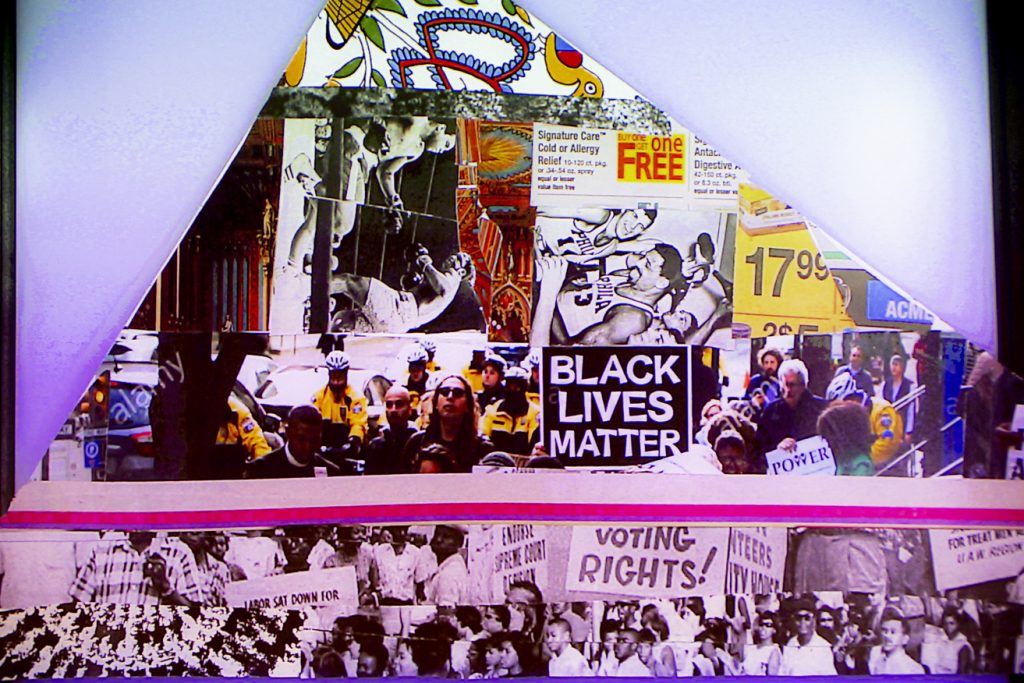 Tomezsko also feels the mural is significant because of how it was created. "The method in which it's made is important as a way of showing it's possible to not have all the answers, but to arrive at a destination. To offer different points of view and have them be presented side by side. To have a dialogue and to learn from one another. And to have that be the actual subject of a work of art," he said.
Archie is happy Temple participated in the project. "I feel this is such a great opportunity, not only for the students, for the artists, but I think for Temple University as well," she said. "I really hope that we can think about how we engage these young artists even more closely and pull them into the Temple University community and family."
---
Championing IDEAL
As part of the mural project, Global Philadelphia asked Temple's Office of International Affairs to select and donate to an organization whose work would help further the cause of reducing inequality. International Affairs chose IDEAL, which strives to dismantle inequalities on a daily basis.
The office intends to spend its $3,000 grant on creating scholarships for students to participate in its study abroad programs. "[This grant] will allow us to supplement the funding for students and be able to take more students on for the study abroad opportunity," said Tiffenia Archie, associate vice president and chief inclusion officer.
---
Looking at the Mural
The mural has been installed at the 11th Street entrance to Main Campus, near Anderson and Gladfelter halls, a spot that sees a lot of foot traffic and gives many people the opportunity to interact with the art. "I hope that the reaction to the mural will be not only thought-provoking, but informative," Ross said. "I'm hoping that the mural will have people ask more questions."
Tomezsko feels the same. "I hope people like the mural. I hope that they want to know more when they look at it. I hope that it opens people up to different periods of history and different figures that they maybe didn't know much about," he said. "That they see themselves. That they see hope for the future. That they see that they can draw from the tools of the past in order to overcome the challenges of the present. And that we can place our present time in the context of a history as well—and celebrate that."
This story originally appeared on Temple University's News Site.
Story by: Edirin Oputu
Photography by: Ryan S. Brandenberg
Video by: Joe Schreiber, Ian Prizer and Wes Haag
Layout designed by: Edirin Oputu