It's finals szn, and the Libraries are here to help alleviate some of the stress that often accompanies this time of year. Below are some tips and resources for a calm and confident exam period.
---
Time for you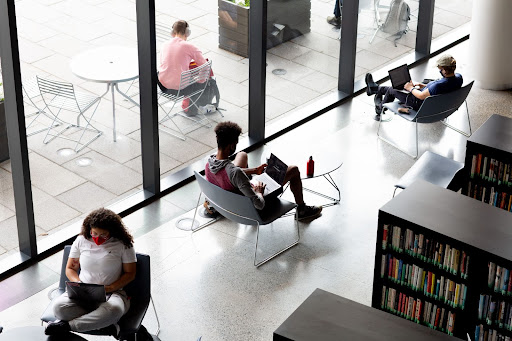 When things get busy it can seem like there is no time for YOU. Avoid this by scheduling "me time."
Are movies your thing? You can check out a DVD or video as well as the equipment to watch them with from the BookBot in Charles Library.
Gaming connoisseur? The Duckworth Scholars Studio hosts a gaming hour every Tuesday at 10:00 am EST. Join them on December 7 for King of Tokyo or December 14 for Meeple Party. Both days will also feature other options like Jenga and Bananagrams. You can also look into borrowing gaming equipment, including controllers, board games, and cards from the Libraries at your convenience.
Like to escape into a fun book? Leisure reading books including graphic novels, YA, fantasy, mystery, science fiction, and memoirs are kept on the first floor of Charles Library in the short stacks, and just past the main floor service desk inside the Ginsburg Library.
Bake your stress away

Your body needs food, especially to fuel you through studying, so take a break to cook or bake something delicious. It just might be therapeutic! Check out some recipes from our collections including the
Blockson Collection and Special Collections Research Center
as well as from the DPLA's
Pennsylvania-based cookbooks
.
Writing—but make it fun
Journaling can be a nice way to vent some of the stress. Check out these journaling tips from Hayley, a peer educator at the Wellness Resource Center. 
Dogs–need we say more?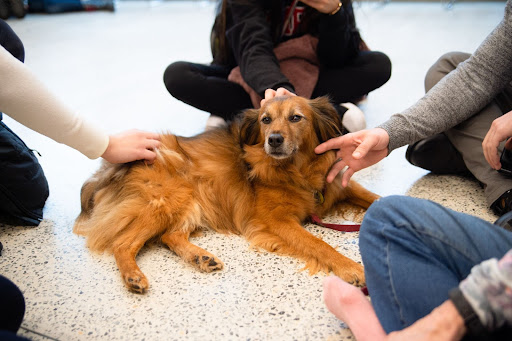 We are hosting dogs for petting or viewing on Wednesday, December 8 from 1:00–3:00 pm EST. 
Guided Wellness
We are lucky to have the Wellness Resource Center to help us help ourselves. Attend a workshop for a guided practice in stress management.
Staying Present: Using Mindfulness to Manage Stress
Wednesday, December 8, 3:30–4:00 pm
Learn how mindfulness and related skills can help manage stress and invite calm. Guided activities will be offered as an opportunity to practice these skills. This program is offered monthly and consists of an overview of mindfulness principles followed by a new skill or practice to make each session unique. Zoom link
Owl About Stress
Monday, December 13, 2:00–2:30 pm
Stress isn't all bad and this program will help folks explore ways to find balance for optimal performance without burning out. Students will learn about self-care and create their own self-care plan to feel more supported during those especially stressful times of the semester. Zoom link
Music makes me [keep] control
DYK that you can listen to music for free through our databases?! Want some classical music to be the background sound for studying? Try Mozart piano sonatas from Naxos Music Library.
Perhaps the likes of Miles Davis and John Coltrane soothe your soul? Naxos Jazz is great for that. Have something else in mind? Check out Music Online for a variety of music genres from all over the world.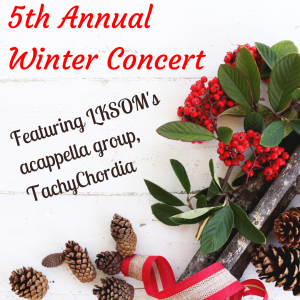 Join us virtually for a live concert by the TachyChordia a capella group on Dec. 15 at noon.
Get your hands dirty
While gardens may already have been put to bed for the winter, indoor plants often need repotting or other TLC. The tactile experience of digging through dirt can be a peaceful activity, not to mention the feeling of productivity that results from seeing your plant thriving in a whole new pot. Our Ambler Library specializes in agriculture resources. You can get started with these gardening ebooks. 
Animals alleviating angst
Have to miss Destress with Dogs? Fear not, you can always check out the videos of animals at the Philadelphia Zoo for some comfort (especially this baby sloth!). Or get lost in the vast array of creature cams on explore.org!
---
Whatever works for you, it is important to practice self-care during this final exam period. Our 24/7 space is open to suit your study habits. The event space on the first floor will also be available as a quiet study zone during limited times between 12/7–12/15; check for the daily schedule posted outside of the room. Our library chat is available 24/7 or you can call, email, or text us during regular hours.
Follow the Wellness Resource Center for more self-care tips or reach out to Temple Libraries for more assistance. Feeling more than finals stress? Tuttleman Counseling Services is available to provide mental health support.
Good luck!