Did you know that the Libraries host a free public programming series that is open to everyone each semester? Offerings include readings, concerts, workshops, our beloved Charles L. Blockson Afro-American Collection series, and more. Whether you're an undergraduate or graduate student, researcher, local Philadelphian, faculty or staff member, you're invited to join us!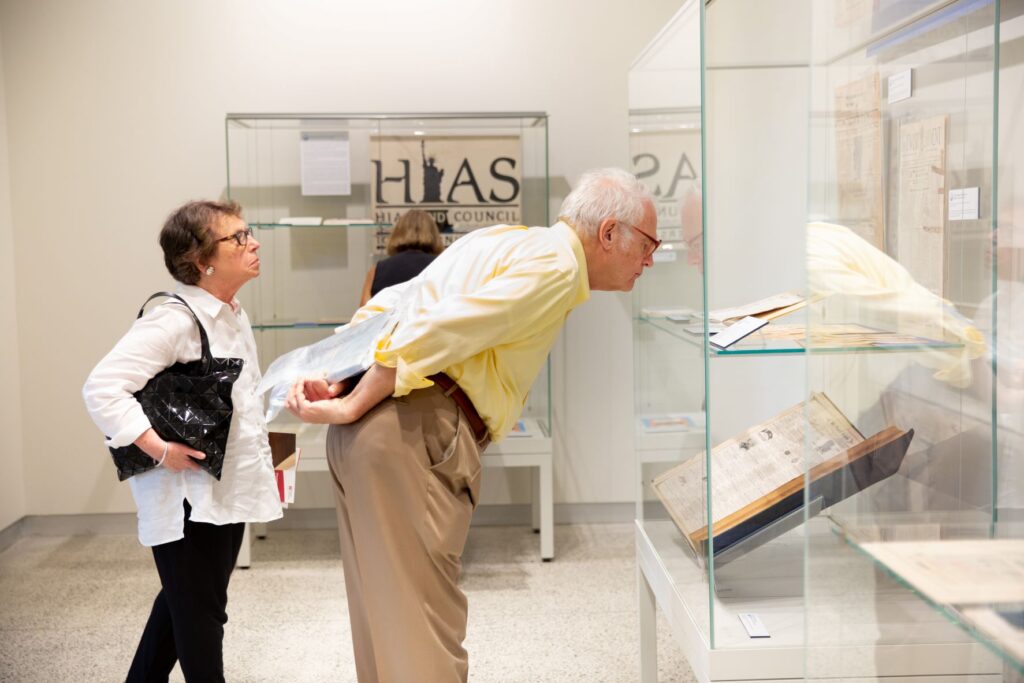 Last fall, our Beyond the Page programming series offered several programs that complemented our celebration of the Philadelphia Jewish Archives Collection, including a kickoff program with Murray Dubin and an exhibit in the Charles Library first floor exhibit space. The exhibit, "Our Greater Philadelphia Mishpachah: 50 Years of Documenting the Jewish Community," remains on view until March 6. Stop in to view it before it's gone! We also held a Midday Arts event with poet and writer Elaine Goldstein Terranova, CLA '61, which was paired with a pop-up exhibit in October in the Albert M. Greenfield Special Collections Research Center Reading Room featuring papers Terranova donated to the SCRC.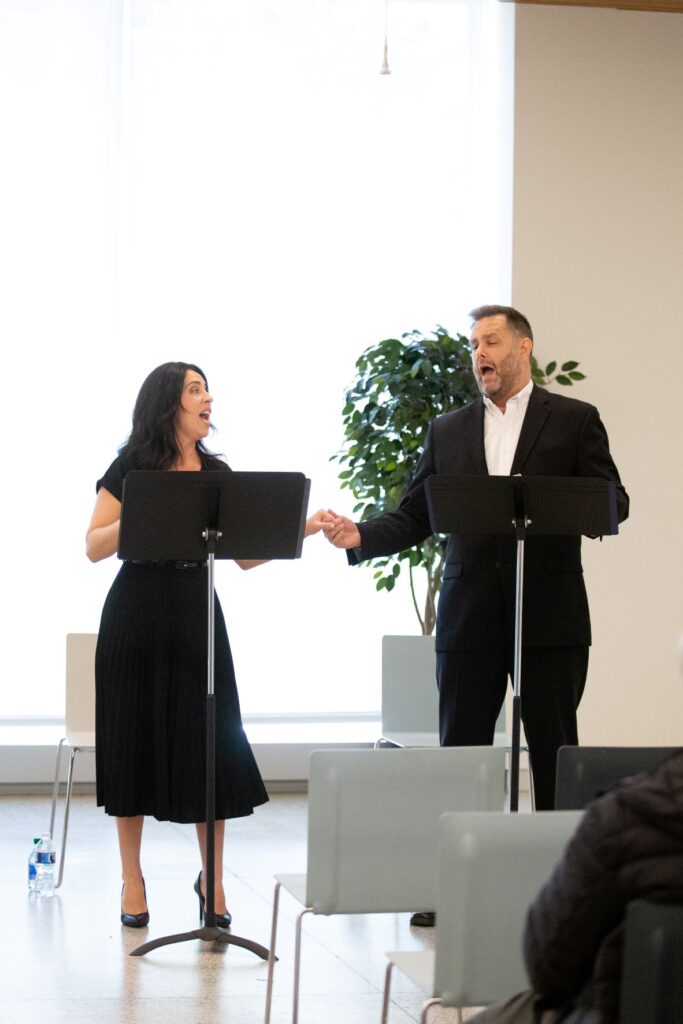 Our Beyond the Notes concerts returned in person last semester. The November concert remembered the 84th anniversary of the Kristallnacht ("Night of Broken Glass") pogroms with stories of Austrian Jewish composers and librettists, performed by Boyer College of Music faculty member Daniel Neer and friends. It was such a pleasure to hear beautiful music in the Charles Library event space once again!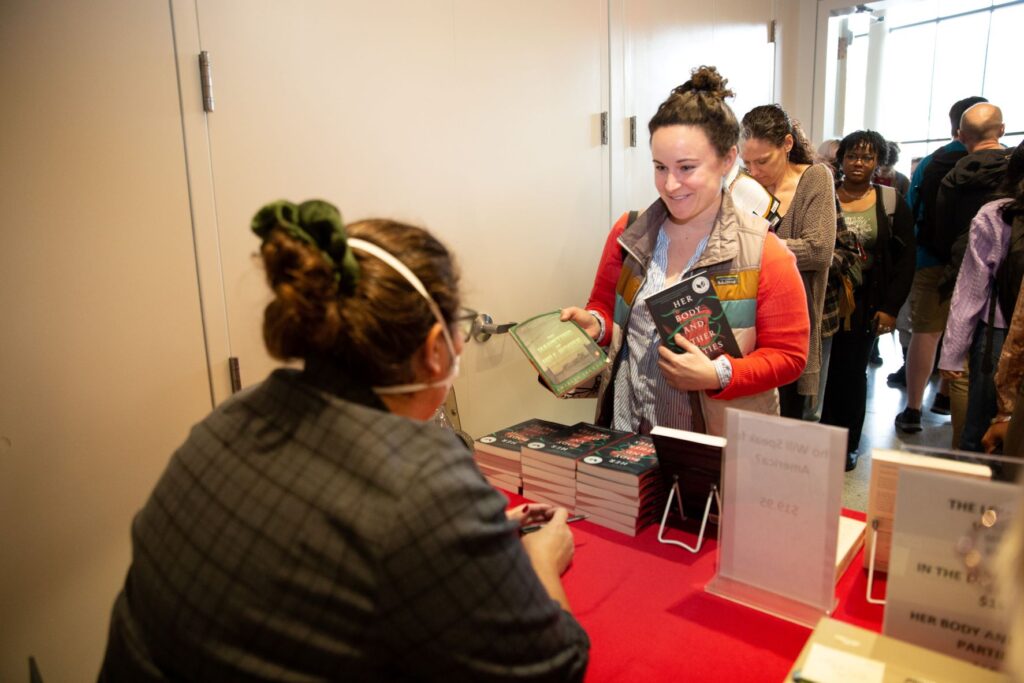 The Libraries and Press also collaborated with the Intellectual Heritage Program, the College of Liberal Arts, and the Gender, Sexuality, and Women's Studies Program on an event as part of Temple's universitywide Hispanic Heritage Month celebrations. Our event brought Philadelphia-based author Carmen Maria Machado to Charles Library for a conversation with Temple Professor Liz Moore. Both the event space and an overflow room filled up with audience members, and we also livestreamed the event.
The Charles L. Blockson Afro-American Collection continued to offer an exceptional semester of programming that included a Rev. Dr. Leon H. Sullivan centennial celebration and a conversation with Molefi K. Asante and Haki R. Madhubuti about Third World Press Foundation, the largest independent black-owned press in the United States that just celebrated 55 years.
Interested in viewing a program recording from the fall? You can! Our website features program recordings going back many years. 
What's coming up this spring 
We invite you to join us this spring in person and online as our series continues. At Charles Library, our programs will explore the experience of making a home in a new place. We'll look at the stories of immigrants, refugees, and others who have left one home for another, and consider what it means to belong—and to be welcomed into new spaces.
There is going to be a full lineup of Beyond the Notes concerts. Check the Performing Arts News blog for performance announcements. 
The Blockson Collection will present another installment of the Ione D. Vargus with special guest State Senator Vincent Hughes. They will also host a variety of author talks with Anneliese Bruner, Casarae Abdul-Ghani, Judy Juanita, Diane Turner, Suzanne Cloud and others. And of course, in April, the Bootsie Barnes Jazz Series is back and this year the guest is Gerald Veasley. The African Americans of the Twentieth Century in the Philadelphia Region: Known and Unknown exhibit will be available for viewing through June. The exhibit highlights known and unknown African American Philadelphians in the twentieth century, with an emphasis on the fourteen individuals profiled in BLAM! Black Lives Always Mattered! 
Looking for a book club this spring? We have those too! Join us for lunchtime book discussions of Can't We Talk About Something More Pleasant by Roz Chast, Such A Fun Age by Kiley Reid, and this year's One Book, One Philadelphia selection. 
Stay in touch 
There's so much more! Be sure to bookmark our events page to see our full spring lineup and sign up for our mailing list.