The Libraries are once again offering our Crunch Time Café to help you refuel and relax as you prep for final exams. Our offerings are a bit different this year, as we prepare Paley for the move to Charles Library, so read on to see where you can find us.
Be on the lookout Tuesday, April 30 around late morning as we travel through Paley Library handing out snacks from our awesome library cart. High fives are most appreciated.
You can also stop by our table on the First Floor of Paley from 2:00-4:00 pm on Wednesday, May 1 and 9:00–11:00 am on Monday, May 6 for snacks and to share your favorite memories of Paley in our video booth.
And don't worry—we didn't forget the therapy dogs! We're partnering this year with the Wellness Resource Center to bring Destress with Dogs to the Student Center 217A on Thursday, May 2 from 11:30 am–2:30 pm.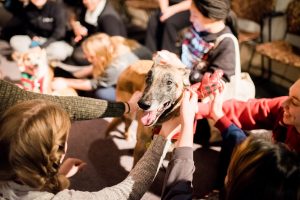 ---
Need research help?
Chat, text, email, or make an appointment with a subject librarian at library.temple.edu/asktulibraries.  
And to make your studying easier
Paley Library is open 24/7 from 8:00 AM on Thursday, April 25 through Tuesday, May 7. You can also book study spaces ahead of time at paleystudy.temple.edu.