I joined with a team of scientists along the east coast to develop a successful proposal to study critical zone processes in urban settings.  We plan to examine how urbanization results in a shift from supply-limited transport of weathering agents to a transport-limited regime.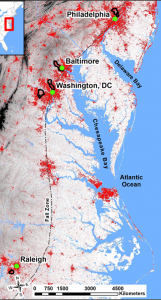 Our network of field sites will also allow us to examine how climate and urbanization patterns affect export fluxes.  I am looking forward to working with PI Claire Welty of University of Maryland-Baltimore County and the rest of the team on these questions!
We are also part of a network of 9 teams across the country taking part in NSF-funded critical zone research.