Culture on campus is ripe for climate action and Temple Sustainability is encouraging you to 'decarbonize your life'. Let's think critically about our consumption: What is the true cost of consumer goods? Where are we now and where do we need to go? How can students be a part of the solution?
Everyone's favorite on-campus sustainable retail experience returned this semester. After sorting over one ton of Give and Go Green donations in May, Temple Thrift, our own triple bottom business, was in action at the Bell Tower on October 6th and 13th.
Slow Fashion with Temple Thrift
Hundreds of students in residence halls donated and over 20 volunteers sorted donations to divert 1,279 pounds of clothing from the landfill for this year's Give and Go Green initiative, a collaboration between Temple Sustainability and the Division of Student Affairs. 1,142 pounds of food and hygiene products were donated directly to the Cherry Pantry. 99 pounds of food waste was sent to the landfill, and 9 pounds of waste was recycled.
Of the clothing donated by Temple students, we gathered the following insights:
Majority of items were from some of the largest contributors of fast fashion, including Forever 21, American Eagle, Shein, H&M and Old Navy.
Over 30% of the items were made with a combination of cotton, polyester, nylon and spandex and contained microplastics Read more about reducing their negative ecological impact in your laundry here.
It took 344 pounds of oil to create the cotton items GGG collected.
Only 3% of the textiles were manufactured in the United States.
Over 80% of textiles were manufactured in China, Vietnam, or Bangladesh.
60 individuals volunteered to help run two days of pop-up sales, completing over 100 unique shifts. 395 shoppers spiced up their wardrobes and picked up practical home goods affordably — no item was over $5! Still, we collected $5,057 in sales revenue on items that were otherwise headed to the landfill. All the proceeds were donated directly to the Cherry Pantry, an on-campus pantry for students.
Decarbonize your Closet
It is hard to deny Temple Thrift's positive impact, but thrifting is not a silver bullet. Second hand sales are not a solution to this much larger global crisis.
The problem is overconsumption and our 'out of sight, out of mind' mindset. Fast fashion is the world's second largest pollutant and 85% of the post-consumer textile waste — 3.8 billion pounds– slowly decays in landfills each year. You can read a deep dive on the ecological impact of the fashion industry in our Waste Conscious Fashion Community blog. Our choices — from the second we click purchase on an online webstore, to the moment we throw them away or drop them off at a donation site — have a real impact on people and the planet.
As climate advocates and social entrepreneurs, we should think hard about the true cost of each and every garment.
Advocating for slow fashion looks beyond simply thrifting to support a movement and a community of conscious consumers. Through their choices, slow fashion advocates support sustainable and ethical brands that benefit "the planet and all people," embodying the shift from purchasing cheap items for a short period of time to investing in high-quality items for their long lifespan.
Everyone can decarbonize their closets – whether it's upcycling items, swapping clothes with peers, shopping from sustainable brands, or shopping for pre-loved items. Encourage your friends and family to join the movement.
Philadelphia's Slow Fashion
Local sustainable fashion companies in Philadelphia, like Lobo Mau and Grant BLVD, have taken social and ecological impact to a new level. Labo Mau's use of hemp, eco-friendly screen printing, local manufacturing, and penchant for upcycling serve as an aspirational example for individual consumers and brands alike. Grant BLVD designs with secondhand clothing and preloved fabric to curate unique garments and connects their work with the larger global crises of climate change and poverty through their mission and message.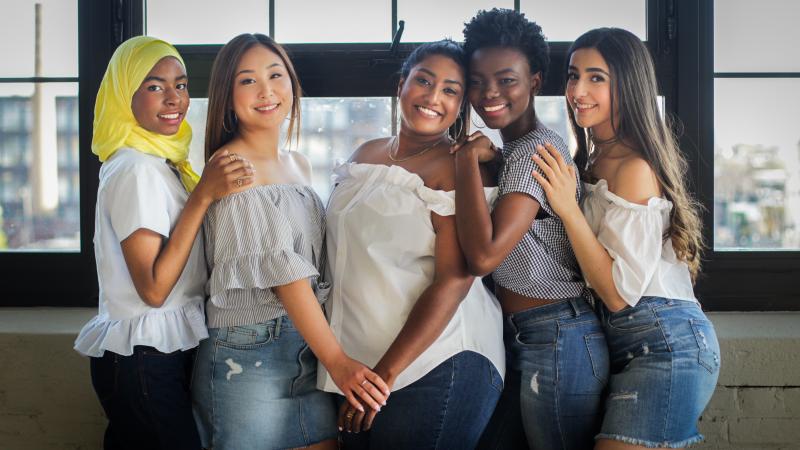 Shay, an EcoLead and intern at Grant BLVD, tells us about the difficulty of navigating this work on the ground.
"Whether it's becoming a Zero Waste Partner with the City of Philadelphia, which is actually centered around recycling initiatives, or the lack of existing programming and resources to successfully execute sustainable initiatives — these small businesses are essentially starting from scratch and still creating a positive impact".

– Shay Strawser
FABSCRAP, one-stop textile reuse and recycling resource, opened in Philadelphia on November 15th. A business solution to pre-consumer textile waste, FabScrap Philadelphia will pick up fabric scraps, process by fiber content and recycle with fiber-to-fiber technologies or give local creators the opportunity to reuse materials for a low-cost. Anyone can volunteer with FabScrap for 3 hours and take home 5 pounds of free textiles for their next project.
Use fashion as a STATEMENT
Every stage within the lifecycle of fashion is associated with environmental and social costs, as highlighted by Earth Logic. Fashion is culture. It shapes and is shaped by our lifestyles and communities. I encourage you to continue to use fashion as a statement, not by purchasing more items, but by making intentional decisions that align with your values and consider your carbon and waste footprint. Be conscious of the lifecycle of items — take note of the fabric(s) used, where it was made, and its capacity to move with you as you grow.
Let's think about the ten-dollar SHEIN pants you bought on Monday: They were most likely manufactured in Guangzhou, China by a young woman who was paid three cents for making this garment. The trendy design was likely conceived less than a week before it was made and was probably copied from an independent designer. The pants are cheap — in price and in quality. From an aesthetic and construction standpoint, they are unlikely to be worth the time and resources necessary to repair them which means they are destined for the landfill.
But, what if you bought one-hundred dollar pants sourced from a sustainable and ethical fashion brand? These pants would be made of recycled materials or with ecologically ethical and locally grown fabrics like hemp or cotton, designed locally and sewn by individuals that are paid a fair living wage. 

A higher price point is the true cost of a garment and sustainability. These pants are made of great quality and to last you a lifetime, a garment you can upcycle and eventually recycle with the designer you purchased from in the first place. 

You've taken the time to learn, and you may have a better understanding of what it means to be a conscious consumer. Although this might be startling, I challenge you to put it into practice by considering the true cost of your purchase -- to people and to the planet -- each time you decide to buy.
This Campus Sustainability month, climate leaders took action to decarbonize their closets and engaged with the community through slow fashion.