Leave waste behind and move fashion forward!
Campus Sustainability Month is under way, and our #EcoChampions Allison and Miya are keeping the momentum going with Thrift and Flop. On October 14th, Allison and Miya hosted a valuable conversation with superstar students, and passionate faculty members. Read on to learn more about this Temple student-led waste conscious fashion forward community!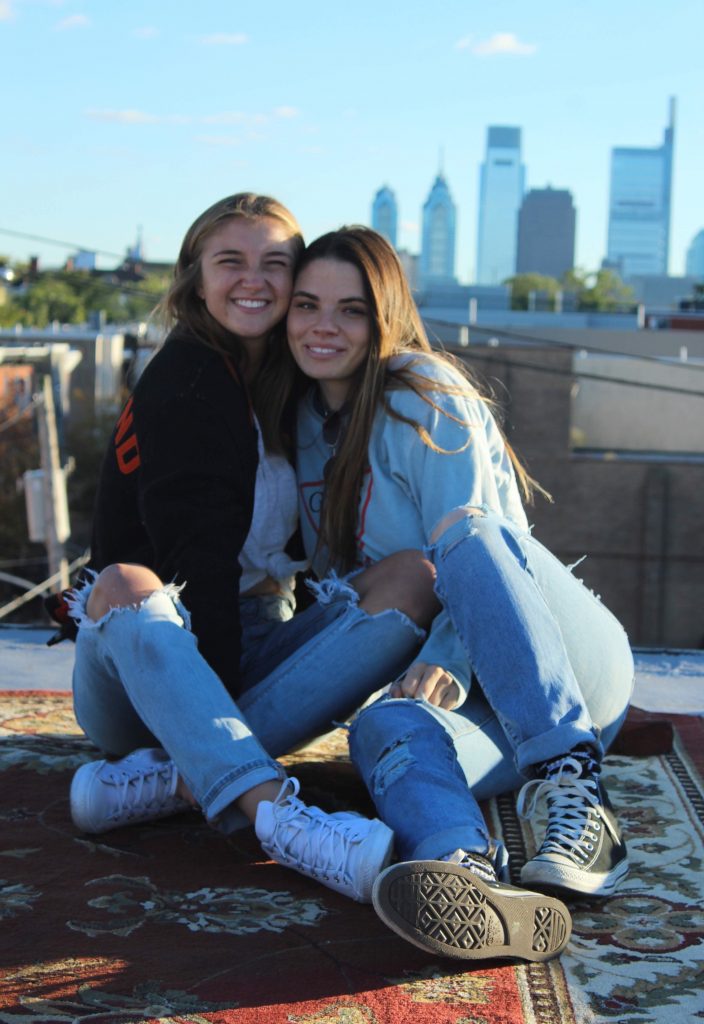 About our #EcoChampions
Allison Altobelli and Miya Wagner are students in the College of Liberal Arts at Temple University. Allison is a communications major with a minor in digital media engagement. Miya is also a communications major with a minor in psychology. As the recipients of the 2019-2020 Green Grant, they are entering their second year with Thrift and Flop. We are ecstatic to be featuring them both as our #EcoChampions, as they bring awareness to the negative effects of fast fashion and use their creative skills to channel a positive message through upcycling clothing!
Building a waste conscious and fashion forward community.
Miya founded Thrift and Flop in October of 2019 soon after realizing she wanted to be involved at Temple, but there was not a club that resonated with her passions. With Miya's combined passion for upcycling clothes and craving a community of like-minded people, she collaborated with Allison and they founded Thrift and Flop.
Thrift and Flop began their community through an Instagram page, inviting students to create authentic pieces of clothing by channeling their creativity through fashion and sustainability. Now, as we are in the 2020 school year, Thrift and Flop has over 800 followers and 85 paying members. Thrift and Flop's success is highlighted by the community of waste conscious fashion forward students. They continue to build upon this community of students by normally operating with weekly demonstrations, photoshoots, thrifting trips, clothing swaps, fashion shows and giveaways.
Join the Thrift & Flop Community!

Follow Thrift & Flop on Instagram to learn how to join the fashion forward group for workshops, photoshoots & more.
Instagram: @ThriftAndFlop
Facebook: Thrift and Flop
---
Reduce, Reuse, Recycle: upcycling clothing.
Many people want to feel fashionable. The fast fashion community makes people feel that they have to do so with low prices and cheap non durable clothing. In America, we throw away about four billion pounds of clothing annually – making fast fashion the world's second largest pollutant as 85% of the textiles slowly decay in landfills. Fast fashion is an ethical, environmental and economic issue. It pollutes the earth affecting our ecosystems, brings light to a major human rights issue, and makes people question: what happens to clothes before they are put in stores and after they are bought?
A waste conscious fashion solution.
As people question their buying habits, we continue to move one step closer to slow fashion. Thrift and Flop offers a solution: upcycling clothing. Being zero waste, is not just recycling but it's repairing, reusing and rethinking. The vision behind Thrift and Flop is brought to life through this solution. By taking garments that would rather be thrown away, one can take these garments and create a unique, beautiful piece of clothing. By altering their aesthetic or repairing them, the product life cycle is extended and fashionable pieces are created.
Thrift and Flop hosts several workshops for upcycling clothes – demonstrating how to distress denim, paint on fabric, sew, make jewelry, acid wash and so much more!
Be an Eco-Friendly consumer in Philadelphia.
As a part of the community in Philadelphia, we can make a positive impact and difference by being Eco-Friendly consumers. Before you buy that next clothing item, ask yourself: Do I have an item like this already in my closet? Is the price tag reasonable and worth it? What brand is this garment? Is it eco-friendly?
Visit our latest blog post to learn more about where to ethically and sustainably donate your clothes in Philadelphia.
Thrift and Flop's Green Grant journey.
The Green Grant enabled Thrift and Flop to purchase needed supplies for their meetings and operations making this semester possible. The Office of Sustainability continues to guide Allison and Miya, bringing their vision of sustainability and zero waste to life.
Learn more and apply for the Green Grant!
Temple University's Green Grant builds upon Temple University's commitment to sustainability by funding projects led by students that focus on advancing the mission and have a positive impact on our local environment and community. The application deadline is November 30th, so head over to our website to learn more about applying!
2019-20 Green Grant Recipients:
Thrift & Flop
Bucha Leather Inc.
Upcoming Green Grant Info Session:
Thursday October 22nd 12pm
---
Hey Eco Owl! Remain informed and stay connected:
Join our OwlConnect to remain informed and updated on all upcoming events with the Sustainability community at Temple. Check out our new EcoReps program while you're there to gain hands on experience with greening our campus!
Take a look at our last Stories of Sustainability, Sustainable Innovative with Bucha Leather Inc. Learn about #EcoChampion and CEO of Bucha Leather Inc., Zimri Hinshaw!
Follow along with us on our socials to stay engaged and learn more about our upcoming #EcoChampion!
Instagram: @TUsustainability
Twitter: @TempleEcoOwls