Temple Owl Zachary Fajge, Class of 2026, was hard at work this summer interning with the tech startup Supplyve in Jerusalem.
As an entrepreneurship and innovation management major from the Fox School of Business, Zachary's summer internship took him on a journey halfway around the world from his hometown in Bucks County. In Jerusalem, Zachary immersed himself in a new culture while getting valuable professional development at Supplyve, an innovative supply chain and inventory management startup. From web design and AI research, to creating tutorials for new Supplyve users, Zachary took a deep dive into the world of startups and entrepreneurship.
Now we'll hand it over to Zachary to give us a closer look at his experience interning with Supplyve.
---
To start off my week, I'd often go to the Mount of Olives to take in the beautiful view of Old City, Jerusalem. I landed an internship here through Meor, a Temple student organization that helps Jewish students connect with their roots while gaining professional development. Meor helps Temple students land internships each summer, and there were six other Meor Temple students interning through the same program alongside me this summer.
Most mornings I had classes and professional development workshops with other interns. These were offered through Meor, and they covered a variety of topics from public speaking and resume building to Jewish history and tradition. On the day this photo was taken we had a class with Tom Steinberg, the founder and CEO of TS Partners LLC. Steinberg is also the former VP of Goldman Sachs and former president of the Tisch family's interests, where he managed the finances of the New York Giants and MetLife Stadium, among other things.
After morning classes, I would take the bus to my internship. Never underestimate the benefits of taking public transportation to get to your internship! The bus gave me the opportunity to feel like a local and connect with people from the community.
My internship office was in the Azrieli College of Engineering's startup accelerator and entrepreneurship center. The college provides office spaces to engineering and tech startups, so I was surrounded by like-minded people who were making their dreams of building a company come true. I also got to interact with students from different backgrounds, which I loved!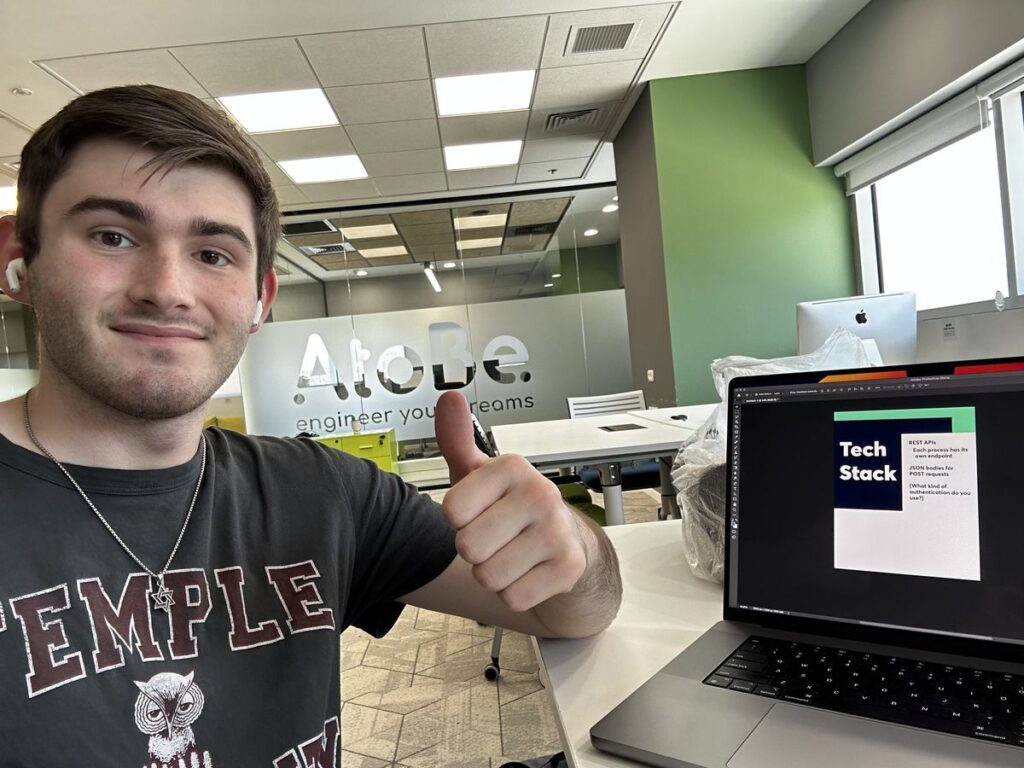 Here I am in the startup accelerator called AtoBe. I worked in an open office environment alongside the founder and co-founder of Supplyve. They offer software geared towards grocery stores and restaurants that helps these businesses send orders, scan invoices and record product prices and quantities. My job was to do web design, AI research and other tasks such as creating tutorial videos and documents. Supplyve was just beginning to integrate artificial intelligence into their systems, which is something I am extremely passionate about.
I worked on a hybrid schedule, so I was in the main office some days, and other days I went to a remote hub where I worked with other interns. Some of my friends from Temple were also interning through the same program. On the day this photo was taken, I completed a three-weeklong project of building the help center for the Supplyve website. I had to incorporate UX design elements into the help center's build. The most difficult part of this project was getting into the mind of the customer to figure out what they would want in a help center, and how they would want it organized.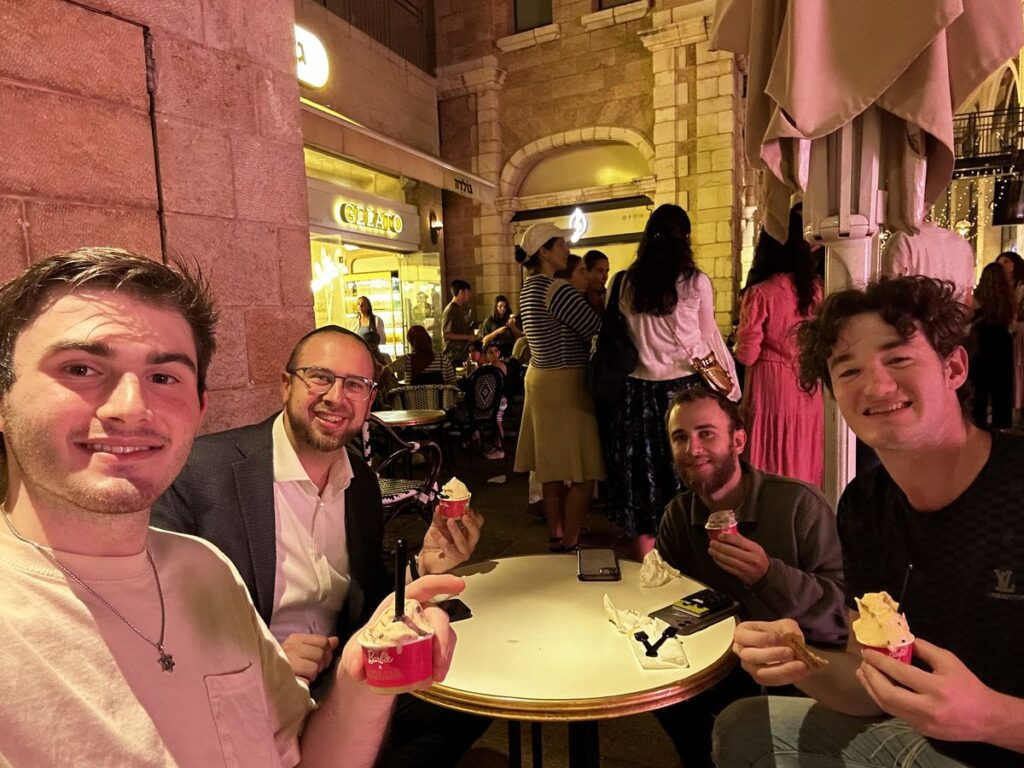 At night, sometimes we would have classes, and sometimes we'd have free time. On this night, I got ice cream in the Old City with my friends Eli and Hayden from Temple, as well as the Meor Temple rabbi, Rabbi Katz. Whatever your internship is and wherever it is, make sure to still have fun! Don't let your internship consume you!
This article originally appeared on Temple Now's Nutshell
Written by Zachary Fajge
Introduction by Jonny Hart
Header Graphic by Rose Caporaletti
Photos by Zachary Fajge