Throughout summer 2022, Leah Hetzell, director of Temple University's International Student Affairs (ISA), and Marena Ariffin, assistant director of ISA, collaborated to create the Connection Corner, a resource that provides international students experiencing financial hardship with a way to fill their basic needs for free with items including shelf-stable food, hygiene supplies, and school/house necessities.
With rising food costs induced by the COVID-19 pandemic and inflation, the need for this resource is clear. According to the Education Data Initiative, the average college student in the U.S. spends around $250-$300 a month on groceries and $667 a month on food overall.
"For some international students, devaluing currencies against the dollar's strong performance are resulting in huge disparities in exchange rates. Unfortunately, this puts many students into financial burden and food insecurity," said Ariffin, explaining why ISA added the Connection Corner to its many other services (orientation, triage for students in crisis, career development and regular world culture events such as monthly International Coffee Hours).
Over its first semester, in line with international students' overwhelmingly positive response to other ISA services, the Connection Corner is taking off.
"In the first week we opened, the Connection Corner was overwhelmed. We saw at least 10-15 students a day. Since then, it's evened out, and we're seeing approximately 20 students per week, and the demand and foot traffic is steady," said Hetzell. "The Connection Corner's message of building community and connection with international students has been the foundation of International Student Affairs since it was established in 2016 and students need additional resources, such as this, to support their basic needs," she added.
Essential to the Connection Corner's philosophy is ensuring students' comfort in using this resource. For that reason, ISA does not track the students who use it or limit what students can take. An international student can come in every day and take as much as they need.
When they use the pantry, students need only scan a QR code and fill out a check-in form. This is not done to collect information about students but as a way for the office to monitor usage and needs.
Some popular items include toothpaste, shampoo, convenience food such as ramen and microwavable meals, and everyday food items such as pasta and canned goods. "We are also working toward providing culturally relevant food items to bring comfort as well as encouraging our students to reach out for help," said Ariffin.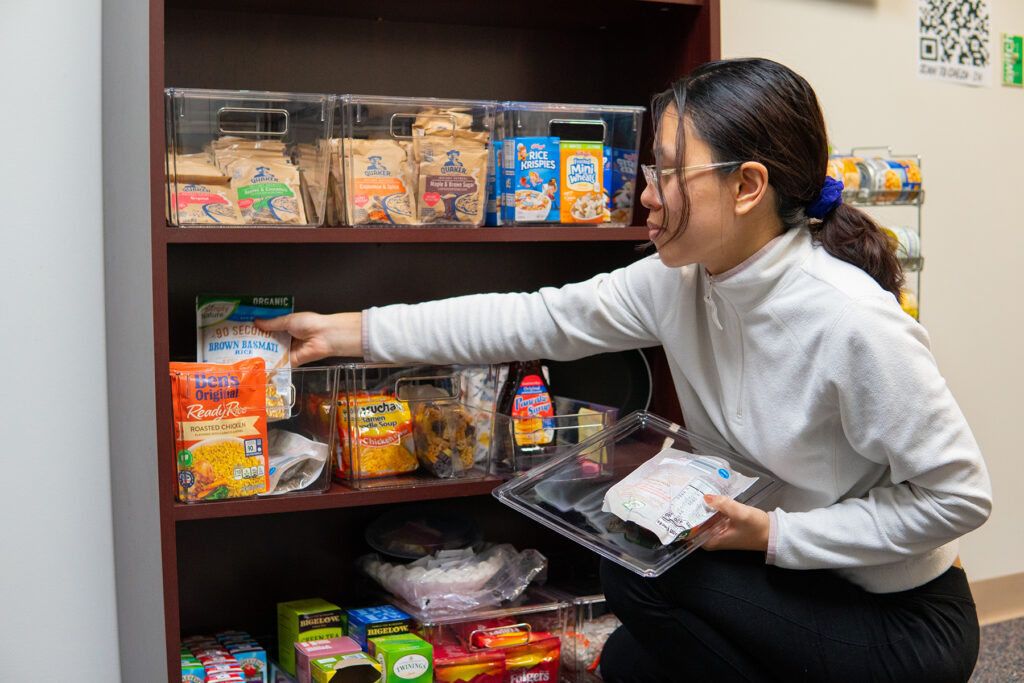 Currently, Hetzell and Ariffin promote the Connection Corner through their biweekly newsletter for international students, Global Hoot, and through Global Temple social media.
As their next step, they are working not only to increase the number of students who visit the Connection Corner, but also to increase donations.
"We are planning to create a page on our website that explains other options and resources for international students, which hopefully will help us get more donations and more students visiting our office," said ISA Intern, Michel Maksimova (MA in Media Studies and Production '24), who is helping promote donations from Global Engagement and Temple staff as well as from any student organizations that represent culture and identity on campus.
Maksimova is also working on ISA's guide for international students, which will include advice for budgeting for food and a list of alternative resources for food and supplies. The Connection Corner is only one source of help and is designed to complement other resources available for students on-campus. For example, students can also get food from the Cherry Pantry located in Temple's Student Center.
"There's a lot we can do for promotion and expansion; we're still growing and taking a minute to get off the ground," said Hetzell. "We are getting a sense of what students need, and can continue developing from there," she added.
According to Hetzell, to keep the Connection Corner well stocked, ISA's pantry needs contributions from Temple's community. This is especially important since the Connection Corner is still in its early stages.
The program currently relies on a small budget from the Global Engagement Office as well as donations from staff and others. However, the Connection Corner is seeking wider support from across campus, especially for dry food and hygiene items.
If you want to donate, you can bring food products, hygiene items, apartment supplies and other items to the International Student Affairs Office at 1938 Liacouras Walk, on the 2nd Floor.
If you're an international student who wants to utilize campus pantry resources, stop by the Connection Corner Monday to Friday from 9 a.m. to 3 p.m. to pick up food and items as needed. You can contact ISA at 215-204-9562, intl@temple.edu or the Cherry Pantry at pantry@temple.edu for more information.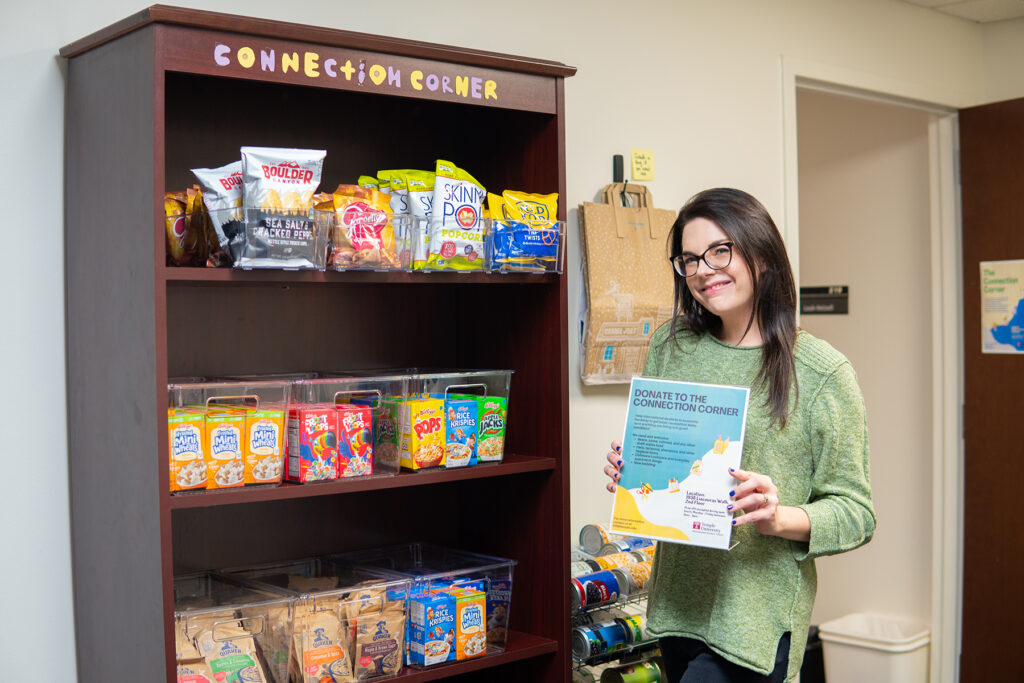 By Jadyn Amelia Howard, communications intern '22-'23
Photos courtesy of William Ferreira De Oliveira Junior, video intern