On February 1, 2023, the 14th Annual Global Temple Conference, a day-long symposium organized by Temple University's Global Engagement Office, culminated in a plenary on "Philadelphia: A Global Education Hub."
Highlighting the far-reaching scope of this city-wide, collaborative project to make Philadelphia a global education hub, those presenting represented not only Temple University via Vice Provost of Global Engagement, Emilia Zankina, but also leadership from several other key institutions in Philadelphia global higher education including Vice Provost of Global Engagement at Drexel University, Rogelio Minana; and Senior Director of International Business & Global Strategy for Philadelphia's Commerce Department, Pierre-Olivier Lugez.
An expanded group, including another presenter, Lauren Swartz, CEO and president of the World Affairs Council, met earlier in the day for their first meeting of globally minded Philadelphia organizations dedicated to making Philadelphia a global hub. The group includes 14 Philadelphia-area colleges/universities and 19 organizations.
What is a global education hub? In the words of University of Toronto scholar, Jane Knight (2018), It is a "concerted and planned effort by a country (zone or city) to build a critical mass of local and international actors to strengthen its efforts to build the higher education sector, expand the talent pool or contribute to the knowledge economy.
Why Philadelphia? According to Zankina, who led the presentation, "Philadelphia has a huge talent pool with a large international student population, includes a wide variety of universities/colleges covering every interest, is close to other major cities, is a center of technology and innovation, is rich in culture and sports, is known for its diversity, scores well on affordability and so much more."
"Philadelphia is a city of firsts and throughout history we have proven the best predictor of the future is the past" said Minana. "We are the embodiment of the pioneering DNA of the US, the first US city planned on a grid, the home of the Declaration of Independence, the first capital of the US, the first lending library, the first World Heritage City and so much more," he added.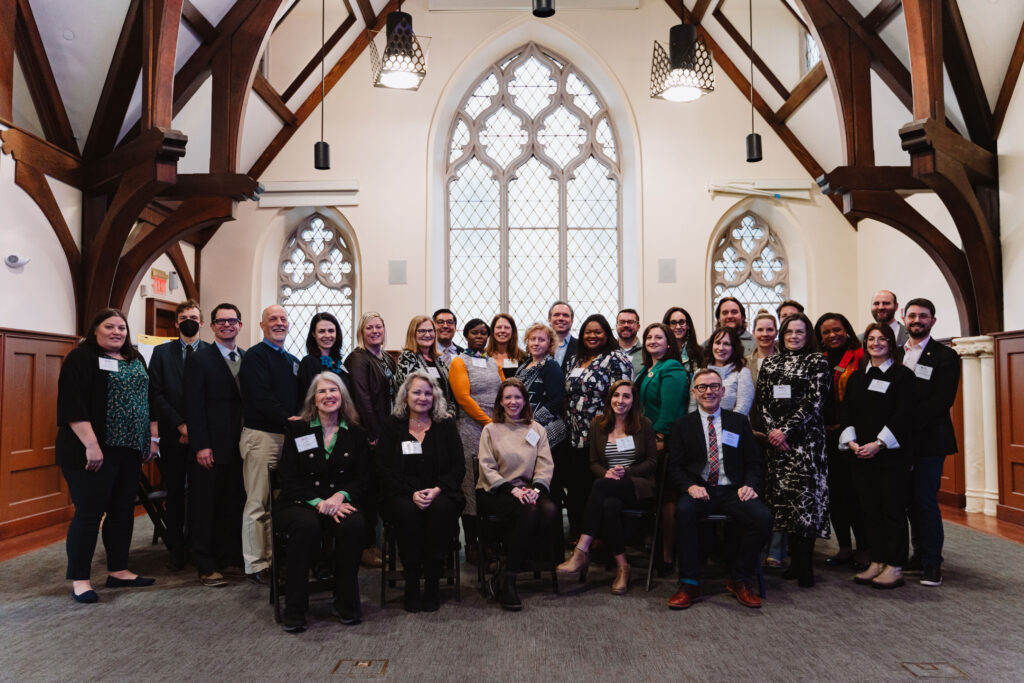 Lugez discussed how current Philadelphia projects clarify that the timing is right. He demonstrated this by pointing at projects such as "SEPTA Forward, SEPTA's new campaign to revamp buses, rail and trolleys; Philadelphia's entrance into the global stage for the 2026 FIFA World Cup; a multi-billion-dollar development at Schuylkill Yards; the $8 billion of venture capital invested in Philadelphia-based startups in 2021; redevelopment at the Navy Yard and more."
Explaining the group's motivation, Zankina said, "There are over 100 universities in the Philadelphia area, all facing the same goals and challenges. Together we can promote Philadelphia's many strengths, share resources, and coordinate our efforts to promote global higher education here and, in turn, help Philadelphia thrive overall."
After the plenary presentation, the engaged audience asked many questions and shared their own ideas to carry out a campaign to develop Philadelphia as a global education hub. For example, Klein Professor of Teaching and Learning, Dana Saewitz, suggested exploring the possibility of Temple advertising students developing the needed branding campaign and Boyer Dance Professor, Jillian Harris, stressed the importance of emphasizing dance and other cultural arts to demonstrate another reason students should study in Philadelphia.
Now, the real work of all the participating institutions begins with the next meeting of this new group of Philadelphia universities, colleges and organizations to follow this spring with Drexel University hosting.
In addition, Zankina will serve as one of the opening PACIE (Pennsylvania Council for International Education) Conference on October 13-14 on this subject.
By Lisa Z. Meritz, Director of Marketing & Communications for Global Engagement
Photo credit: Joseph V. Labolito (header), Robin Hsiao (body)