Hai-Lung Dai, Temple University vice president for International Affairs and member of the Global Philadelphia Association (GPA) board of directors, visited Naples' newly elected mayor Gaetano Manfredi in December 2021. Vice President Dai visited Naples with a delegation including Naples native Antonio Giordano, Temple University professor of Biology and Sbarro Institute director.
Dai presented a token of friendship on behalf of GPA to Mayor Manfredi. Both Naples and Philadelphia are World Heritage cities, and GPA was instrumental in making Philadelphia the first World Heritage City in the U.S.
Dai also invited the mayor, who is an engineer, to visit Temple University and to meet Philadelphia government and educational leadership and present a lecture on his vision for city management considering climate change. Mayor Manfredi and Dai also discussed how to make Naples and its prominent universities a desirable destination for U.S. students pursuing study abroad.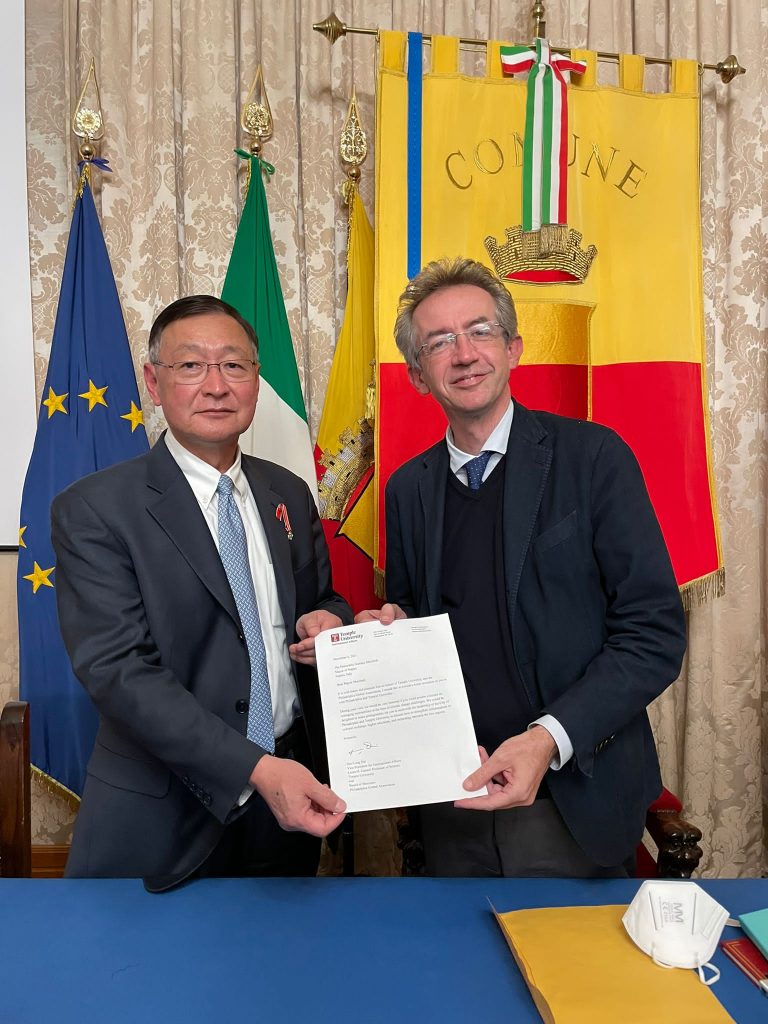 University of Campania "Luigi Vanvitelli"
During this visit, Dai and University of Campania "Luigi Vanvitelli," Rector Giuseppe Paolisso signed a general collaboration agreement between their respective schools. At the invitation of the University of Campania, Dai delivered a lecture to their medical school about a new method for bacteria diagnosis and drug research. Giordano, a "Luigi Vanvitelli" alumnus, met with Professor Sergio Minucci, vice president for International Affairs, to discuss establishing joint research between the two institutions.
University of Napoli Federico II Delegation
The Temple delegation then visited the city campus of the University of Napoli Federico II, the first public university in the world, which now has more than 100,000 students. There they discussed how to enhance the relationship between Temple and the University of Napoli Federico II, build on their existing dual-PhD degree agreement, strengthen the relationship between their two cities, and explore study abroad for U.S. students.
At Federico II, the delegation members also talked about the influence of Gaetano Filangieri, a Neapolitan philosopher, on Benjamin Franklin. As Philadelphia begins to prepare for its 250th anniversary celebration of the founding of the U.S. in 2026, the relationship between these two political leaders and philosophers showcases the long existing importance of the relationship between the U.S. and Italy.
Italian Minister of the University and Research
Next, Temple International Affairs VP Dai, CST Dean Klein, Temple University Rome Dean Zankina and International Faculty Advisor Giordano, visited the Italian Minister of University and Research, Maria Messa. The Temple delegation introduced Temple University Rome and explained their plan to make Italy a major destination for U.S. college students pursuing study abroad. The group also talked about the new partnerships Temple is forming with Italian universities.
Deputy Minister of Health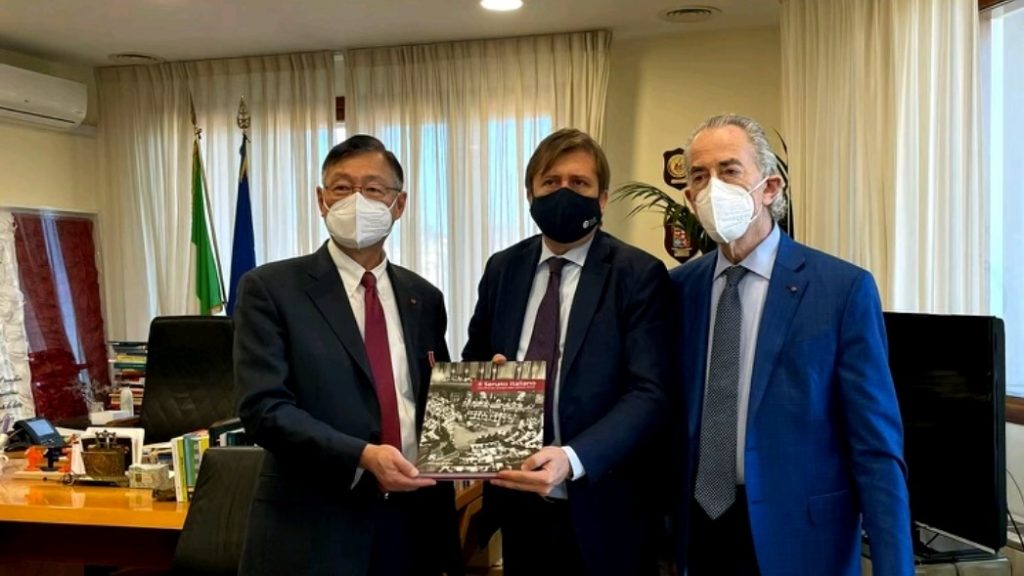 The Temple delegation also visited Deputy Minister of Health Pierpaolo Sileri. At the meeting, Dean Klein presented a letter to Deputy Minister Sileri, appointing him as an adjunct professor in the College of Science and Technology, which Sileri accepted. Next, the group discussed possibilities for Temple researchers to engage with Italian research institutions. This coincides with a new major EU initiative, which is injecting massive amounts of new research funding to its member nations.
Agreement with LUISS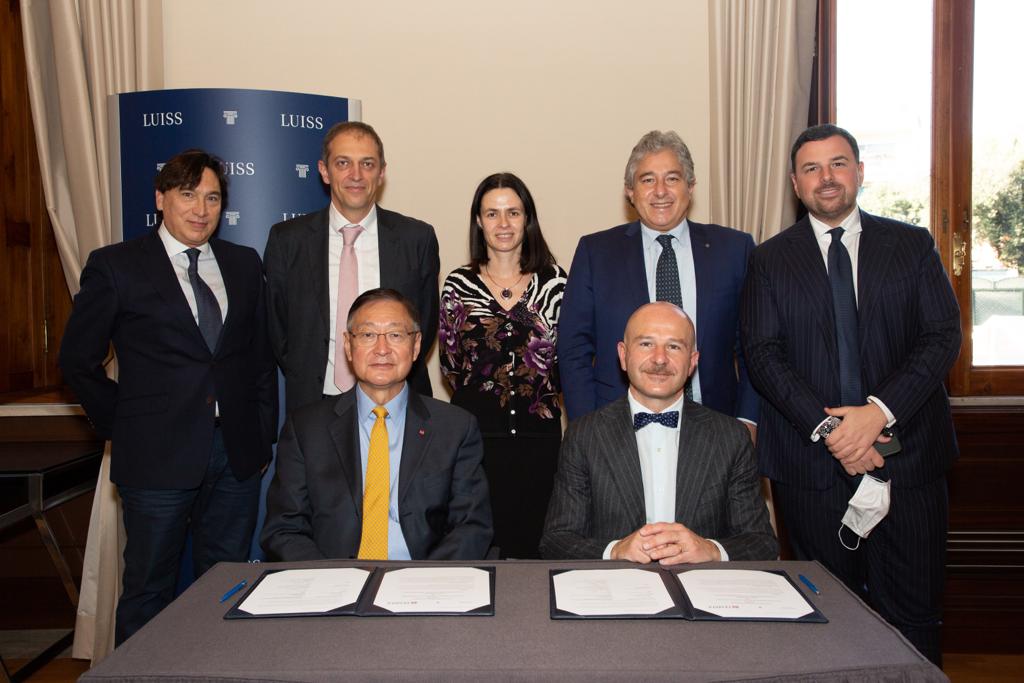 Another milestone in the trip was the signing of an agreement for a collaborative Master in Bio-Innovation degree with the Liberal International University of Social Studies Guido Carli (LUISS) in Rome. The signee for LUISS was Andrea Prencipe, president and professor of LUISS, a leading private university often dubbed the Harvard of Italy. This agreement will serve as a basis for further expanding collaboration between the two universities. In the future LUISS will be part of a network accepting U.S. students pursuing study abroad in Italy through Temple.
Partially adapted from these Italian newspapers:
Missione della Temple University: patto tra Napoli e Philadelphia
A Napoli v Temple University e Giordano alla Vanvitelli e con Manfredi
Top Photo: (Center, L-R) Temple Vice President of International Affairs Hai-Lung Dai, Naples Mayor Gaetano Manfredi, Temple Professor of Biology Antonio Giordano. Others include Mayor Mandredi's delegation.