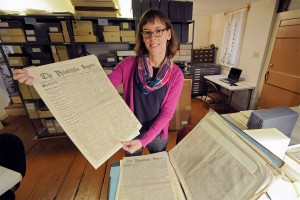 Recent Temple Public History Alumni Dana Dorman ('09) and Erin Bernard ('15) have big projects in the works in the greater Philadelphia area.
Read about Dorman's current work as Archivist and Librarian at the Historical Society of Haddonfield to enhance the society's new Archives Center in the Philadelphia Inquirer.
Erin Bernard's new History Truck project is also making the news, as it collects new oral histories, art, and material culture in Philadelphia's Chinatown.  Check out NewWorks'profile of her recent work.