Doing research in Philadelphia is challenging.  We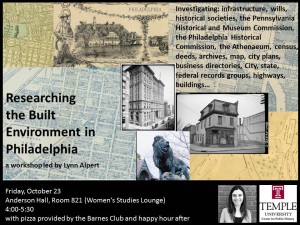 have a wealth of resources–excellent archives, and lots of them.  In fact, there are so many repositories, so many stakeholders, so many handlers of records, and layers upon layers of city infrastructure to wade through, that everyone could use a guide.
After spending years sifting through different kinds of records, housed in city, private, and public archives to professionally research the history of Philadelphia's built environment, Lynn Alpert  is an excellent guide.  Lynn is a cochair of the Young Friends of the Preservation Alliance and a working public and architectural historian in the Philadelphia area.
Join us for a workshop that will acquaint us all new resources, tools, and collections—and importantly broaden our research through the investigation of the built environment of Philadelphia.
Event is sponsored by the Barnes Club and Temple's Center for Public History.
Friday, October 23
Anderson Hall, Room 821( Women's Studies Lounge)
4:00-5:30
with pizza provided by the Barnes Club and happy hour after
For more information, contact Hilary Lowe, hilowe@temple.edu
Investigating: infrastructure, wills, historical societies, the Pennsylvania Historical and Museum Commission, the Philadelphia Historical Commission, the Athenaeum, census, deeds, archives, map, city plans, business directories, City, state, federal records groups, highways, buildings…