[This post comes to us from Grace DiAgostino, incoming Public History M.A. student and former undergraduate research assistant for the Philadelphia Public History Truck]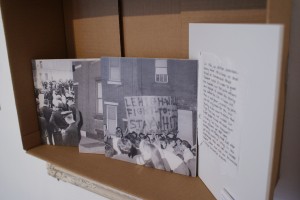 As an undergraduate history student with an expressed interest in public history, I was delighted and honored when offered a position as an undergraduate research assistant for the Philadelphia Public History Truck for the Spring 2014 semester. Before working with the History Truck, I had no in depth experience with community history, so I was nervous but extremely excited to work with the chief curator and founder of the History Truck, Erin Bernard, in the East Kensington community! I began in February 2014 in the midst of preparations for History Truck's first stationary exhibit, Manufacturing Fire, which was located at Little Berlin, an artist collective in East Kensington during the month of April.
As the undergraduate research assistant, I spent much of my time researching fires in the East Kensington area at the Temple University Special Collections Research Center and the Historical Society of Pennsylvania. In addition to researching, I also transcribed oral histories from the block party in East Kensington last fall, attended Kensington Neighborhood Association (EKNA) meetings, participated in exhibit planning meetings, and helped with exhibit set up and break-down.
The opening night of Manufacturing Fire was absolutely remarkable. Members of the East Kensington community, artists, and historians mingled, reflected and ate soup based on an original Kensington Soup Society recipe that Erin discovered while researching at the Historical Society of Pennsylvania, which was delightfully nerdy! There was a listening station, where visitors could listen to oral histories taken from the block-party, a memory map, and a reflection area where people could think about the exhibit and record what buildings they were worried about in their neighborhood. Residents of East Kensington loved seeing their community's history, and non-community members loved learning about the area's history.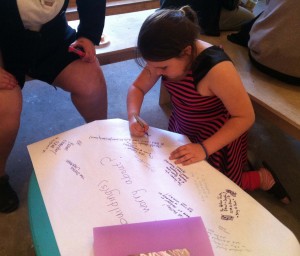 It has been a privilege and pleasure to work with the History Truck in East Kensington. I have learned so much, seeing first-hand the value of sharing authority and creating accessibility while interpreting history. The exhibit was inspired by the community, as it was based on oral histories taken from community members, artifacts provided by community members, and original artworks inspired by the oral histories. The interdisciplinary and collective nature of the History Truck produces a new type of history, one that is incredibly progressive and connects the past with the present in a personal and meaningful way. Working with Erin and the Public History Truck has exposed me to new ways of interpreting history and sharing authority, and I am excited to see what the History Truck will uncover in its most recent community cycle, North Philadelphia!