Meet The Woodlands!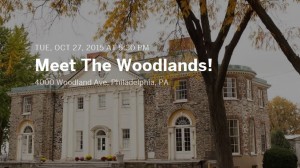 Everyone is invited to come learn about and discover The Woodlands at 5:30 pm on October 27th! Enjoy cocktails and light hors-d'oeuvres, the ambient historic cemetery, receive a tour of the Hamilton Mansion from Woodlands staff, and hear about the educational outreach programs facilitated at The Woodlands. Temple University public history student Grace DiAgostino will present her research on and work with the Woodlands Cemetery Project, a collaborative endeavor between The Woodlands and J.R. Masterman's Advanced Placement United States History class. Joana Arruda, another Temple University public history graduate student, will be offering tours of the historic cemetery!
The Woodlands Cemetery, designated a National Historic Landmark District, is home to more than 30,000 "permanent residents." Actively used today, the Woodlands Cemetery, its Hamilton Mansion, and 54-acre green space are an educational resource for scholars seeking further understanding of American architectural and botanical history, urban development, and the origin and growth of West Philadelphia.
We ask that all attendees provide a suggested $5 or $10 donation. All proceeds will go to the Woodlands Cemetery. You may also donate through their website: https://woodlands-phila.squarespace.com/support
This event is planned by two Public History graduate students, Joana Arruda and Grace DiAgostino, and funded in part by the Temple University Center for Public History. Questions? Please feel free to contact Grace DiAgostino at grace.diagostino@temple.edu or Joana Arruda at arruda.joana@temple.edu.
When

Tuesday, October 27, 2015 from 5:30 PM to 7:30 PM (EDT)

Where

4000 Woodland Ave – 4000 Woodland Avenue Philadelphia, PA 19104 – View