Historic heat waves are sweeping the Northwest with roads buckling under heat stress and hundreds already pronounced dead. Climate-related crises like these are becoming commonplace for younger generations and will require creative action to confront. But one thing's for sure: tackling the climate crisis will take a lot of work.
We need to modernize our electricity grid, revamp our agricultural systems, establish rapid disaster-response networks, and more. Meanwhile millions of Americans are unemployed or underemployed. So why not put them to work fighting climate change? This is the logic of the Civilian Climate Corps.
The Civilian Climate Corps
The Civilian Climate Corps (CCC) is a proposed government jobs program that would employ Americans to fight the climate crisis. According to the White House, the program would aim to "conserve and restore public lands and waters, bolster community resilience, increase reforestation, increase carbon sequestration in the agricultural sector, protect biodiversity, improve access to recreation, and address the changing climate."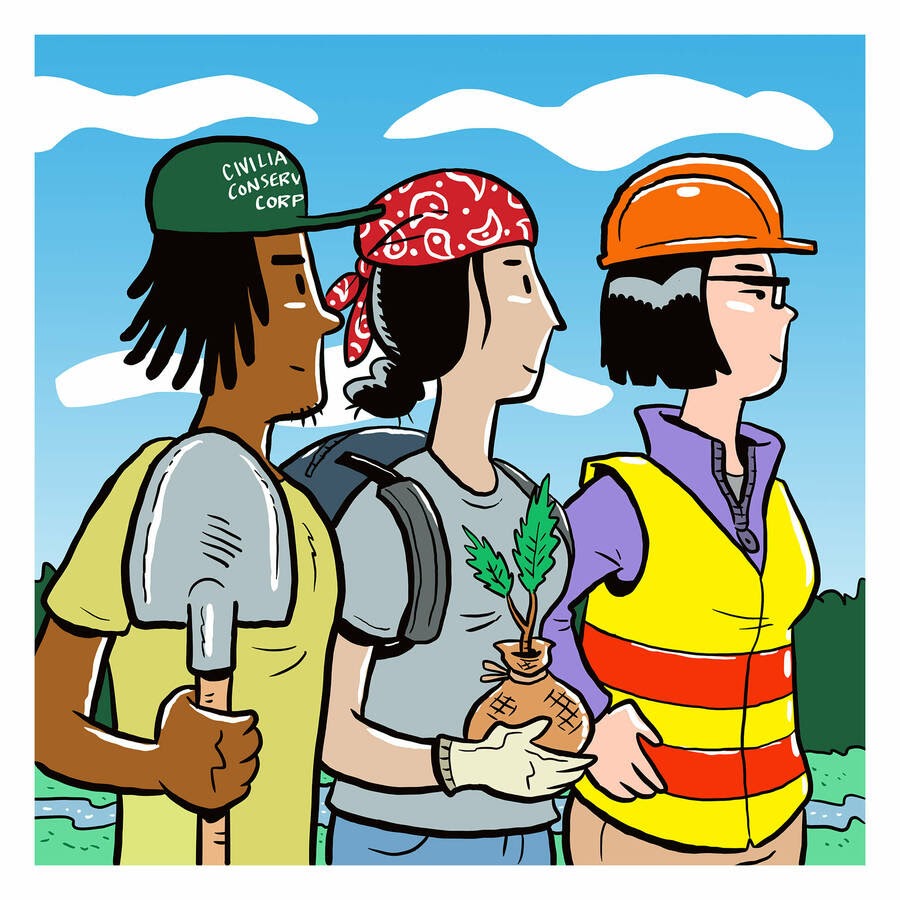 The Civilian Climate Corps draws inspiration from a similar New Deal job program, the Civilian Conservation Corps, a national public works program that employed over 3 million people over a decade building, repairing, and conserving forests, parks, and natural resources across the country. Like much of the New Deal, however, the CCC largely excluded nonwhite, nonmale people. The Civilian Climate Corps charts a different path.
There are a handful of CCC proposals floating around Washington DC. The most ambitious proposal goes to Ed Markey who seeks to employ an equitable and diverse group of 1.5 million Americans over 5 years. Even this amount is insufficient to meet the scale of the crisis, but it's a start. It's also much more comprehensive than other proposals. In his American Jobs Infrastructure bill, President Biden asked for about $10 billion over a decade to fund his CCC, equating to about 10-20,000 jobs a year. Even that figure was whittled down in recent compromises.
Sunrise Movement and the Civilian Climate Corps

In response to Biden's decision to mortgage my generation's future on an insufficient CCC, I joined a dozen Pennsylvanians in the Sunrise Movement who were trekking from Harrisburg to Washington, DC to demand a bold Civilian Climate Corps. We trekked over 100 miles through the woodlands of Pennsylvania and along the highway shoulders of Maryland. The days were long and hot, the types of days that my generation will endure for decades. So we took care of each other and kept on walking.
We arrived in DC on Sunday, June 27th, and joined hundreds of young people from across the country, including a Gulf Coast Trek and a California Trek. It is important to protect our lives from being compromised away. It is us that can not settle for anything less. So members of the Sunrise Movement rallied outside the White House with young people from across the country and representatives Jamaal Bowman (NY-16), Cori Bush (MA-07), and Alexandria Ocasio-Cortez (NY-14). But we knew that wouldn't be enough. We needed more.
We used our bodies to nonviolently blockade every entrance of the White House for hours in the scorching sun. Eventually, the Secret Service had to arrest dozens of us. By then we had made our point, so the protest wrapped up soon after.
The experience, from the trek to the protest, grounded my stake in climate action. At 22 years old, what does my future hold when each summer brings another heat wave worse than the last? How long does my family have until disaster strikes? My life and the lives of my loved ones are at stake. We need bold climate action now.

From our author and EcoLead, Sean Welch.