Today I rejoined my fellow fellows from the Center for Art in Wood residency program, a month since first meeting them.  Only minutes after I arrived, Albert LeCoff–the Center's director and co-founder–joined us for a studio tour.  Albert asked that everyone browse one another's work stations and return with an object of particular interest.  We did and for the next hour or so the group discussed what each piece revealed about work processes, artistic goals, choices of material, and other facets of the residency experience thus far.
I learned a lot; and quickly, at that.  Most significantly, I learned how incredibly facile these folks are with their tools of choice.  For instance, Adrien Segal digitized a form that she modeled by hand in clay so that she could then recreate it, again by hand, in plywood.  The confluence of digital and analog techniques reveal impossibly intricate contours in a material that most folks wouldn't give a second thought to.  We learned from Zina Manes-Burloiu, a master of traditional Romanian chip carving, that after years of making her own tools, she can discern differences in metal by the type of spark it makes.  I find this type of material knowledge–literally, thinking WITH things–absolutely fascinating, and I intend to explore it more during my residency.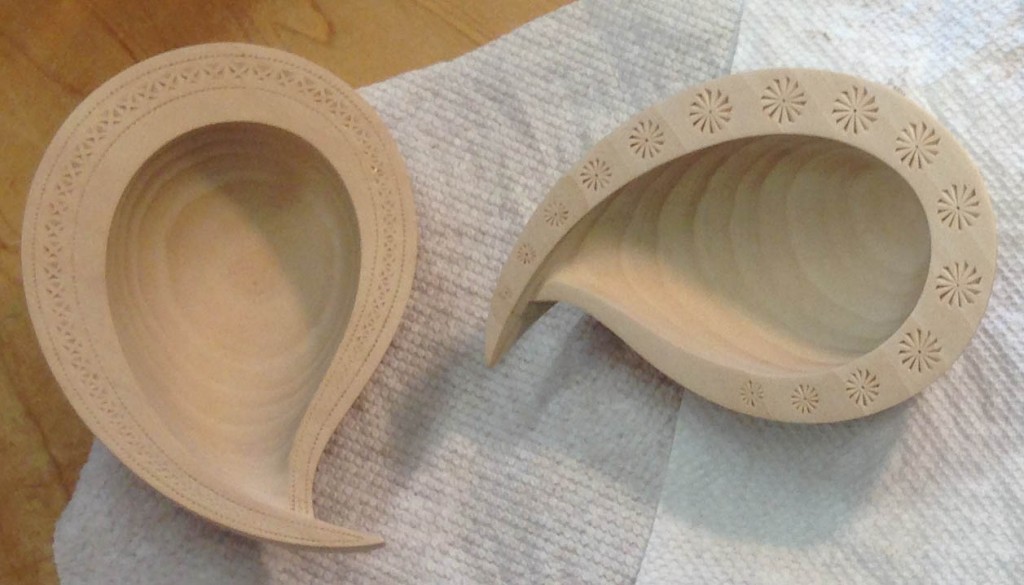 Our micro-charrette also reminded me how useful this kind of exchange is.  It's a type of conversation that, outside of writing workshops, doesn't happen enough in humanities classrooms: asking about one another's methods, proposing new ways of doing things, gently nudging one another to explain why it is we do the things we do.  It's an incredibly useful exercise; one that helps us learn to be critical without being hostile.  And one that makes us realize that sometimes our peers are our best teachers.