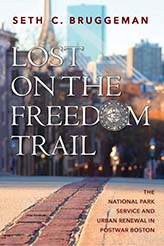 Lost on the Freedom Trail: The National Park Service and Urban Renewal in Postwar Boston | University of Massachusetts Press (2021)
Boston National Historical Park is one of America's most popular heritage destinations, drawing in millions of visitors annually. Tourists flock there to see the site of the Boston Massacre, to relive Paul Revere's midnight ride, and to board Old Ironsides—all of these bound together by the iconic Freedom Trail, which traces the city's revolutionary saga.
Making sense of the Revolution, however, was never the primary aim for the planners who reimagined Boston's heritage landscape after the Second World War. Seth C. Bruggeman demonstrates that the Freedom Trail was always largely a tourist gimmick, devised to lure affluent white Americans into downtown revival schemes, its success hinging on a narrow vision of the city's history run through with old stories about heroic white men. When Congress pressured the National Park Service to create this historical park for the nation's bicentennial celebration in 1976, these ideas seeped into its organizational logic, precluding the possibility that history might prevail over gentrification and profit.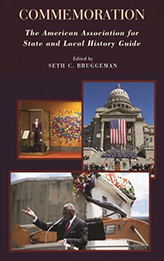 Commemoration: The American Association for State and Local History Guide | Rowman & Littlefield (2017)
Commemoration serves as a handbook for historic site managers, heritage professionals, and all manner of public historians who contend daily with the ground-level complexities of commemoration. Its fourteen short essays are intended as tools for practitioners, students, and anyone else confronted with common problems in commemorative practice today. Of particular concern are strategies for expanding commemoration across the panoply of American identities, confronting tragedy and difficult pasts, and doing responsible work in the face of persistent economic and political turmoil.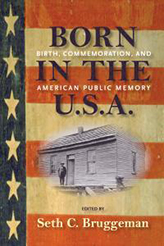 Born in the U.S.A.: Birth, Commemoration, and American Public Memory | University of Massachusetts Press (2012)
Scores of birthplace monuments and historic childhood homes dot the American landscape. These special places, many dating to the early years of the last century, have enshrined nativity alongside patriotism and valor among the key pillars of the nation's popular historical imagination. The essays in this volume suggest that the way Americans have celebrated famous births reflects evolving expectations of citizenship as well as a willingness to edit the past when those hopes go unfulfilled.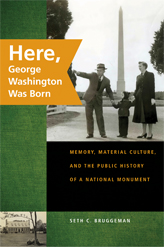 Here, George Washington Was Born: Memory, Material Culture, and the Public History of a National Monument | University of Georgia Press (2008)
Washington's birthplace burned in 1779 and would have passed from memory but for G.W.P. Custis, who erected there the first birthplace monument in America. When a Virginia ladies association resolved to build a replica of the home, a shocking archeological discovery sparked protracted battles with the National Park Service over the building's appearance, purpose, and claims to historical authenticity.
Years of correspondence, superintendent logs, and other park records reveal delicate negotiations of power among a host of often unexpected claimants on Washington's memory. We see too the centrality of race and gender in the construction of Washington's public memory and how national parks have not always welcomed all Americans.