This summer, I'm finally getting back to things. Literally. After a decade or more of casting my lot almost exclusively with public history, I'm delving back—even if briefly—into the world of material culture studies, which once upon a time was my intellectual home of choice. That I even think of these fields as discrete is evidence of how deeply I've fallen into academia's disciplinary furrows. Realizing this, in fact, was what prompted me to apply for a Windgate ITE Residential Fellowship at Philadelphia's Center for Art in Wood. The good news is that I got the fellowship! Now it's time to consider how a reunion with things, and a stint away from the university, might turn up new directions for my research and teaching.
But first, a few words about the fellowship. The Center for Art in Wood opened in 1986 to promote just that: wood as a medium for artistic expression. Its activities, therefore, are wide ranging, and include gallery exhibits, a permanent research collection, and educational programs. This year will be the twentieth that the Center has hosted fellows for its Windgate ITE Residency. Each year the residency brings five wood artists, one photojournalist, and one scholar to the Center to work and live together for several weeks. The culminating event is an exhibit wherein the group shares with a public audience what they've learned and made together over the summer.
As this year's scholar, my job is to embed with the artists for a week and write about what I discover. Presumably I'll reflect on their work through my particular scholarly lens, but it's also the scholar's job to produce text for the final exhibit and for promotional materials. All in all, it's a fairly straightforward assignment, though with few parameters. So, how to approach it? My first instinct was to begin by reading, to sift through recent work coming out of material culture studies, arts and crafts scholarship, maker studies, and so on. It occurred to me, though, that the very reason I applied for this gig was to force myself away from these paradigms and to step away from the methodological status quo. I needed a way out of the furrows.
So, instead, I decided to build a retaining wall. By way of context, I confess to being a consummate tinkerer, a decent finish carpenter, and not a bad cabinetmaker. I am not, however, an engineer or a landscape architect, though I did promise my daughter I'd build her a swing set despite not having an inch of flat ground to put it on. We'd need a small retaining wall to make it work. What better way, I thought, than to prepare for my fellowship by creating something that would push the limits of my mechanical skills, force me to use new and unfamiliar materials, and require that I think hard about how what I make intersects with the lives of people I care about. After all, aren't these exactly the types of challenges that my fellow fellows would be grappling with at the Center for Art in Wood?
Perhaps, though I suspect they'll be considerably more successful than I was. After several weeks and an unfortunate turn in the weather, my "wall" is still just a couple of trenches, some tamped stone, and about a half course of landscape timbers. But, for my efforts, I did end up with more than just a sore back. The new tools I've acquired—especially the 3 lb. hammer I can't now imagine being without—already have me thinking differently about what kind of work I can do, and how to accomplish it. The time I've spent toiling in what I once considered a remote corner of our property has fundamentally reoriented my view of our landscape and its relationship to our neighbors. And, of course, doing this with and for my daughter has created a mnemonic marker of sorts. I'll likely always recall her fourth summer as the one during which I built that damn wall.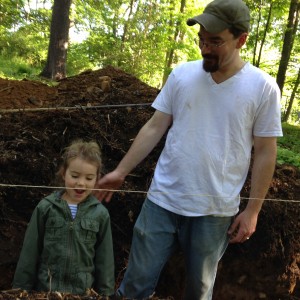 From these observations, then, I cull a set of big questions that have long interested me and will be particularly useful, I think, this summer:
1. Modes of Production: How do the ways that we work with things shape our lives, and, vice versa?
2. Thinking with Objects: In what ways do objects expand or curtail (or both) our sense of possibility?
3. Stuff and Memory: What are the processes that bring memory and objects into symbiosis?
These are old questions, and familiar to anyone who studies material culture, but they're also remarkably durable and useful for getting situated in any new project.
The retaining wall, however, begs one more question that bears particular relevance to the problem of academic furrows: does doing stuff make us better at thinking about stuff? Obviously I think the answer is "yes," but I'm eager to imagine ways that we might test the hypothesis in college classrooms, where the alleged crisis in the humanities is premised on the notion that people who study English and History and Philosophy can't actually do anything. The success of the Center's fellowship program seems to demonstrate the opposite. How, I wonder, might I bring that lesson back to Temple?
So, there it is, my agenda for the summer: get reacquainted with things, spend some time with folks who take them seriously, and see what I can gather from the experience that might reinvigorate what we do in the classroom.
Then, maybe I can finish that damn wall.