Boathouse Row is one of Philadelphia's iconic must-see spots and a National Historic Landmark. But how much do you actually know about its history and the evolution of rowing in Philadelphia?
Join us Tuesday, February 13 at 3:30 PM at Paley Library to hear Dotty Brown, author of Boathouse Row: Waves of Change in the Birthplace of American Rowing, speak about this fascinating history.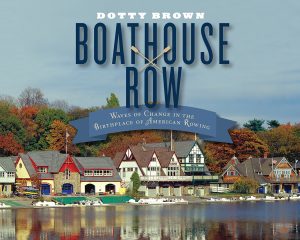 Dotty is an avid rower and former editor at the Philadelphia Inquirer, and her book, published by Temple University Press, features beautiful photographs and provides a comprehensive history of rowing in Philadelphia as it evolved into the sport we watch along the Schuylkill River today. For a preview of Dotty's talk, check out this video.
Brian Perkins, head coach for the Temple men's crew team, will be on hand to introduce Dotty. Copies of Boathouse Row will be for sale in the lobby, and Dotty will be signing books after the program.
This program is free and open to all and takes place in the Paley Library Lecture Hall, 1210 Polett Walk, Ground Floor. We hope to see you there!