Each year, the Libraries bring you Film Fridays, a free series that aligns with our public programming theme. This year, we are examining games, gaming, and play, and we've chosen films for the spring semester that explore violence—both in games and real life. This frame will allow us to question and consider the influences media has on what we think about and how we relate to the world.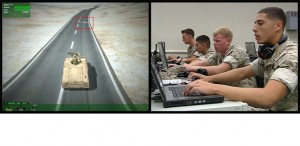 Join us at the Libraries this Friday, March 11 at 3:00 PM for the latest installment of Gaming Film Fridays. We are screening the Serious Games series, which was directed by Harun Farocki and released in 2009 and 2010. The four short documentary films in this series explore intersections between gaming and the United States military, including the use of video games to train soldiers and how virtual reality can help treat post-traumatic stress disorder.
Nora Alter, professor of Film and Media Arts at Temple University, will be hand to introduce the film. Professor Alter has published extensively on film, media, and cultural studies, and one of her scholarly endeavors has been focused on Harun Faroki and his work. She knew Farocki personally and is currently working on a monograph about the late filmmaker. Her insight will surely set the stage for this thought-provoking and important documentary series.
This film will be screened in the Paley Library Lecture Hall, 1210 Polett Walk, Ground Floor. Snacks are provided. Hope to see you there!