What better way to bring in April than with National Poetry Month? Established by the Academy of American Poets, this month celebrates the enduring legacy and ongoing work of American poets and encourages us to support poets and poetry.
Wondering how you can join in the fun? Sign up for Poem-a-Day at poets.org, and you will receive a brand new, previously unpublished poem in your inbox every day. Check out today's poem, "Agatha" by Dorothea Lasky.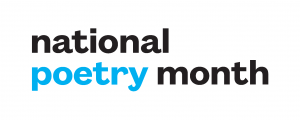 If you're interested in getting involved on campus, look no further than the Babel Poetry Collective, which is a collection of spoken word poets, musicians, vocalists, and emcees.
Another way to celebrate poetry is to share your favorite poem with a friend. Here, I'll start: check out "Onset" by Kim Addonizio. Now, it's your turn!