The CARE Lab hosted its third 6-hour virtual workshop on Saturday, February 26th, 2022. It introduced attendees to the SE topic, tactics and persuasion techniques used, SE playbooks, and relevance to cyberattacks and cybersecurity. The workshop shared case studies on laptop distraction, pretexting, and privacy. Attendees engaged in a safe, ethical, and fun hands-on social engineering activity in teams and then shared their experiences. The workshop ended with an interactive discussion on implementing SE training and education at their respective organizations, the role of ethics in training and education, and a Q&A session with workshop organizers.
The workshop hosted 6 educators (5 high school, 1 college/university). Overall, we are comfortable saying that our workshop was a success and that attendees found its various components useful: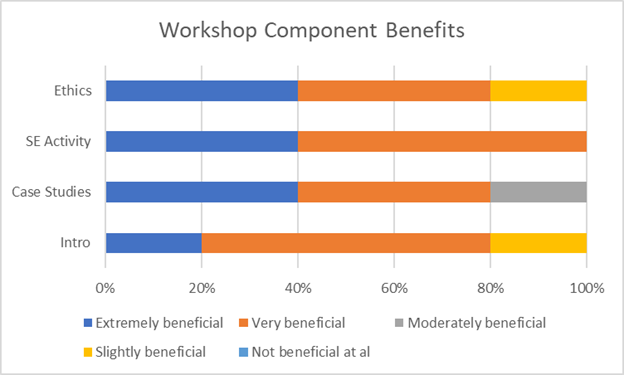 Here are some excerpts from the attendees:
"This is an excellent deep dive into well prepared and presented activities."
"I really liked the workshop. It gave me great ideas. I loved how we got to think like a hacker and work in groups to do that."
We are happy to report that we also compensated 3 high school educators at the rate of $25/hr for the 6 hour workshop.
This event and evaluation are considered research and are part of the education and outreach efforts of NSF Award # 2032292.