Attacking Food Waste and Making Nutrition Accessible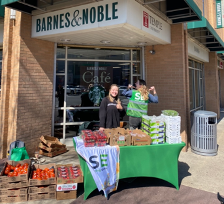 Northern Philadelphia is considered a food desert. You may be wondering what a food desert is and how it contributes to the prevalent issue of food insecurity and scarcity in our neighborhoods.
Put simply, food deserts develop as grocery stores cluster around regions with high-paying customers, but are not built in regions of low income households–preventing access to food.
For some context, less than 1 percent of Center City residents live more than a half-mile away from a grocery store. Yet, in North Philly neighborhoods like Belfield or Spring Garden, that number is in the range of 40 to 50 percent, according to a Drexel study. This disparity in the distance makes it difficult for residents in food deserts to have access to healthy and affordable foods. This issue perpetuates an even greater magnitude of resulting problems as these individuals are now more likely to be obese, and suffer from diabetes, heart disease, or malnutrition.
Perhaps walking around the surrounding area of Temple you have come across corner stores that sell food. Yet, the goods available are limited boxes or canned and filled with artificial flavors and preservatives. In one case, I visited Mercado Food Market, located on 1859 N Van Pelt St, where the produce was limited to a few fuji apples, bananas, carrots, and a bag of expired romaine lettuce. These few items are not enough to sustain a well-balanced healthy diet, let alone feed an entire neighborhood of families.
Using Surplus to Solve Scarcity
At Sharing Excess, we are using surplus to solve scarcity. The Temple chapter works with restaurants, grocery stores, wholesalers, and farmers to redistribute food. According to Feeding America, Over 100 million meals are wasted in the United States annually and we aim to fix this problem of excess food.
The process begins with our headquarters in Philadelphia rescuing food from our partners, delivering the food to campus which then allows us to set up pop-up events across campus and northern Philly to distribute. We have been hosting pop-up events every other week for the past semester and hope to expand our general body.
If you are wondering how to help and interested in changing the broken food system, feel free to join our GroupMe, follow us on Instagram for updates @sharingexcess_temple and join our mailing list temple.sharingexcess@gmail.com