Upcoming events
Check back soon for more information about upcoming events!
Ongoing support
1. Apply for funding to support your professional development
Now, individual postdocs can apply for up to $100 in funding to support their professional development. Examples include:

– Virtual conference registration
– Online training or certifications
– Career workshops

Apply here for funding! There is no deadline to apply, we will review applications on a rolling basis as opportunities arise. See here for details and requirements.
2. Job materials swap
TUPA hosts a job materials swap to trade materials with other postdocs and share feedback on resumes/CV, cover letters, teaching statements, etc. This is a great way to get input from people outside of your field! E-mail tupa@temple.edu if you're interested in joining, and we'll email you with more details about sharing materials virtually.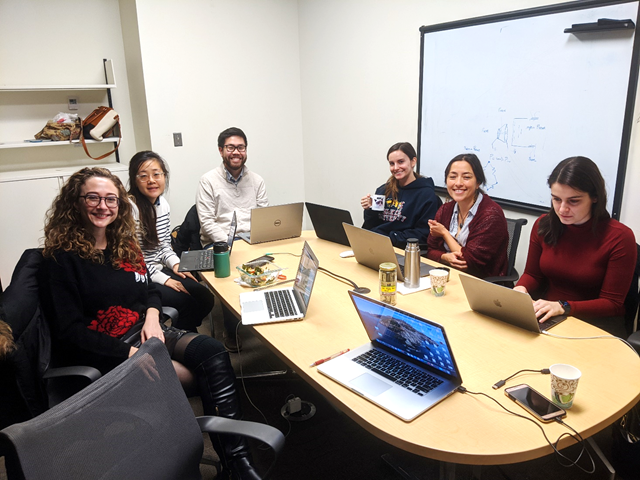 Use this group to increase your accountability for making progress on writing, research-related tasks, networking, job applications, or anything else.
Meet with fellow postdocs each week to set goals and discuss progress.
Tuesdays 9:00 – 9:30 am
E-mail tupa@temple.edu to join.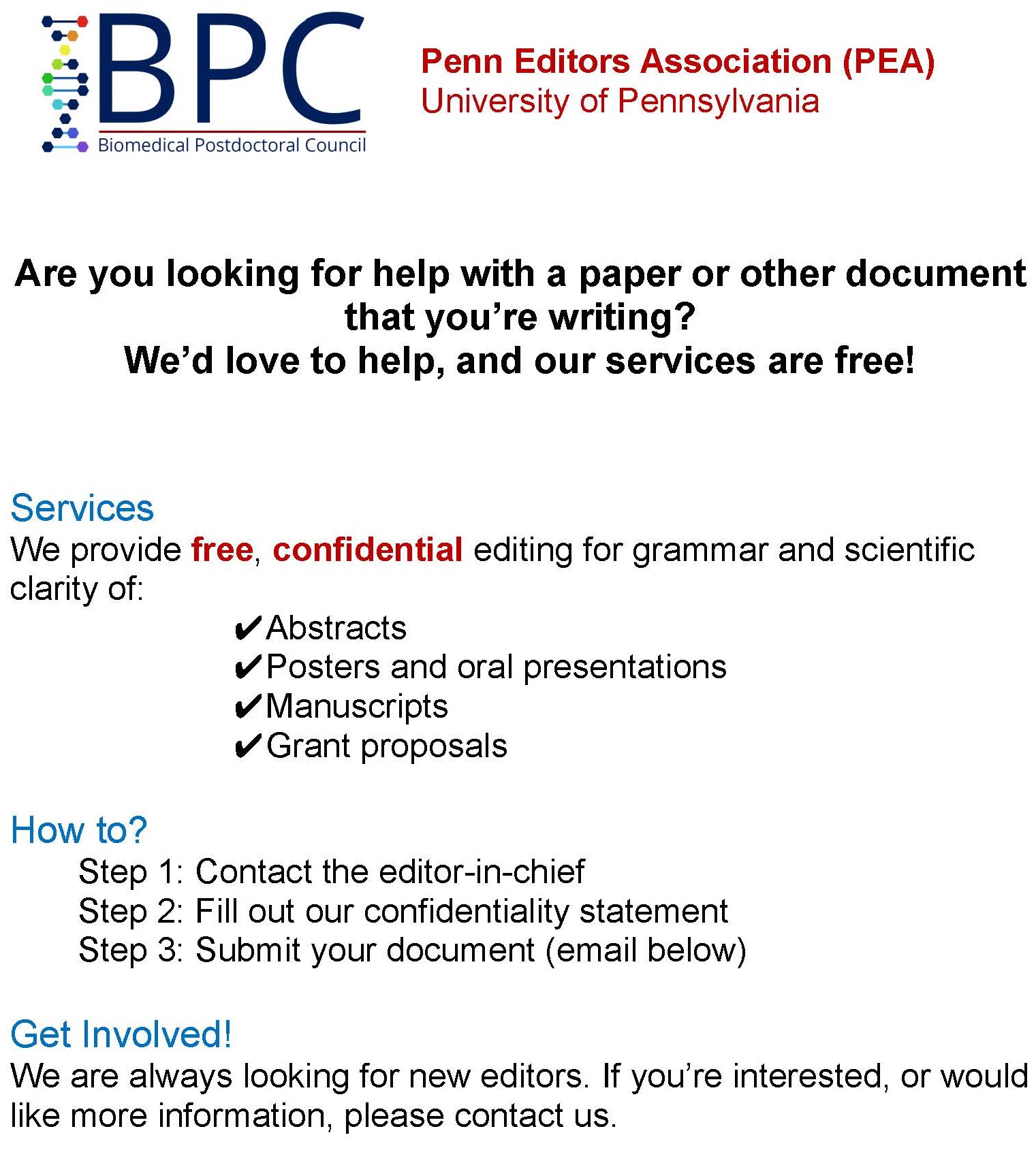 4. Free editing for your work!
The Penn Editors Association provides free & confidential editing services to postdocs.
Postdocs are also encouraged to serve as volunteer editors, with low time commitment and valuable editing experience.
Contact penn.editors@gmail.com for more information.
Past events
April 23, 2021: First Postdoctoral Research Symposium!
At the inaugural Postdoctoral Research Symposium at Temple, 17 postdocs from 12 different departments shared 5-minute presentations about their work over Zoom, followed by socializing/networking in Wonder. Dr. Michele Masucci, the Vice President for Research at Temple University, kicked the day off with opening remarks and Dr. Kelly Whelan, faculty advisor to TUPA, ended the day with closing remarks.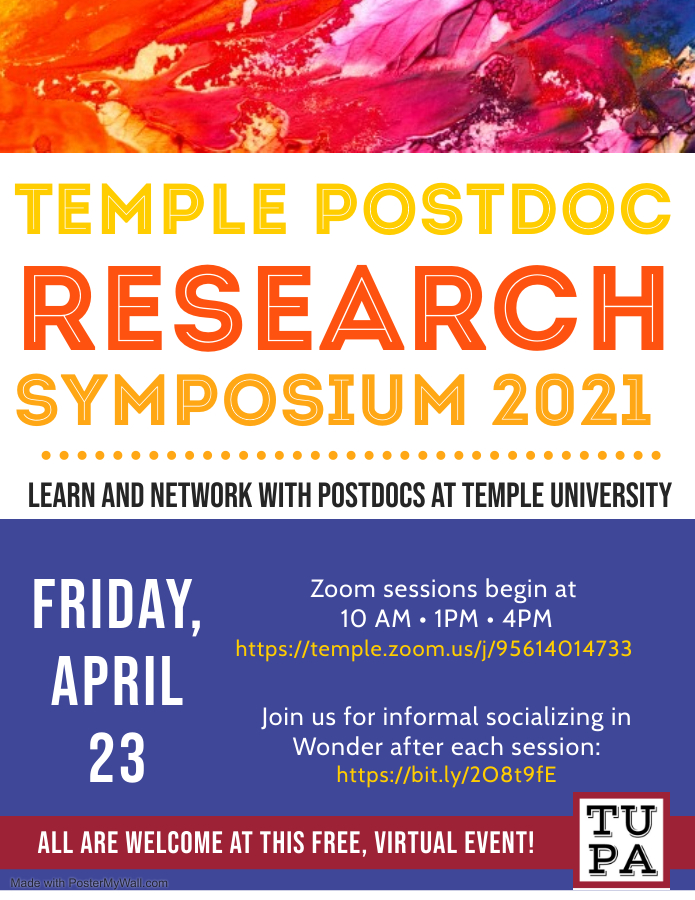 February 11 and March 18, 2021: Science Communication Workshops with Angela Barrus
E-mail tupa@temple.edu to request recordings of these workshops.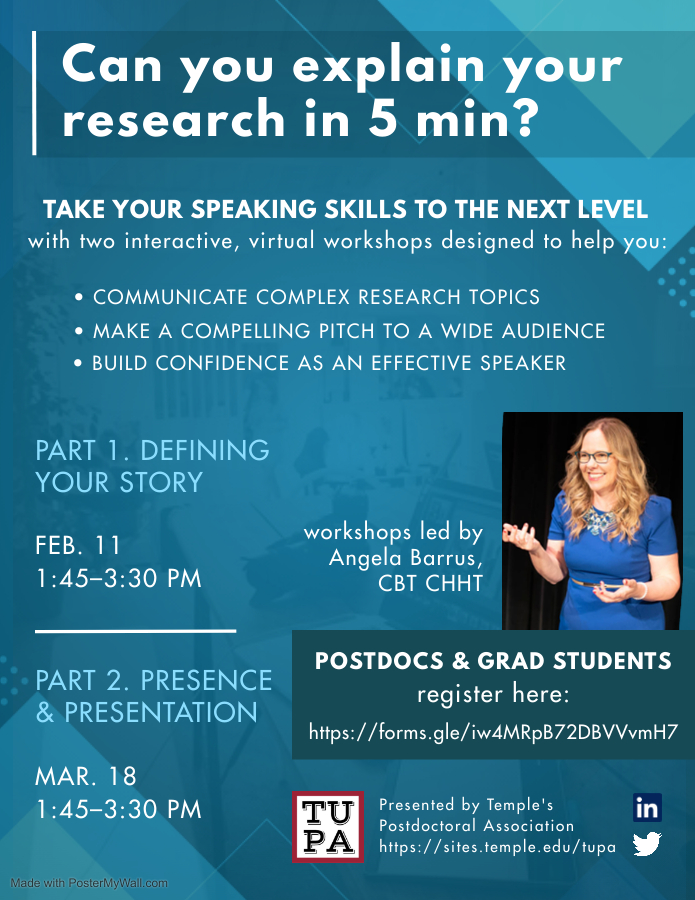 September 2020: Interactive Career Workshop with Dr. Vania Cao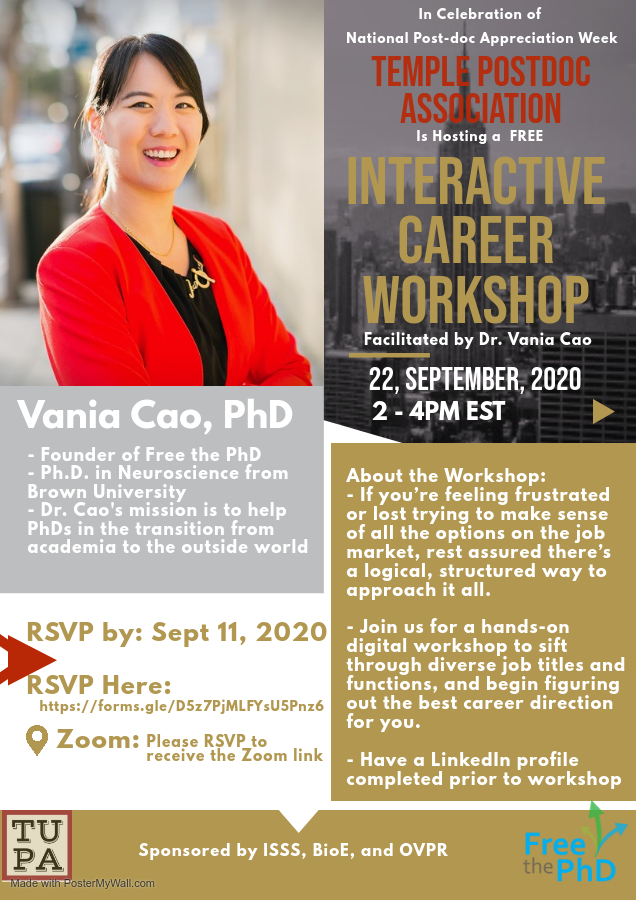 November 2019: Building Bridges between Academia and the Biomedical Industry