This year, the Libraries' Beyond the Page public programming series is curated around programs exploring access and opportunity. We will consider barriers—whether cultural, financial, physical, or otherwise—that limit opportunities and how we can move toward a more accessible world.
We've rounded up a list of reading suggestions to introduce you to our speakers and some of the topics they'll cover. Check out our recommendations and we hope to see you this fall!
All these programs will be held in the Paley Library Lecture Hall. As always, our programs are free and open to all.
Investing in Accessibility
Read about why the U.S. needs more accessible playgrounds and this augmented reality project for which Temple's Institute on Disabilities received funding from the Knight Foundations' art and technology Prototype Fund to make live theater more accessible for hearing impaired and non-English speakers.
Sara Goldrick-Rab on Access and Opportunity in Higher Education
Temple Professor and nationally-recognized scholar Sara Goldrick-Rab will speak at the Libraries on Tuesday, September 11 at 6:00 PM. Check out her interview with Trevor Noah and her New York Times op-ed on college students and food insecurity. This recent Philadelphia Inquirer story highlights both Sara's work and Cherry Pantry, Temple's campus food pantry.
Other reads to help you prepare for Sara's talk and conversations about the cost of higher ed include this Fortune article about women's disproportionate share of student loan debt and the even greater financial burden placed on black women.
The Public Arts in Philadelphia
Conrad Benner of StreetsDept.com and Cindy M. Ngo of Eat Up The Borders are leading a series of artist talks (Thursday, September 20), artist panels (Monday, September 24), and a wheatpaste workshop (Wednesday, October 3) as part of the Philly Public Arts Forum at the Libraries.
Read about how Conrad got started in Philadelphia Weekly's profile and in his own words at Caldera Magazine.
Learn more, too, about the local artists visiting the Libraries as part of this series. Michelle Angela Ortiz honors the immigrant experience and uses her art as activism, while Marisa Velázquez-Rivas tells her own story as an artist shining a lights on immigrants, queer communities, and feminism. Other artists include Carol Zou, part of the Michelada Think Tank team, Russell Craig, recipient of a Right of Return fellowship for formerly incarcerated artists to address prison reform, and Keir Johnston, a member of Amber Art and Design, an art collective making public art to enact change. Johnston has also worked on the Mural Arts Philadelphia project honoring late civil rights leader Octavius V. Catto.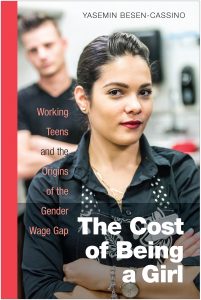 Yasemin Besen-Cassino on the Gender Pay Gap
Author Yasemin Besen-Cassino will discuss her book The Cost of Being a Girl on Monday, October 15 at 2:00 PM. Read more about how the gender pay gap affects teens and check out Dr. Besen-Cassino's op-eds on equal pay in The Guardian and in Ms. Magazine.  
Building the 21st Century Library
The Libraries' symposium series about our new Charles Library continues and will focus this semester on the new library's potential to transform Temple University's main campus. Join us Wednesday, October 10th, as we also discuss what steps have been—or could be—taken to make the building more accessible (physically and intellectually) to the campus and surrounding communities.
Read about how Snøhetta, the internationally acclaimed architecture firm who designed the Charles, is changing the way we absorb architecture.