Guest post by Olivia Given Castello, Head of Business, Social Sciences, and Education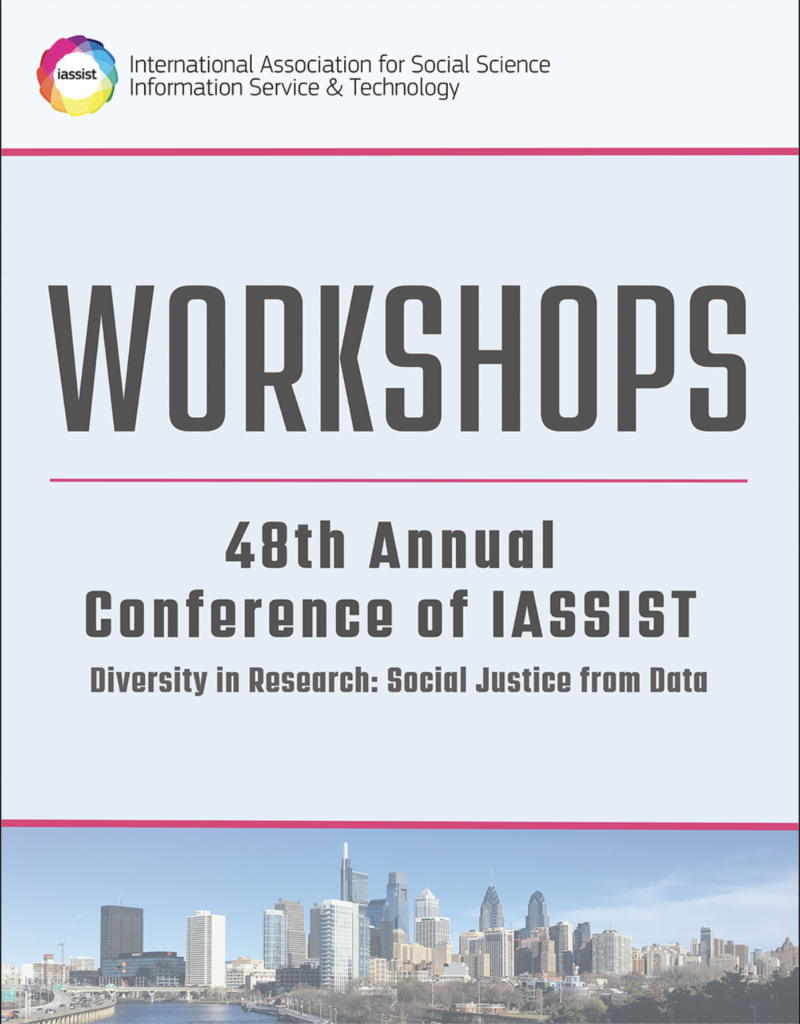 On May 30, 2023, Charles Library buzzed with activity as it hosted a day of pre-conference workshops for the 48th Annual Conference of IASSIST (International Association for Social Science Information Service and Technology), which took place in downtown Philadelphia May 31–June 2.
IASSIST is a global organization of social science information and data professionals from various sectors who advocate for responsible data management and use, open science, and excellence in social science data service delivery.
The pre-conference workshops attracted 53 librarians and data specialists representing 37 different organizations from 11 countries, highlighting the international reach and significance of IASSIST.
This diverse group came together at Charles Library to explore a range of topics related to data literacy, management, and archiving. Staff members from Temple Libraries' social science unit and research data services team worked with colleagues from library facilities, technology, and access services to organize logistics for the event.
The day started with a warm welcome as Olivia Given Castello, head of Temple Libraries' social science unit, and IASSIST 2023 Workshops Committee Chair Deb Wiltshire, of GESIS Leibniz Institute for the Social Sciences, staffed a welcome table with information on the event, the new library building, and the local neighborhood.
In the morning session, attendees had the opportunity to participate in two workshops. "A Friendly Introduction to Python for Absolute Beginners," presented by Kara Handren and Kelly Schultz from the University of Toronto, provided a hands-on introduction to Python programming, equipping participants with essential concepts and practical skills. Simultaneously, Kristi Thompson from Western University conducted a workshop on "Understanding Data Anonymization," shedding light on the mathematical foundations and practical techniques of ensuring data privacy.
The afternoon session continued with three more engaging workshops. Ericka Menchen-Trevino from American University led a workshop on "Analyzing Donations of Digital Trace Data," which explored how researchers can collect and analyze individual digital trace data for both quantitative and qualitative research projects. Sonia Barbosa from Harvard University facilitated hands-on training in managing and sharing research data using Dataverse repository software. Subhanya Sivajothy from McMaster University delved into data visualization pedagogy, showing participants how to incorporate data justice, ethics, and accessibility into their teaching practice to educate students on approaching visualizations with a critical lens.
Operations Specialist John Pyle and volunteer workshop assistants Adam Shambaugh, Fred Rowland, Van Tran, and Will Dean made sure the workshops ran smoothly in Charles Library's instruction rooms. To enrich the experience further, staff members led tours of the state-of-the-art Charles Library and John Oram revved up live demonstrations of the BookBot.
Workshop participants expressed their appreciation for a well-organized pre-conference event and the opportunity to tour our amazing building.
This year's conference in Philadelphia was organized by local partners University of Pennsylvania, Princeton University, and Rutgers University, and Temple Libraries was a co-sponsor. Temple Libraries and all those who contributed to the success of the pre-conference were recognized and thanked during the conference's closing ceremony.
See Temple Libraries' Support for Researchers page to learn about library services for finding, analyzing, managing, and sharing data. Submit an Instruction Request to schedule an educational session on data literacy or other data-related topic for a Temple class or research group.
Thanks to the dedicated Temple Libraries staff members who helped make the day a success. It was a phenomenal team effort:
Olivia Anton, Library Technology student staff member
Steven Bell, Associate University Librarian
Olivia Given Castello, Head of Business, Social Sciences and Education
Will Dean, Research and Data Services Librarian
John Oram, ASRS/Stacks Supervisor
John Pyle, Senior Operations Specialist
Fred Rowland, Arts, Humanities & Media Librarian
Cynthia Schwartz, Assistant Director for Library Technology, and the Library Technology Services team
Adam Shambaugh, Business Librarian
Van Bich Tran, Public Health and Social Sciences Librarian
Stuart Whisnant, Event and Tour Coordinator, and the Charles Rooms team