Franklin Littell grew up to be a prolific writer of religious history, but he may have gotten his start writing science fiction.  When he was just 11 years old (circa 1928), he wrote "A Trip to Mars."  In this story, a young student of astronomy named Jim journeys to Mars with his professor.  They travel in a ship invented and built by the professor that went "one hundred thousand miles an hour, forward, and one hundred thousand five hundred miles an hour, perpendicularly…" In the story, Littell describes a ship that was "run by five engines, of eight thousand horsepower each….  It had one pair of wings…," was equipped with "fifty large oxygen tanks…," and ran on "a new kind of gasoline that will make the plane go one thousand miles per gallon."
Littell describes their arrival on Mars as experienced by his character Jim: "…under the plane some of the boldest men of mars, were preparing to fight…".  Jim and the professor landed the ship and disembarked when "suddenly the chief [Martian] yelled and started for the man [the professor].  They [Jim and the professor] put up a desperate fight, but were outnumbered.  It was their [the Martians'] custom to poke their spears into their victims before they burned them…" .  Page 6 of the manuscript tells us what happens next.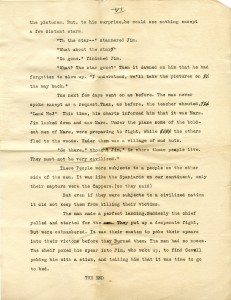 Littell's short story is creative and fun and a definite foreshadow to his future life as a writer, but it also unexpectedly links the Littell papers to another collection acquired by the Special Collections Research Center in 2010, the manuscript and illustrations for Peter Caledon Cameron's Nodnol (circa 1900).  Part of Temple's Science Fiction and Fantasy collection, this manuscript takes the reader on an expedition to the Antarctic, where among other things, a new race of people are discovered.  The people found inhabiting the South Pole prove to be far less aggressive than those encountered on Mars by Littell's Jim and the professor, but both stories speak to the early 20th century's fascination with discovery and encountering new worlds.  By the time Littell wrote, the race to the South Pole was over and space was beginning to take shape as the newest, unexplored frontier.
"Nodnol. The narrative of a Voyage for scientific investigation into the Antarctic Regions, the discovery of Astrogee, a Second Satellite or New World, resting on the South Pole of Our Earth, its exploration, its strange fauna and flora, its marvellous [sic] natural phenomena, its wonderful nations of civilized Quadrumana and its glorious population of perfect Humanity." 279 pages, annotated and edited by the author, with a separate portfolio of seventeen signed illustrations in pen and ink.
Purchased in May 2010 for the  SCRC's Science Fiction and Fantasy Collection, the Nodnol manuscript was written and illustrated by the English-American water-colorist Peter Caledon Cameron (active in the U.S., coming from England, 1880s-1930s?; Philadelphia/New Jersey area) and is typical of 19th and early 20th century fantasy and science fiction writing and illustrating.