Documentary Work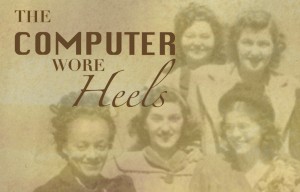 The Computer Wore Heels iPad bookapp c. 2014
Tagline: They were asked to serve, and math was their secret weapon.
Based on the award-winning documentary film Top Secret Rosies, The Computer Wore Heels ebook combines classic written storytelling with interactive media elements to share the story of three teenage girls who used their math skills to help win WWII.
Now available for free download as an interactive PDF
Top Secret 'Rosies': The Female 'Computers' of WWII, c. 2011, 56:40
High Definition video documentary
Producer/Director: LeAnn Erickson
Tagline: In 1942, when computers were human and women were underestimated, a group of female mathematicians helped win a war and usher in the modern computer age.
Description: In 1941, soon after the Japanese attack on Pearl Harbor, a secret military program was launched to recruit women to the war effort. But unlike the efforts to recruit Rosie to the factory, this search targeted female mathematicians who would become human 'computers' for the US military. From the bombing of Axis Europe to the assaults on Japanese strongholds, the women worked round-the-clock shifts creating ballistics tables that proved crucial to Allied success. Rosie made the weapons, but the female computers made them accurate. When the first electronic computer (ENIAC) was invented to aid the Army's ballistic calculation efforts, six of these women were tapped to become its first programmers. Top Secret 'Rosies': The Female 'Computers' of WWII will share this untold story of the women and technology that helped win a war and usher in the modern computer age. Website: www.topsecretrosies.com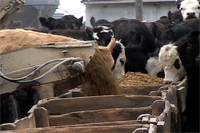 Everybody Promenade, 26:40 minutes, c. 2007
video documentary
Co-Producer/Director/Co-videographer: LeAnn Erickson
Description: Tucked away in northwest Iowa is the town of Nemaha- population 102. As you enter, a sign states – "Nemaha, A MIGHTY Small Town". Blocks later another sign boasts "Nemaha, Home of the Farmall Promenade". The Farmall Promenade is an eight member, all male troupe of farmers who, as four male-'female' square dancing couples, perform across the Midwest. They have a passion for the dance but this isn't your Grandpa's square dancing. They perform all the favorites while perched atop antique tractors. Everybody Promenade is a portrait of the Farmall Promenade- a group of friends who love performing but it is equally a portrait of a rural community struggling to keep farms solvent while keeping community ties strong. Grab your partner and join the dance.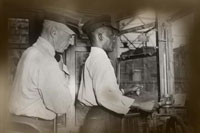 Neighbor Ladies, 55 minutes, c. 2004
video documentary
Producer/Director/Editor: LeAnn Erickson


Description: Neighbor Ladies is a video documentary investigating an historical moment while offering a positive example of a nationally recognized diverse urban community – Mount Airy in Philadelphia. In the late 1950's and 1960's, Mt. Airy neighbors organized and persevered, mounting successful legal challenges to questionable realtor activities that ultimately impacted the city and the state. This documentary introduces nine women who, each in their own way, helped integrate and stabilize their community.
Crossroads: an American Journey
52:00, c. 1997,
video documentary
Producer/Director/Editor: LeAnn Erickson
Description: August 1996, Uvalde, Texas: The Hernandez family holds a reunion, undoubtedly one of many such gatherings held that summer in small towns across the nation. Family reunions have a long tradition and offer opportunities for distant family members to bond, for the older members to reminisce, and for younger members to listen and learn. It is a chance to tell and hear family stories. Guillermo and Lorenza Hernandez were born in different countries, Mexico and the United States. But a border did not keep them from sharing a common heritage, a joint history, and a family. The Hernandez family reunion was the first attempt to bring together their children, grandchildren, and greatgrandchildren. While Guillermo and Lorenza have both passed on, the stories of their meeting, marriage, and life together were the inspiration for a family gathering and the catalyst for this documentary project.
From One Place to Another: Emma Goldman Clinic Stories, 80 minutes, c. 1996
video documentary
Producer/Co-Director/Editor: LeAnn Erickson
Description: In January 1973, the Roe vs. Wade Supreme Court decision swept across America, changing women's lives as it politicized women's bodies. At the same time in Iowa City, Iowa, a group of young feminists met to form a women's health clinic dedicated to the tenets of self-help and access to abortion. This documentary utilizes a storytelling format to chronicle a historical movement and the women who seized it.

People's Stuff
c.1992, 23 minutes, a video documentary
Producer/Director/Editor: LeAnn Erickson
Description: People's Stuff is a document of six collectors of unusual objects. Creating
an environment for storytelling, the subjects reveal inner dreams and
motivations as they share both their collections and their lives with the viewer.
Mystery Dates
c.1992, 25 minutes, experimental documentary
Producer/Director/Editor: LeAnn Erickson
Description: Mystery Dates investigates the socialization of girls into women in American society. This project incorporates interviews and various video clips with constructed 'television'/media representations of women to create an unconventional documentary.