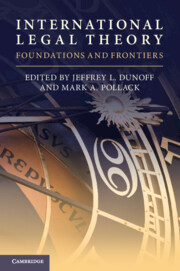 International Legal Theory: Foundations and Frontiers  
Over the past decades international affairs have been increasingly legalized. International law has dramatically expanded into new fields and taken on new challenges. Despite this development, there has been little in-depth scholarship on what impact these changes have had on the field of international legal theory, how it is taught, and where it is going. This volume investigates the major developments in the field and explores the core assumptions and concepts, analytical tools, and key challenges associated with different approaches. An outstanding team of academics provides an accessible overview of competing theoretical movements, and a more in-depth understanding of the strengths, preoccupations, insights, and limits of those schools of thought. The contributions provide an authoritative account of current thinking about the theoretical foundations of contemporary international law.
Symposium on International Law and the Politics of History 
This special symposium issue of the Temple International and Comparative Law Journal contains a broad range of papers responding to Anne Orford's award-winning book examining international law's use and treatment of history.  Contributors include Karen Alter, Daniel Bodansky, Harlan Grant Cohen, Oliver Diggelmann, Megan Donaldson, Afroditi Giovanopoulou, Lauri Malksoo, Sarah Nouwen, Kunal Parker, Francisco-Jose Quintana, Morten Rasmussen, Steve Ratner, David Schneidermann, and Natasha Wheatley, along with a response by Anne Orford.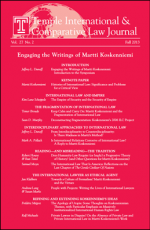 Symposium on Sociological Perspectives on International Courts  
This special symposium issue of the Temple International and Comparative Law Journal contains papers exploring the promise and limits of sociological approaches to the study of international courts and tribunals.  The special issue grows out of a workshop held at the Max Planck Institute for International, European and Regulatory Procedural Law, based in Luxembourg.  The issue contains papers from a diverse group of authors applying sociological theories, methods and insights to the International Court of Justice, European Court of Human Rights, Inter-American Court of Human Rights, and East African Community Court.
Symposium: A Focus on Ethics in International Courts and Tribunals
A series of alarming incidents has catapulted ethical issues to the center of debates over the functioning of international dispute settlement.  This Symposium, organized by Professor Dunoff and Professor Chiara Giorgetti, includes contributions exploring several of the most important practical and normative issues that arise in international disputes regarding the creation of applicable rules, their substance, and the procedures used to enforce them.  Contributors include Elena Cima & Makane Moise Mbengue (both of the Graduate Institute of International and Development Studies); John Crook (international arbitrator); Helene Ruiz Fabri (Max Planck Institute – Luxembourg); Judith Levine (Permanent Court of Arbitration), Kate Parlett (20 Essex Street Chambers) & Amy Sander (Essex Court Chambers), Specific topics addressed include conflicts of interest, double-hatting, the disclosure of documents, arbitrator resignations, and the desirability of developing a binding general code of conduct applicable across various dispute resolution fora.  The Symposium appears at 103 AJIL Unbound 279 (2019).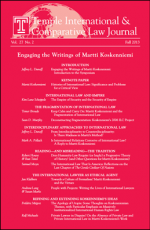 Political and Legal Theory on the Legitimacy of International Courts
 This special symposium issue of the Temple International and Comparative Law Journal contains a diverse range of papers examining contemporary political and legal theory concerning international courts.  This issue arises out of papers originally presented at a workshop hosted by PluriCourts-Centre for the Study of the Legitimate Roles of the Judiciary in the Global Order, based at the University of Oslo.  It includes a contribution by Allen Buchanan (Duke University) and responses by Meg deGuzman (Temple Law School) and Tim Kelly (Temple Law School), and Alain Zysset (University of Glasgow).  The Symposium also includes papers by Theresa Squatrito (London School of Economics), Monica Polzin (Ludwig-Maximillans Universtat), Dafina Atanasova (National University of Singapore),  Lisa Sonnleitner (University of Graz), and Katja Achermann and Klaus Dingwerth (University of St. Gallen).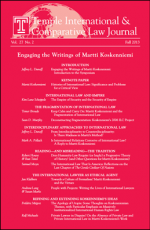 Engaging the Writings of Martti Koskenniemi
This special Symposium issue of the Temple International and Comparative Law Journal contains papers by leading scholars that engage, explore, and extend the writings of Martti Koskenniemi.  This special issue grows out of papers originally presented at the 2013 Laura H. Carnell Workshop at Temple University Beasley School of Law, organized by Professor Dunoff. Contributing authors include Tomer Broude (Hebrew University of Jerusalem), Jeffrey Dunoff (Temple University), Robert Howse (NYU School of Law), Jan Klabbers (Helsinki University), Martti Koskenniemi (University of Finland), Andrew Lang (London School of Economics and Political Science), Susan Marks (London School of Economics and Political Science), Frédéric Mégret (McGill University), Ralf Michaels (Duke University), Samuel Moyn (Columbia University), Sean Murphy (George Washington Universitiy), Mark Pollack (Temple University), Kim Lane Scheppele (Princeton University), and Ruti Teitel (NY Law School).
Interdisciplinary Perspectives on International Law and International Relations: The State of the Art
This volume brings together the most influential contemporary writers in the fields of international law and international relations to take stock of what we know about the making, interpretation, and enforcement of international law. The contributions to this volume critically explore what recent interdisciplinary work reveals about the design and workings of international institutions, the various roles played by international and domestic courts, and the factors that enhance compliance with international law. The volume also explores how interdisciplinary work has advanced theoretical understandings of the causes and consequences of the increased legalization of international affairs.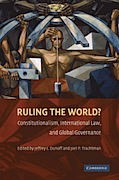 Ruling the World?: Constitutionalism, International Law, and Global Governance
How close are we to having an International Constitution to Rule the World? Penetrating essays in this distinguished, necessary volume offer the fullest answer we have thus far, examining through interdisciplinary lenses how constitutional discourse is reshaping international law, emerging regimes of global governance, and the growing intersection between domestic and transnational constitutions.
— Harold Hongju Koh, Sterling Professor of International Law, Yale Law School; former Legal Adviser, United States Department of State.
Even for a skeptic towards the idea of couching current developments in international legal governance in terms of "constitutionalization", this book is a remarkable achievement. Its editors have assembled a set of studies which treat this paradigm and its (sometimes all too ready) reception in the literature in a fair, balanced and comprehensive way. Thus, I consider the study of Ruling the World? to be the best way to learn everything necessary about the pros and cons of an influential school of thought.
— Bruno Simma, former Judge at the International Court of Justice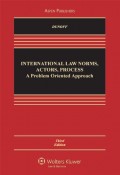 International Law: Norms, Actors, Process: A Problem-Oriented Approach
Built around a series of contemporary problems that illustrate the law in action, this innovative textbook explores the range and reach – and the possibilities and limits – of international law.  Throughout, the text emphasizes creative new forms of law making, a substantive focus on international legal process, and a pedagogic approach of teaching through case studies.  The text takes seriously the challenges of those who question the relevance, legitimacy, and justice of international law, and these issues are examined throughout the text.