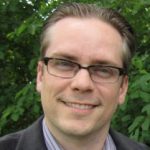 Well, not really, but that's a story that had significant purchase in early 20th century Minnesota. In 1898 a Swedish immigrant discovered a buried stone with runic letters and the date 1362. The archaic Scandinavian script described a fishing party that returned to its camp to find "10 men red with blood and dead."
8 Swedes and 22 Norwegians on an exploration journey from Vinland westward. We had our camp by two rocky islets one day's journey north of this stone. We were out fishing one day. When we came home we found 10 men with blood and dead. AVM, save us from evil. We have 10 men by the sea to look after our ships, 14 days' journey from this island. Year: 1362. [Translation by Erik Wahlgren, The Kensington Stone: A Mystery Solved]
The news of the apparent visitation of fourteenth century Scandinavians to the great state of Minnesota was enthusiastically received by their latter day heirs. With so many immigrants entering the United States, it was reassuring to learn that these norsemen had staked a claim to the United States more than 100 years before Columbus. Better yet, they had baptized the soil with their own blood, consecrating it as holy ground.
As the authenticity of the "Kensington Rune Stone" came under question, supporters dismissed much of the evidence produced by pointy-headed academics in their ivory towers. Though the scientific consensus has clearly declared the stone a fake, books are still written "proving" its authenticity. In Myths of the Rune Stone: Viking Martyrs and the Birthplace of America, historian and religion scholar David Krueger investigates the century-long story arc of this cultural artifact. He explores the passion for the Rune Stone among Scandinavian and, later, Catholics, who were intent on establishing their rightful place in the American community.
Beyond the history of the Rune Stone itself, Krueger's work provides valuable insights on the history of immigrant communities and the ways they seek to blend their ancestral histories into a new and imagined cultural landscape. Readers will find the themes of Myths of the Rune Stone illuminating in this time of increased tension and inflammatory rhetoric surrounding immigration.
I spoke with David Krueger on November 9, 2016, the morning after the election of Donald Trump to the presidency.
(For suggestions for how to use the book in a class setting, visit the book website at https://mythsoftherunestone.com/2015/12/15/using-myths-of-the-rune-stone-in-the-classroom/.)