Principal Investigator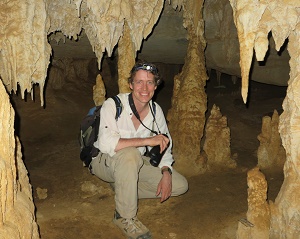 Dr. Brent Sewall
Dr. Brent Sewall began his current position as Assistant Professor in the Department of Biology at Temple University in fall of 2014.  His research focuses on understanding critical and emerging threats to biodiversity and developing effective strategies for conservation.  He is especially interested in understanding drivers of stability in ecological communities, evaluating impacts of key threats to biodiversity, and developing practical conservation strategies for threatened species and ecosystems.  Ongoing work focuses principally on clarifying drivers of the structure and dynamics of mutualistic networks in tropical forests, understanding and addressing critical and emerging threats from habitat change and emerging infectious diseases, and developing assessment and planning strategies that promote effective implementation of conservation initiatives.  His work has focused on cave and forest communities in eastern North America and tropical sub-Saharan Africa.  Dr. Sewall is also providing technical advice on ecology and conservation to the Pennsylvania Mammal Technical Committee, the U.S. national Conservation and Recovery Working Group of the White-Nose Syndrome Action Plan, the IUCN Species Survival Commission Bat Specialist Group, and the World Commission on Protected Areas.  He has received several awards, including the American Society of Mammalogists' William T. Hornaday Award for outstanding contributions to mammal conservation, the Spurr Award for outstanding outreach in ecology, the Merton Love Award for best dissertation in ecology and evolution at the University of California, Davis, and Temple University's William Caldwell Memorial Distinguished Mentoring Award.  Prior to beginning his current position, Dr. Sewall was a Assistant Professor of Research at Temple University, and a Visiting Assistant Professor of Conservation Biology at the College of William and Mary.  Dr. Sewall received his B.A. in Arts and Sciences from Penn State University, his M.S. in Conservation Biology from the University of Minnesota, and his Ph.D. in Ecology from the University of California, Davis.
(click here for recent lab alumni)
Postdoctoral Researchers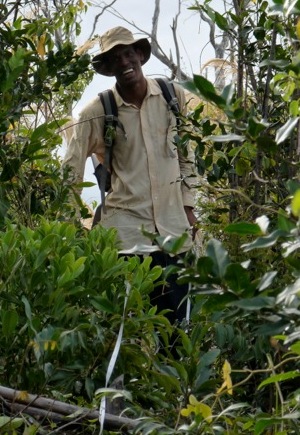 Dr. Matthew Banks
Dr. Matthew Banks is a postdoctoral researcher specializing in non-human primate behavioral ecology.  Matthew recently received his PhD from Stony Brook University in physical anthropology where he focused his doctoral research on the effects of human activities and naturally-occurring ecological variation on the diurnal primate communities in forest fragments in the extreme north of Madagascar, including patterns of 1) abundance and distribution and 2) species richness at the population-level.  He spent over five years conducting research in these isolated habitats and training the first teams of wildlife stewards to staff the newly gazetted 85,000 ha
Andrafiamena-Andavakoera Forest Corridor, a hotspot for the critically endangered Perrier's sifaka (Propithecus perrieri) and other high priority flora and fauna for conservation, including members of one of Madagascar's endemic tree families, the Sarcolaenaceae. Since initiating his first research project in the littoral forests of Madagascar in 1997, Matthew has advocated community-based approaches to research and is interested in increasing the network of local research professionals in northern Madagascar where the Sewall Lab is currently studying the mutualistic networks that characterize plant-frugivore interactions at Ankarana National Park.  His research interests include investigating the role of herbivores as ecosystem engineers and specifically their role in driving shifts in tree community dynamics in tropical forest ecosystems.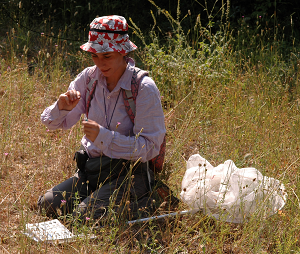 Dr. Konstantina Zografou
Dr. Konstantina Zografou is a conservation ecologist with expertise on the ecology and conservation of terrestrial invertebrate communities, including butterflies and Orthoptera (grasshoppers, crickets, katydids). During her Ph.D. research at the University of Ioannina (Greece), she explored butterflies' and orthopterans' species responses to climate change and identified measures needed to conserve species populations within protected areas. She also examined the effects of habitat-specific variables and especially of altitude and canopy cover, used as proxies of possible climate (via space for time substitution) and land use change (agriculture abandonment and forest encroachment). As a postdoctoral researcher, she focuses primarily on statistical analysis of data that have been systematically collected from 1998 on regal fritillary (Speyeria idalia), an extremely rare butterfly species, for which the only viable remaining eastern population occurs at Fort Indiantown Gap National Guard Training Center in central Pennsylvania.  Additional data on the whole butterfly species pool is also being used to better interpret ecological and behavioral patterns of the butterfly community, to clarify long-term population trajectories and spatial distributions and to evaluate the effects of wildfire and prescribed fire on grassland butterflies and their host plants.
Dr. Lisa Powers
Dr. Lisa Powers is a postdoctoral research fellow specializing in bat reproduction and conservation. Lisa received her Ph.D. in Ecology, Evolution and Conservation Biology at the University of Illinois at Urbana-Champaign in 2016. Her dissertation investigated effects of white-nose syndrome and annual climate variation on reproduction, survival and population growth rates in North American cave-hibernating bat species. Her dissertation incorporated a wide range of field and laboratory techniques, including mark-recapture, assessment of reproduction and post-natal growth, histology, PCR, and population growth modeling to identify trends in reproduction and survival. She joins the Sewall lab to study changes in bat populations since the onset of white-nose syndrome and the impact of military training operations and land management on bat populations in varied landscapes at the Fort Indiantown Gap National Guard Training Center in central Pennsylvania.
Dr. George Adamidis is a postdoctoral research fellow specializing in plant ecology. He recently received his Ph.D. from University of the Aegean (Greece) in plant functional ecology where he focused his doctoral research on the functions and factors shaping plant species diversity in harsh (serpentine) environments, and on understanding the mechanisms behind the processes of metal tolerance and hyperaccumulation in plants. His research in functional ecology focuses primarily on analyzing the ecological consequences of variability of plant functioning using functional traits. He has also investigated the effect of harsh abiotic conditions on the structure and diversity of serpentine communities and the decomposition dynamics of mixed-species litters across contrasted environments. A part of his research focuses on the inter-population variation in Ni tolerance, accumulation and translocation patterns in the Ni-hyperaccumulator Alyssum lesbiacum. Finally, he has also focused on the genetic diversity and population structure of this serpentine-endemic species. Currently, George is very interested in: 1) how natural communities across biotic and/or abiotic gradients may respond to climate change, through the mediating role of plant functional traits and 2) disentangling the relative importance of biotic interactions and abiotic factors in defining significant ecosystem processes such as litter decomposition and pollination.
Graduate Students

Marianne Gagnon
Marianne began her doctoral studies in the fall of 2015. She is interested in understanding how environmental change influences the ecology, behavior, and conservation of wildlife populations. For her dissertation research, she is studying behavioral and ecological aspects of host-pathogen interactions and dynamics in North American bat populations affected by white-nose syndrome, an emerging infectious disease. Prior to starting her PhD program at Temple University, Marianne obtained her Master's degree in Wildlife Biology from McGill University where she studied the effects of torpor expression on the behavioral ecology, physiology, and reproductive biology of mammalian hibernators.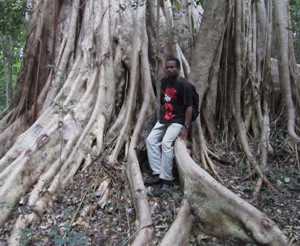 Marcellin Jaoravo
Marcellin Jaoravo is a PhD student interested in the ecology and conservation of birds of Madagascar.  He began his doctoral studies in 2013 and is focusing his dissertation research on bird species of conservation concern, and especially the foraging ecology of the Madagascar green pigeon Treron australis, a species endemic to Madagascar whose population is declining.  Marcellin is pursuing a degree from the University of Toliara, Madagascar, but is advised by Dr. Sewall on his dissertation research.  Marcellin has previously received his matrise and DEA (Master's degree equivalent) in Animal Biology and Environmental Sciences, with a specialty in Ornithology from the University of Toliara.  He has extensive research experience, including field research on the community ecology, foraging and reproductive behavior, and systematics of several species of Malagasy birds and lemurs and conservation work on mangroves.  He has also served as an Assistant Instructor of Natural Sciences, manager of the Biochemistry Laboratory, and manager of the Biology Laboratory at the University of Antsiranana, Madagascar.
Carrie Paul
Carrie Paul is a technician in the lab who received her undergraduate degree in environmental planning and a certificate in environmental geomatics in 2013. Carrie is interested merging her knowledge of field ecology and GIS to better visualize and analyze trends in conservation ecology. She began working with Dr. Sewall in the fall of 2014 as an affiliate of the lab and transitioned to a technician position in spring of 2016, and began a Masters program in the lab in summer of 2016.  Her research in the lab focuses on two topics – examining areas of high biodiversity and carbon sequestration to mitigate climate change and prevent species loss at a global scale, and evaluating the effects of forest management on forest community structure and bat communities at Fort Indiantown Gap National Guard Training Center in central Pennsylvania.
Technicians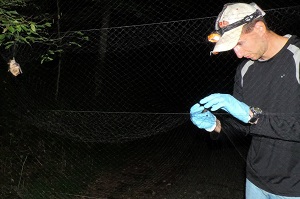 Chris Hauer
Chris Hauer joined the Sewall Lab as a Research Assistant in December 2015. His research interests include understanding the impacts of habitat fragmentation and disease on the ecology and conservation of wildlife populations, particularly rodents and bats. Chris received a B.S. in Biology from Albright College and a M.S. in Biology from East Stroudsburg University. His graduate research examined changes in the community composition and distribution of bats in the Delaware Water Gap National Recreation Area following the emergence of white-nose syndrome. Using the results of mist netting and acoustic surveys, as well as emergence surveys of summer maternity roosts, Chris worked to develop a preliminary bat management plan for the National Park Service. Prior to his position at Temple University, Chris worked for an environmental consulting company conducting surveys for federally-endangered and threatened bat species throughout Pennsylvania and New Jersey. He also served as an Adjunct Biology Instructor at Alvernia University and Delaware Valley University where he taught courses in General Biology, Human Biology, and Human Anatomy and Physiology.
Undergraduates
Alice Puchalsky
Alice Puchalsky is a junior at Temple University studying Environmental Science. She joined the Sewall lab in the summer of 2016 as a Frances Velay Fellow. Alice is currently studying torpor patterns in North American little brown bats affected by white-nose syndrome. She is examining the relationships between age, experience with white-nose syndrome, and survival in North American little brown bats. In general, Alice is interested in how human activities affect ecosystems' well-being. After completing her undergraduate studies, Alice plans to attend graduate school to study environmental policy.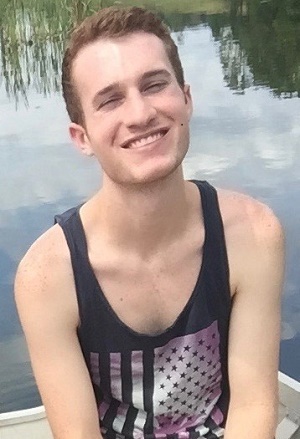 Tyler Forst
Tyler Forst is a junior at Temple University studying Environmental Science with a minor in Biology. He is interested in conservation ecology and finding ways to help mitigate issues that arise from climate change. His passion for ecology began after traveling to Ecuador and observing the concentration of biodiversity within the country. Since then he has been committed to preserving of at-risk communities. He joined the lab in the summer of 2016 through the College of Science and Technology's Undergraduate Research Program, and is currently assisting in the research of behavioral interactions of North American bats infected with white-nose syndrome. Along with his research involvement, he has participated in volunteer programs catered towards encouraging youth involvement in STEM related fields. After completing his undergraduate studies, he plans on attending graduate school in the field of environmental health and ecology.
Field research teams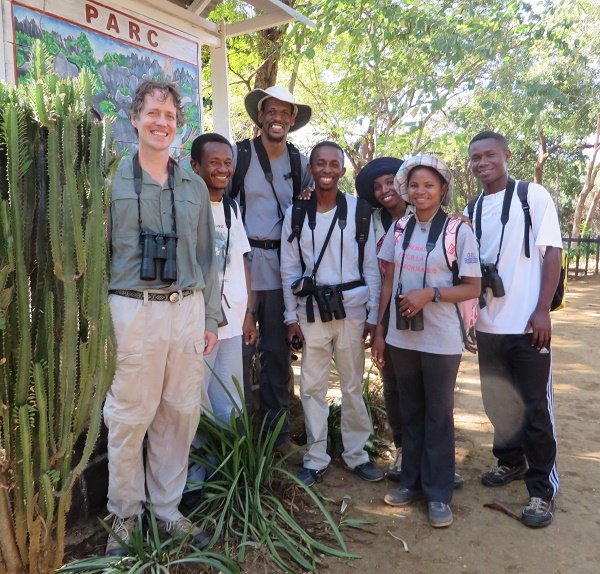 2014 Field crew in Madagascar
2013 Field crew in Madagascar
2012 Field crew in Madagascar
(click here for recent lab alumni)