Reflections from Climate Café student facilitators Kai Yuen & Maggie Roseto
In the face of anthropogenic climate change, people are scared and struggling to find ways to deal with feelings of activist burnout, and impending doom. The term "eco-grief" or "climate-anxiety" was coined by the Climate Psychology Alliance to describe the feelings relating to the chronic fear surrounding environmental disaster.
"College students are experiencing all-time high rates of depression, anxiety and suicidality, according to the latest Healthy Minds survey. In the annual survey, which received responses from 96,000 U.S. students across 133 campuses during the 2021–22 academic year, 44 percent reported symptoms of depression, 37 percent said they experienced anxiety and 15 percent said they have seriously considered suicide—the highest rates in the survey's 15-year history."

Student Mental Health Worsens, but More Are Seeking Help (insidehighered.com)
As Environmental Studies Majors, we are constantly learning about the inescapability of climate issues. It is difficult to attend classes everyday learning about the sometimes seemingly unreachable solutions to slowing the rapid destruction of the planet. Even outside the classroom, overwhelming amount of media and bad news coverage of extreme weather effects, glacial melting and more natural lands being ceded to big oil overwhelms and it is difficult to not get bogged down and feel hopeless in the face of such an insurmountable crisis.
Addressing student wellness
The Climate Psychology Alliance has started a program called "climate-café" modeled from a death-café model. This semester, we have adopted the program for Temple University through the Office of Sustainability in order to provide EcoReps and the Temple Community a place to share their feelings about and personal responses to climate change.
hyper object – an object or event whose dimensions in space and time are massive in relation to a human life, eg a black hole, an oil spill, all plastic ever manufactured, capitalism, and especially climate change

Philosopher Timothy Morton's Hyperobjects: Philosophy and Ecology after the End of the World
There is a large lack of space for people, and especially students to reflect, digest, and work through their thoughts about climate change, since it really is a hyper object, whose dimensions in space and time are massive in relation to a human life and therefore extreme difficult to make sense of.
Climate Cafés at Temple
In spring of 2023, the Office of Sustainability began our own version of Climate Café, hosted and facilitated by EcoLeads who participated in training run by the North American Climate Psychology Alliance.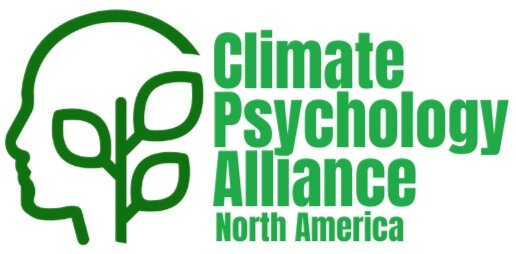 Focused specifically on addressing climate and environment-related anxiety for students and young people, Climate Cafés at Temple were implemented to provide a haven from the business and activity of the world.
To address this, we sought to create an interdisciplinary and holistic experience where peers learn from each other, sharing their diverse perspectives and approaches to interacting with climate and the environment, coming together to work through and process shared climate grief intellectually, cognitively and emotionally,
What happens during a Climate Café
The climate café is essentially a guided reflection through dialogue with like-minded peers. We try to create a comfortable, peaceful space filled with tea and refreshments, and natural objects. The climate café consists of four parts;
Principles and Ground Rules
Personal Statement
Climate Café,
Wrap=up and Processing
We begin by explaining the purpose of the climate café with some background and laying out some ground rules. Basic ground rules include being respectful and open to other people's views, active listening, and leaving space for silence.
The personal statements take up a generous amount of time. Participants are encouraged to choose from a series of natural objects on the table and share why they chose the object, something about climate change, and something about themselves. Everyone is encouraged to share but there is no requirement, participants are told to share whatever they feel comfortable with.
After this round, the floor is open for discussion for anyone to bring up something that jumped out at them during the personal statements, or anything else they wish to talk about more, wish to share, or need to get off their chest. To conclude the café, we always provide a brief reflection and then ask participants to provide feedback on how to improve the program and what things would make it a more comfortable experience.
Evaluating Measuring Impact
There were many similarities in themes and topics discussed in our eight climate cafes this semester. We spent a lot of time discussing current events as it was a tumultuous semester. We discussed the Willow Project, train-derailments and extreme weather like flooding in South Florida and California. Many participants talked about desensitization and feeling numb to many of the ideas in the media. We also talked about individual and corporate responsibility and autonomy of action. We also shared the importance of looking at cute animal videos and other things that bring us joy.
I think the biggest takeaway we have found is that people are just looking for community.
Climate Café has provided a space for students to find fellowship and meet like-minded peers. It seems our peer-led climate café program has allowed people to realize that they are not alone in their feelings and can relate to other peers through common values.
Throughout the semester we have given each participant a pre and post evaluation form assessing anxiety levels overall, and about climate change. We hosted eight climate cafes and reached 60 participants. 51% of respondents felt that their anxiety in general lessened, while 45% felt it stayed the same and 6% felt it worsened. 56% of respondents felt that their climate change-related anxiety lessened, while 43% felt that it stayed the same and 11% felt that it worsened. Because the vast majority of participants felt that their anxiety remained the same or improved, we are hopeful that this program will positively impact students and other members of the Temple Community in semesters to come.
Because the vast majority of participants felt that their anxiety remained the same or improved, we are hopeful that this program will positively impact students and other members of the Temple Community in semesters to come. Huge thank you to everyone who shared the space with us this semester. We look forward to growing the program throughout the fall semester and reaching even more students.
---