Temple Sustainability was happy to welcome the second Race to Zero Waste #EcoChampion: Emily Rodia! Emily grew up outside of Trenton, NJ and moved to Philadelphia in early 2007 to study Fine Art at The University of the Arts and received a BFA in Painting. Though always being an environmentally conscious person, she never knew how to navigate reducing her waste in Philly. And soon enough co-founded Philadelphia's first low-waste home goods storefront.
Combining Arts with Sustainable Values.
Emily began her career by creating found object sculpture pieces sourced from trash from the street. A passion for nature evolved as she came to realization of the true, and immediate, trash problem in the United States.
Alarming fact: In the United States, about 4.9 pounds per person is generated each day.
As Emily became more interested in the low-waste movement she eventually saw the need for a storefront like Good Buy Supply. Combining her artistic background and sustainable values the brand was born. Emily, and her co-founder/fiancé, Jason hope Good Buy Supply can become a place to inspire others to live more simply and sustainably.
"I walk to work everyday and bring my reusables wherever I go. This is a little kit of items I have for when I'm on the go. (Water Bottle, handkerchief, reusable tote, coffee Mug, etc.) Bringing these items really helps curb single use items I may encounter in my day."

– Emily Rodia
Philadelphia's One-Stop Low-Waste Storefront.
The #1 Goal for Good Buy Supply is Reduction. Emily shares her store motto when customers visit: if you don't need it, don't buy it! Emily offers items and products based on strategic placement in finding the best option for the East Passyunk storefront. She puts into consideration what Good Buy Supply is putting into the world, how products are produced, and where products are manufactured.
Maintaining low-waste practices during COVID-19 while operating a successful business is hard to balance. Partnerships with Terracycle and Rabbit Recycling, ensure that plastic is properly recycled after being received unintentionally or by surprise.
Emily's goals are for the good for the people. She encourages Temple students to use a voice for change by advocating for better wages and responsibility to be put on manufacturers. Simply, if people were paid more, then they would be able to live more responsible lifestyles.
Live Low-Waste at Home.
If you don't need it, don't buy it. Living sustainably doesn't have to be complicated or expensive. Good Buy Supply is offering the Philadelphia community a place to reduce waste, live better, and save money down the line – in-person and online. See below to learn how you can visit Emily.
Tip from Emily: Use up your current products and when it's time to buy new, buy with sustainable intention!
Emily points out that plastic didn't explode in our society until the 1980's, thinking back to where we started and living more simply. Do you need these extra things in your life? What can you eliminate?
Bring your own container to the Good Buy Supply refill station! You can stock up on earth-friendly products like shampoo, conditioner, laundry soap, disinfectant cleaner, and more. FYI: Bulk products are sold by the ounce, ranging from to $0.30 to $1.20 an ounce.
Tired of your glass not being recycled properly? Drop off your clean glass jars and bottles to close the loop. As a Bottle Underground drop-off location, they collaborate with Remark Glass to create hand blown glassware.
Did you know? 70% of post-consumer glass will end up in landfills, mostly due to contamination.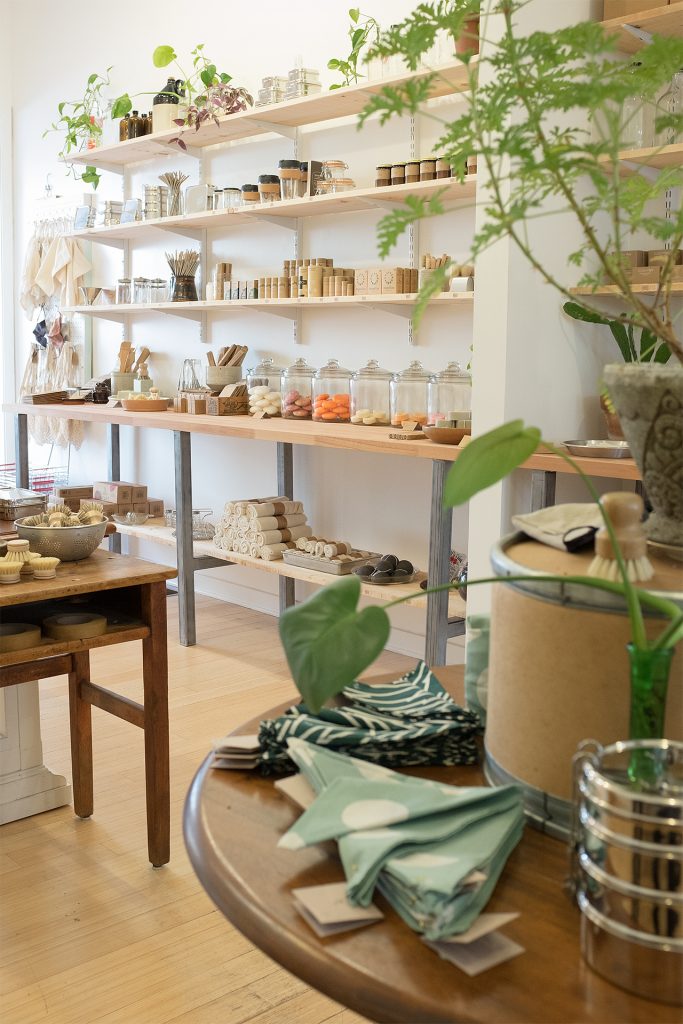 Stop into the East Passyunk Location.
Are you a student looking to visit Good Buy Supply?
Cecil B. Moore → Good Buy Supply
Arrive at Cecil B. Moore Subway Station
Take Broad Street Line towards City Hall for 14 minutes
Get off subway at Tasker Morris Station
Walk East on Morris Street, turn right on South Iseminger Street, turn left on Pierce Street, and Right on East Passyunk Avenue
You've arrived at Good Buy Supply
Good Buy Supply: 1737 E. Passyunk Avenue, Philadelphia, PA 19148
Store Hours: Tuesday – Saturday: 10am – 6pm and Sunday: 10am – 4pm
Contact Emily: hello@goodbuysupply.co