---
Science, Technology, and Society at Temple University is a diverse network of faculty and students interested in the social, historical, and philosophical dimensions of science, technology, and medicine.
Newcomers are always welcome to our monthly meetings.
Next:
Monday, May 8, 12-1pm
Charles Library Even Space (1st floor, 1900 N 13th St) and online: https://temple.zoom.us/j/92616703278
Making Families, Choosing Race: Sperm Banks and the Limits of Diversity
with Alyssa M. Newman, PhD, Georgetown University
The widespread use of assisted reproductive technologies, coupled with demographic and social change, are normalizing new family configurations that extend beyond biological kinship. Despite the new populations and family formations utilizing these technologies, sperm donor selection is dominated by heteronormative logics and an interest in family resemblance achieved through racial matching. Yet the achievement of racial matching is hardly a given, as 70% of the sperm donors at banks across the United States are white. This talk will interrogate the racialized meanings assigned to donor sperm, drawing on interviews with interracial lesbian couples who encountered difficulties finding a donor of their desired racial background. This talk will also explore the sperm banks' "diversity problem," examining how, despite the fertility industry's quick embrace of diversifying family formations including queer clients and intended parents of color, it continues to center around the reproduction of the white family. In a context of increasing state control over reproduction, the rise of both regulated as well as unregulated sperm markets raises the question of who is being served, or controlled, in the presence or absence of state intervention and policy.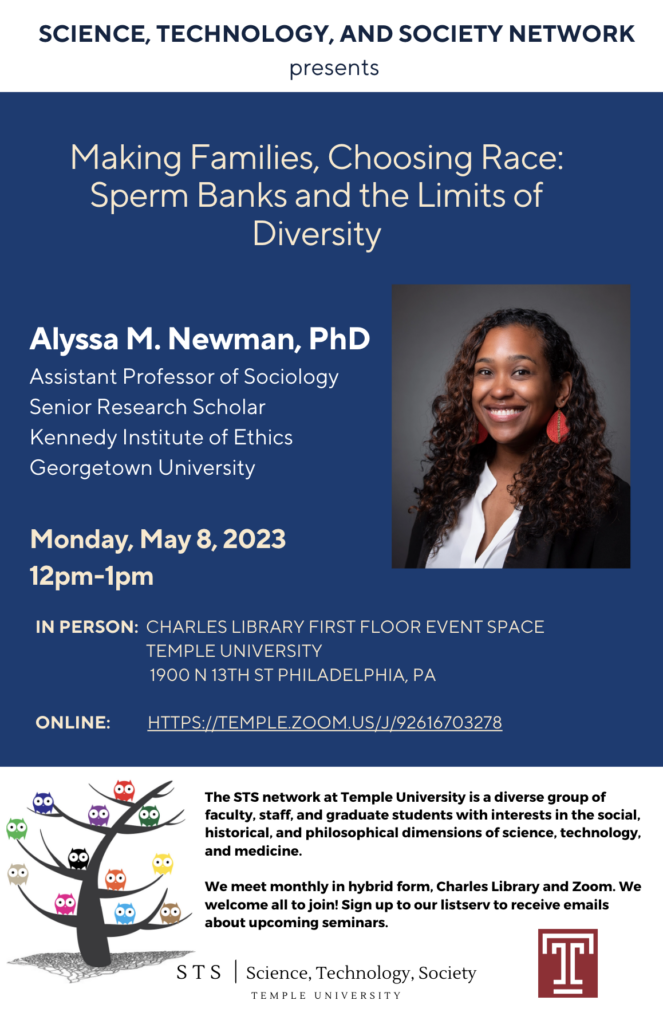 ---
STS@TU would like to thank our funders, past and present:
Center for the Humanities at Temple University CHAT