Research at the Speech Perception and Cognition Lab has the overarching goal of improving the communication ability and quality of life for older adults with age-related hearing loss. Our work focuses on the perceptual and cognitive mechanisms in older adults' speech perception, as many older individuals tend to have difficulty perceiving speech in adverse conditions, such as noisy environments or group conversations. Health issues such as age-related hearing loss and cognitive impairment could make this even more difficult. Therefore, our lab aims to help develop clinical outcome measures that effectively reflect listeners' experiences in real-world communicative contexts. The research in the SPAC Lab addresses this problem based on multiple lines of work:
Perceptual mechanisms in older adults' speech perception under adverse conditions and the variability across individual listeners
The interplay between hearing loss and cognitive difficulty in the aging cohort and its impact on clinical service
Speech perception outcome measures that capture online processing of speech with fine-grained time sensitivity
Support
We are grateful to have ongoing support for our work from the National Institute on Deafness and other Communication Disorders.
Opportunities for older individuals
We are interested in working with older individuals with and without hearing loss who would like to participate in research. All of our research participants are compensated for their time and offered counseling about their auditory abilities as part of their involvement in our studies.
For information on our current research projects, please contact us at spaclab@temple.edu
---
Lab news
9/2023
New publication from our lab in Trends in Hearing. "The Effect of Breathy Vocal Quality on Speech Intelligibility and Listening Effort in Background Noise."
3/2023
Congratulations to Brie for the successful poster presentation "On the Perception of Continuous Speech in Noise" at the College Research Day!
1/2023
Mollee received the Mentored Student Presentation Travel Award from the American Auditory Society to present our work at the annual conference in March. Congratulations Mollee and co-authors!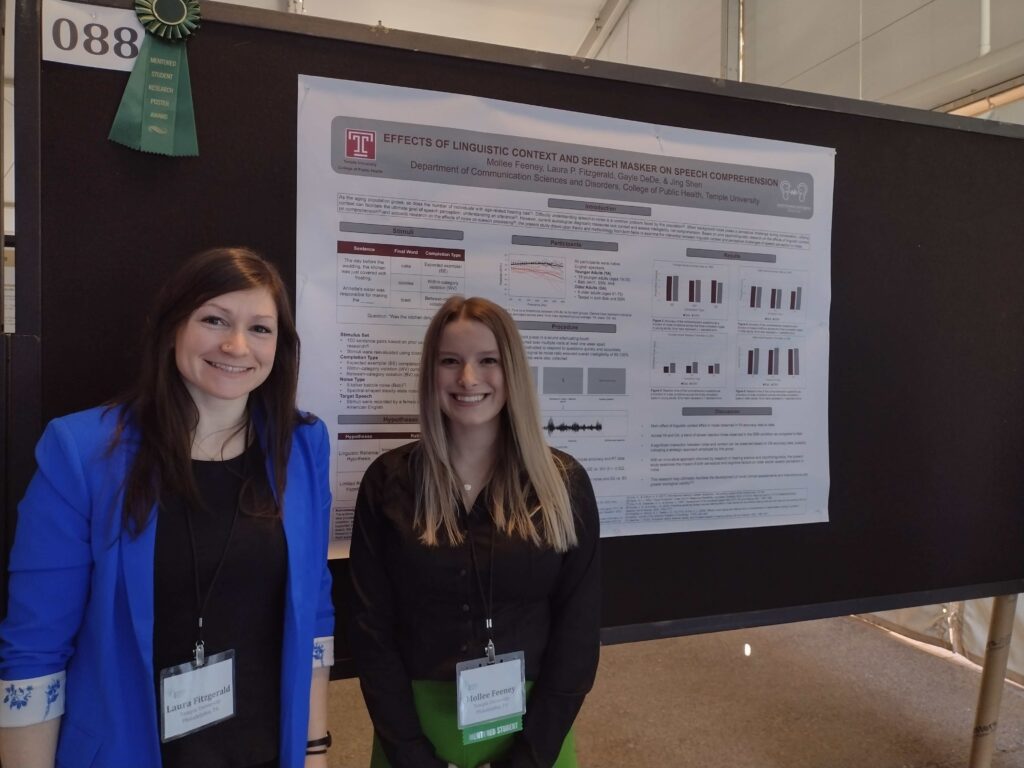 4/2022
Dr. Jing Shen gave a talk at the 2022 Convention of the New Jersey Speech-Language-Hearing Association. "The ear is connected to the brain: aging and cognition in the audiology clinic".
3/2022
Congratulations to Mollee Feeney for receiving the the Diamond Research Scholarship! She worked on a project about the perception of continuous speech in background noise.