EVENT CANCELED – Due to unforeseen circumstances, Dance Celebrations performance by Kariamu Welsh has been canceled. 
Beyond the Notes, Temple Library's Award-Winning
Noontime Concert Series
Presents:
Kariamu Welsh and her Dance Students
Celebrations
Wednesday, December 2, 2015
Noon to 12:45 P.M.
Paley Library Lecture Hall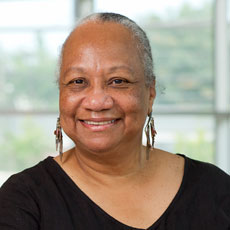 Representing around 15% of the world's population, the continent of Africa is a sprawling cultural kaleidoscope whose influence is almost too great to measure. There are dozens of countries in Africa (seventeen in West Africa alone), each with a unique tradition of music and dance and a vibrant, modern atmosphere for innovation in the community and abroad. West African styles of music and dance attract musicians, scholars, dancers, artists, and teachers from across the Western world who seek to learn from and participate in its complex network of associated cultures. A largely oral tradition has resulted in the importance of both virtuosity and education for an expert dancer or musician, passing on techniques of the past and inventing styles that look toward the future.
Kariamu Welsh, professor at the Boyer College of Music and Dance, is the visionary creator of Umfundalai, a dance technique that blends pan-African dance elements with African American rhythms. Translated as "essence" in Swahili, Umfundalai is a modern stylization of older frameworks, as fresh as it is grounded in tradition. Dr. Kariamu's most central idea may perhaps be inclusivity: everyone is capable of expression through movement! While many dancers are born with natural gifts that are cultivated through training and practice, a novice with or without a natural inclination for dance is encouraged to celebrate his or her own unique personality and physical characteristics. Given the gridlock of modern life, such a humanistic philosophy is liberating to say the least.
The title of the upcoming Beyond the Notes concert, Celebrations, refers not only to the fact that we are so delighted to present an incredible program, but also to the recognition of the impact that African dance has had in the United States and elsewhere. Not only that, we will learn more about Dr. Kariamu's philosophies and witness an unforgettable performance by her and her students. I hope that you will join us for the fourth and final Beyond the Notes concert of the semester, and check our blog to find out what 2016 has to offer!
I recently had the opportunity to record an amazing interview with Dr. Kariamu. Click below listen to our discussion about African dance, cultural studies, and her upcoming performance on December 2nd.
[ensemblevideo contentid=PYB_c8VtbkuuvgeY2cXa4g audio=true]
Andrew Unger is the graduate assistant for the Noontime Concert Series at Temple University. He is a candidate for the MM in Music History at the Boyer College of Music, and appears as a horn player with the Temple University Symphony Orchestra and Wind Symphony. Reach out to him at andrewungerhorn@gmail.com.
Read more:
Asante, Molefi Kete and Kariamu Welsh-Asante. African Culture: The Rhythms of Unity. Trenton, NJ: African World Press, 1990.
Cameron Frichtel, Monica J. "Umfundalai." DanceTeacher. http://www.dance-teacher.com/2010/06/umfundalai/.
Nance, C. Kemal. "Umfundalai." Dancing our Africa. http://www.dancingourafrica.com/#!about2/c1z1o.
Welsh-Asante, Kariamu. African Dance. 2nd ed. New York: Chelsea House, 2010.
Answer the question to win a $10 gift certificate!
Temple University's Presidential Humanities and Arts Research Funding Program helps support Beyond the Notes.