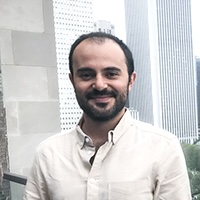 Temple University Libraries is pleased to welcome Felipe Valdez to our staff as the Libraries' new GIS specialist. Felipe joins the Libraries from Pontificia Universidad Católica del Ecuador (PUCE) in Quito, where he was a professor and researcher.
The GIS specialist position is a new addition to our Learning and Research Services department. I recently had the opportunity to check in with Felipe and ask him about his background, his new role at Temple, and why GIS and mapping services are important for the Libraries to offer in support of students, faculty, and researchers.
---
Beckie Dashiell (editor for Temple Libraries): Can you tell us about your educational and professional background?
Felipe Valdez: My educational background is more like a journey of discovery. I have studied in three different countries with three different languages: Ecuador, France, and the United States. I have a bachelor's degree in geography from Pontificia Universidad Católica del Ecuador where I also obtained a master's degree in Urban Planning and Development. This was an international program in cooperation with the French Institute for Development and the Université Paris 1 Panthéon-Sorbonne. During this time, I started working for the Ecuadorian National Planning Agency as a Geographic Information Analyst. The institution was undertaking three big data gathering projects that would improve spatial and economic planning nationwide. My job was to analyze data for the national planning objectives and expand local governments' skills to use this data for their own planning.
While working on these important projects, I realized that professionals from different disciplines needed to use data to support their decisions. I also identified the need, for a country like Ecuador, for more research in certain areas related to development. As a result, I decided to continue my education abroad to acquire more skills and expand my network. I received a grant from the French government to pursue a master's degree focused on research for developing countries at Université Paris 1 Panthéon-Sorbonne. During my stay in France, I collaborated with faculty members undertaking research worldwide. In connection with my original motivation, I focused my thesis on the effects of big projects in Ecuadorian cities.
Right after finishing my studies, I was invited to teach in the geography department of my alma mater. I began by teaching introductory courses to Geographic Information Systems for students majoring in geography. Over time, I started designing new GIS courses for non-geographers as a strategy to increase the use of these technologies in other disciplines. As a result, I developed and participated in several interdisciplinary research groups and projects related to environment conservation, public health, rural development, urban and economic studies, spatial inequality, among others. Also, I started the first interdisciplinary center for spatial and social analysis at this university.
In 2017, I received a Fulbright grant to pursue a doctoral degree in geography at Northern Illinois University. My research is on the social and spatial factors that influence residential satisfaction in Ecuadorian cities. I am looking forward to defending my dissertation soon.
BD: Wow, that is a fascinating educational journey! We're so glad you are now with us at Temple University Libraries. What kind of work will you be doing here?
FV: I am the Geographic Information Systems specialist. I am here to support GIS and mapping for research, teaching, and learning. I will be helping students, faculty, and staff discover how a spatial framework can improve their work and contribute to their goals, whether it is by analyzing spatial data or by developing a creative way to communicate better with maps. As many things happen somewhere in space, it is possible to map these events and processes. Most of the time, space gives context to what we are trying to understand or solve. GIS is the main technology that allows us to collect, store, manage, analyze, and visualize spatial data. The use of these technologies has undergone an important expansion in the last decades; however, there is still more space to grow.
At Temple University, there are a variety of current and future GIS users. In this sense, I will be helping these users to find and access the technology and the data they need for their GIS projects through discrete consultations or extended project collaboration. I will also teach workshops to introduce students and faculty to Geographic Information Systems and other web mapping platforms at different levels. For those advanced users, I can assist with spatial data analysis tools and processes as well as with advice on strategies to incorporate a spatial framework into their projects. I will be exploring and suggesting ways to incorporate GIS and geospatial data for areas and disciplines that are not familiar with these technologies. My goal at Temple University Libraries is to help students, faculty, and researchers get the most out of GIS and mapping technologies regardless of their level of experience.
BD: This is a brand-new position at the Libraries. Can you speak to the importance of such a position in an academic library?
FV: The use of geospatial data has increased in the last decades—not only because we gather more data than ever before and because of the advanced technologies that help us manage this data, but mainly because of the enormous potential of using it across disciplines. Mapping has been a basic source of learning and research for geographers for a long time, but almost every discipline can benefit from the use of maps and geospatial data. Currently, there is an important use of geospatial data in business, public health, engineering, education, and the digital humanities, just to mention a few.
Temple Libraries is a hub for making interdisciplinary connections. Having a GIS specialist in the Libraries helps library users bring a geospatial approach to their research regardless of discipline or level of expertise, and it helps bring disciplines together across Temple University to work collaboratively to find better solutions through GIS and mapping.
BD: Is there a particular project or initiative you are looking forward to working on here at Temple?
FV: Many things attract me to Temple. Being such a diverse institution, from an academic perspective but also a demographic one, as well as being at the heart of such a vibrant urban environment are among the most important. I would love to work on projects that focus on inclusion, community participation, and the use of spatial data for enhancing the urban environment and people's quality of life. I think that understanding our spatial context and getting to be part of the decisions about the future of the city give us a sense of belonging and have a positive impact on our wellbeing.
This semester, I have started holding consultations with researchers who contact the Libraries for GIS and mapping help. I'm also looking forward to GIS Day on November 16 at Charles Library, which the Libraries co-organize every year with Temple's department of Geography and Urban Studies. I'm helping plan the event and will be teaching a GIS workshop as part of the festivities.
---
See our webpage for more information on support for GIS and mapping at Temple Libraries, and to get in touch with Felipe.