This Alumni Week, Temple University Libraries welcomes alumni to learn more about the Libraries and all that you have access to as a Temple alumnus. Spoiler alert: your access to library resources and services doesn't end when you graduate!
We've rounded up some of the best the Libraries has to offer you this Alumni Week, and every week.
Access the Libraries
Even after you graduate, you can continue to access library resources, including our buildings, collections, and more! Check out our library website to learn more about alumni services. 
View public exhibits
The Libraries offer a variety of exhibits each year, often featuring the materials in our special collections. Without leaving home, you can explore one of these exhibits from the Charles L. Blockson Afro-American Collection right now: Black Lives Always Mattered! (BLAM!) 360° exhibit. This virtual tour provides a glimpse of a seminal forthcoming graphic novel, which has been supported by The Pew Center for Arts & Heritage.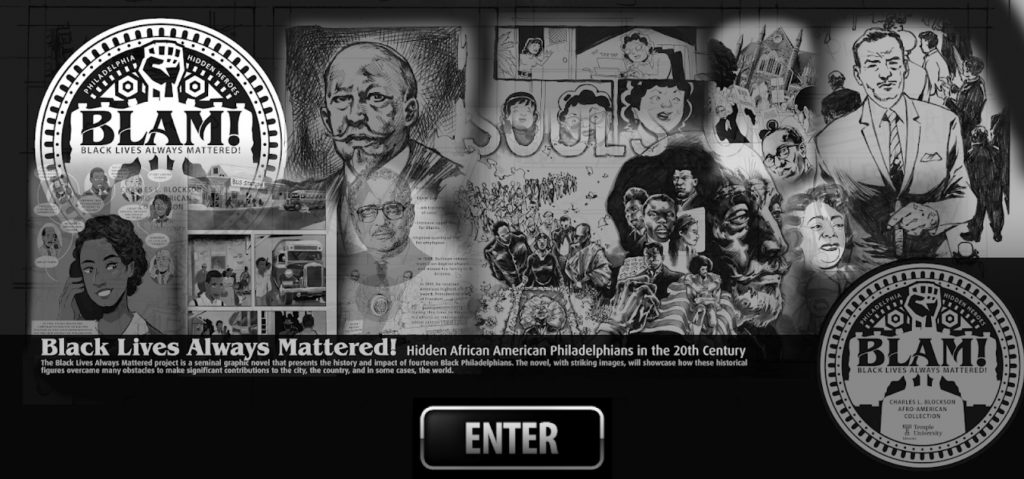 If you're on campus, visit Charles Library to view the Special Collections Research Center's latest exhibit. History of a Neighborhood: Mapping North Philadelphia, 1837–1990 is on view through the end of the month. 
Attend events and workshops
Every semester, the Libraries present our Beyond the Page public programming series. These free events and workshops are open to all, and we also record most of them for future viewing.
We invite a variety of experts, including alumni, to participate in these programs. Check out these recent programs featuring Temple alumni. Many of these events were part of our Made in North Philly series, which continues this fall. 
Explore Digital Collections
Our Digital Collections offer free worldwide access to the Libraries' unique primary historical and cultural resources and to selected scholarly works and other publications produced at Temple.
As a Temple alumnus, you might take a special interest in the following collections: 
Read alumni authors 
Temple University Press is known for publishing socially engaged scholarship in the social sciences and the humanities, as well as books about Philadelphia and the Delaware Valley region.
A number of Press titles have been authored by your fellow alumni! Check them out below:
Nelson Diaz (JD, 1972; Honorary PhD, 1990)    
Not from Here, Not from There/No Soy de Aquí ni de Allá

Ray Didinger (BS in Communications, 1968)
Finished Business: My Fifty Years of Headlines, Heroes, and Heartaches
One Last Read: The Collected Works of the World's Slowest Sportswriter
The Eagles Encyclopedia: Champions Edition

Bill Double (BS in Journalism, 1961)
Charles E. Hires and the Drink that Wowed a Nation: The Life and Times of a Philadelphia Entrepreneur

Murray Dubin (BS in Journalism, 1969)
Tasting Freedom: Octavius Catto and the Battle for Equality in Civil War America
South Philadelphia: Mummers, Memories, and the Melrose Diner

Harold Gullan (PhD in History, 1998)
Toomey's Triumph: Inside a Key Senate Campaign

Valerie Harrison (Master of Liberal Arts, 2007; PhD in African American Studies, 2015)
Do Right by Me: Learning to Raise Black Children in White Spaces

Larry Magid (Fox School of Business, 1964)
My Soul's Been Psychedelicized Electric Factory

Laura Katz Rizzo (EdM in Dance, 2001; PhD in Dance, 2008)
Dancing the Fairy Tale: Producing and Performing The Sleeping Beauty