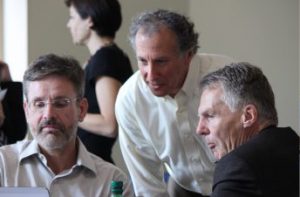 The Performance of International Courts and Tribunals
The large and growing number of international courts and tribunals is one of the most remarkable features of contemporary international relations.  The impact and effectiveness of these bodies, however, is not well understood.  To advance our knowledge in these areas, this workshop focused on questions surrounding the conceptualization and measurement of the performance of international courts.   Why do some courts perform better than others, and what are the determinants of variation in performance?
Participants in this two-day event – which was co-sponsored by PluriCourts – included Steinar Andresen, William Burke-While, Meg deGuzman, Andreas Føllesdal, Chiara Giorgetti, Ruth Mackenzie, Jaya Ramji-Nogales, Mark Pollack, Beth Simmons, Dinah Shelton, Geir Ulfstein, and Oran Young.  The papers presented at this workshop will appear in an edited volume to be published by Cambridge University Press.