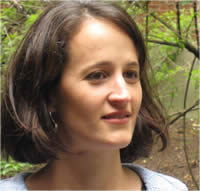 [ensemblevideo contentid=dCIkmzzqp0u_7mjDKMgiOQ audio=true showcaptions=true displayAnnotations=true displayattachments=true audioPreviewImage=true]
Maia Cucchiara's new book, Marketing Schools, Marketing Cities: Who Wins and Who Loses When Schools Become Urban Amenities (University of Chicago Press, 2013), is a very timely intervention into the current debate about the troubled Philadelphia public school system. Most of the research for this book took place between 2004 and 2007 as part of her doctoral dissertation during the Philadelphia Center City Schools Initiative (CCSI), which sought to market and promote Center City public schools in an effort to retain middle and upper middle class Center City families from fleeing to the suburbs in search of better schools. She shines a light on this initiative by focusing on one school and one neighborhood, which she pseudonymously names "Grant Elementary School" and "Cobble Square". In the course of her research, she interviewed parents, administrators, teachers, and local civic and business leaders, as well as participated in many events at Grant Elementary School.
One of the most important and illuminating aspects of Marketing Schools, Marketing Cities is the way it highlights the tensions between an urban area's economic and civic space as citizens are increasingly seen as customers and consumers. What rights and duties do we have as citizens and how are those rights and duties constrained or enhanced when they are interpreted from a narrow economic perspective? On the one hand, retaining Center City families grows the tax base and potentially benefits all Philadelphia schools, given that schools are financed primarily through real estate taxes. On the other hand, how does one justify directing additional resources to Center City schools at a time when there are so many disadvantaged schools in the outlying neighborhoods? The tensions that Maia Cucchiara investigates in Marketing Schools, Marketing Cities are still very much with us today and make this book a "must read" for anyone interested in Philadelphia public schools and the future of public education.
I spoke with Maia Cucchiara on September 19, 2013.
Audio Embed Code