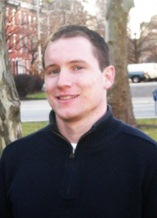 [ensemblevideo contentid=0StAiDevd0-lAJdDVojJVQ audio=true showcaptions=true displayAnnotations=true displayattachments=true audioPreviewImage=true]
In 2010, Tom McAllister published a memoir entitled Bury Me in My Jersey: A Memoir of My Father, Football, and Philly (Villard Books) in which he describes the critical role that the Philadelphia Eagles football team played in the shaping of his young years. Like many who spend Sundays watching football, this ritual helped him to cement bonds with family and friends. Unlike many, it become an obsession that, as I was to learn, took many years and one book to untangle. The fateful 39th Super Bowl plays a central role in his narrative, an event that few Philadelphia sports fans will ever forget. (It was February 6, 2005, and we were finally going to win what had been denied to us for so long…) In addition to leading us through his career as an Eagles fan, Tom also reflects on the role that his father played in his life, sometimes but not always tied to their mutual devotion to the Eagles. Bury Me in My Jersey is full of very funny, unlikely, and sometimes disturbing stories, as well as thoughtful meditations on the search for identity.
Tom is also the non-fiction editor of Barrelhouse magazine and the co-host, with Mike Ingram, of the podcast Book Fight: Tough Love for Literature.
I interviewed Tom McAllister on October 23, 2013.
Audio Embed Code