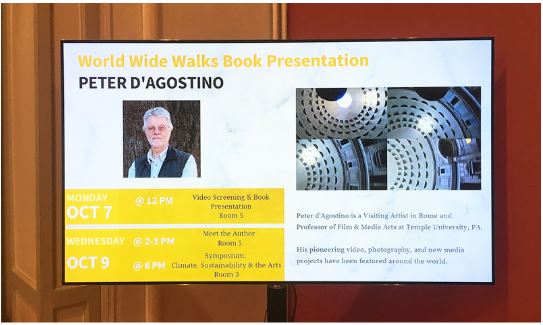 CSArts video symposium live from Rome 6:00pm  / Noon Philadelphia, Oct 9, 2019
Peter d'Agostino and Caterina Borelli in Rome; Merian Soto, Fletcher Chmara-Huff, and Joseph M. Williams, Jr, in Philadelphia.
The Program
Introduction by Peter d'Agostino, Visiting Artist, Temple Rome; Director, CSArts;
Professor of Film & Media Arts, Center for the Performing and Cinematic Arts.
Merián Soto,  Professor of Dance, Boyer College of Music & Dance, and Fletcher Chmara-Huff Assistant Professor of Geography and Urban Studies reviewed their collaborative projects, and presented their proposal for World Water Week events in 2020. Co-sponsored by Boyer College and Temple's Center for Sustainable Communities, the events will range from traditional, in the disciplinary sense, to trans-disciplinary performances and presentations.
Joseph M. Williams, Jr, Manager of Systems and Operations, Temple TECH Center, explores African American experience through digital forms of music and storytelling.  He focused on a new sound score being produced in collaboration with d'Agostino's recent World-Wide-Walks project performed in South Africa.
Caterina Borelli, an independent filmmaker working at the intersection of architecture and anthropology, screened excerpts from "The Architecture of Mud" (1999). Filmed in Yemen, this work foregrounds issues of sustainability by contrasting traditional building techniques and the challenges brought by the introduction of new technologies.
Peter d'Agostino presented scenes from his video installation, "World-Wide-Walks / between earth & water / ICE" (2012) documentation-performances of walks along the edge of glaciers in Iceland, Argentina and Alaska to witness signs of global warming.